Manaola fashions go deep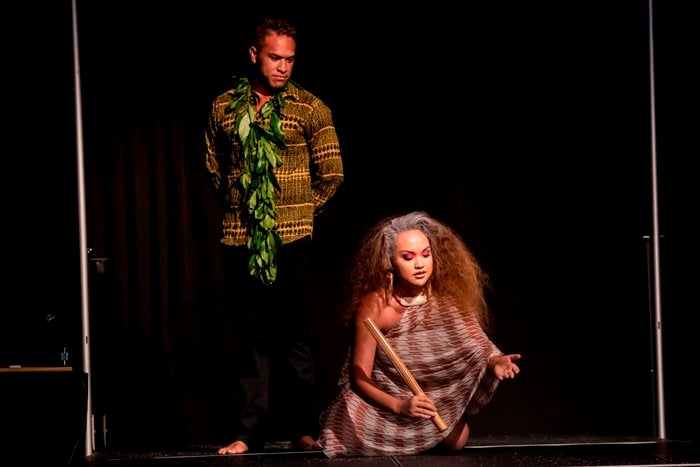 To truly understand the Hawaiian language, you must know what "kaona" is; the hidden and deeper meaning of a word or phrase. To fully appreciate Manaola fashions, understand that behind every creation, lies a story.
Hula practitioner and designer Carrington Manaola Yap, known as Manaola, debuted his latest collection at the Honolulu Design Center's Cupola Theatre on Friday. From his handcrafted prints to his unexpected placement of cut-outs, and slim menswear silhouettes, there's something different and special about Manaola designs.
Growing up in Kohala on Hawaii island, he immersed himself in his surroundings, culture and heritage. Manaola translates his spirituality and fascination of nature into prints that embody organic shapes and repetitious patterns from fish bones, shark teeth, eel skin and lightning.
I had a chance to sit with Manaola after the show and learn more about his design execution.
Tell me about your stamping technique.
I use a traditional stamping technique called ʻohe kāpala to create my patterns and designs. The stamps are made from bamboo. There is power behind designing and creating patterns with your hands. It's good to not just rely on digitized graphics and computer designs. I bring it back to the name Manaola, it literally means the power (mana) of life (ola).
What inspired the patterns and shapes in this collection?
The patterns in my latest collection come from different elements in nature that also symbolize human spirituality and moʻolelo (stories) I grew up hearing. For instance, pewa wedges, or fish tail patterns, also represent bridging the past into the present, or mending a lost or broken connection. The the ʻūwila or lightning bolt represents the story of Pele's younger sister, Hiʻiaka. She was sent to rescue Pele's lover and used her magical lightning bolt paʻu (skirt) to slay the dragons or large moʻo (lizards) on her journey.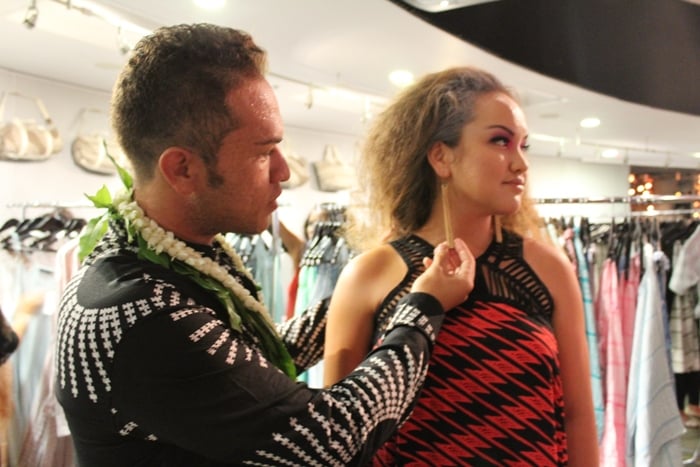 Your silhouettes and designs are contemporary and the jewelry you chose is traditional. Tell me more about your styling choices.
My designs are bold and contemporary. I wanted to add dimension and accessorize the collection with traditional and larger jewelry by Dean Kaʻahanui, who uses only natural organic elements and textures such as mother of pearl inlays, bone, shells and coconut fibers. The sterling silver earrings by Hina Jwls showcased that my designs can be worn in more formal evening settings.
Here are some of our favorite moments from the Manaola fashion show and post-event pop-up shop: