Make Your Reservations Now for Dining Out This Christmas
12 restaurants take the stress out of the holidays with special Christmas menus.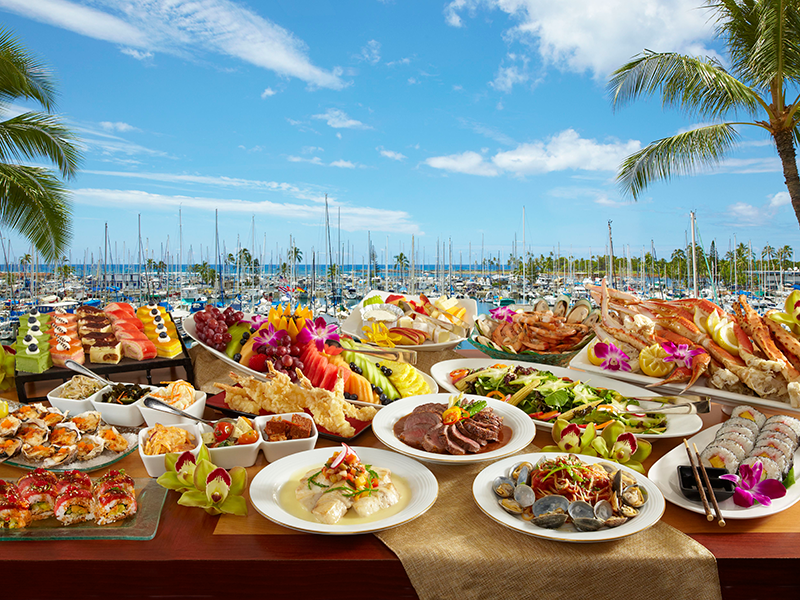 The buffet at Hawaiʻi Prince Hotel Waikīkī's Prince Court.
Photo: Courtesy of Hawaiʻi Prince Hotel Waikīkī
Having to cook on Christmas can make you a real Scrooge. Forego slaving in the kitchen for a festive holiday meal prepared by some of the best restaurants in Honolulu—so great that reservations are strongly recommended.
Alan Wong's Honolulu
Vegetarians, rejoice. You can have a holly jolly Christmas at Alan Wong's, where a $95 prix fixe menu ($145 with wine pairing) won't leave you wanting. Try the soymilk panna cotta "Christmas parfait," with asparagus, tomato and tamari soy kombu gelee, or the vegetable "Hot Pocket," an intriguing combination of orange gastrique and Ho Farms cucumber tsukemono. Entrée choices include ginger-crusted tofu and taro mushroom steak, while dessert is a bûche de Noël or Santa's Treat, a peppermint ice cream cookie sandwich with gingerbread cake. Meat eaters have more options: go online for the menu.
5–10 p.m., Dec. 24 and 25, 949-2526, see the full menu here.
Beachhouse at The Moana
You can either have Christmas Eve dinner (5:30–9:30 p.m., $85 adults, $35 children) or Christmas brunch (9 a.m.–1:30 p.m., $80 adults, $40 children) at the Moana Surfrider Hotel—or both, they don't mind. The Christmas Eve meal is a traditional seafood repast featuring Chef David Lukela's fresh local picks, from 'ahi to onaga, while brunch is a buffet of potato-crusted mahimahi, winter vegetable ratatouille and duck two ways with Kahuku corn succotash.
921-4600. See the dinner menu here and the brunch menu here.
Bernini
For an indulgent meal, try Bernini's signature menu, which features caviar, abalone, black truffles and filet mignon with foie gras.
5:30–10:30 p.m., Dec. 24 and 25, $90, 591-8400.
BLT Steak Waikīkī
Choose a prix fixe meal ($75) or order a la carte from a mix of traditional and reinvented dishes, including Kona kampachi crudo, prime rib, lobster mac and cheese and a chocolate peppermint mousse cake.
4–10 p.m., Dec. 24 and 25, 683-7440.
Hau Tree Lānai
Two options await, a $100 meal and an $80 one (but not the regular dinner menu). The more expensive meal starts with headcheese, cream of leeks soup and fresh Island snapper, followed by a main course of Tristan lobster tail and (yes, and) petite black Angus filet of beef. For dessert, polish off a pineapple crème brûlée. The cheaper dinner special features fried oysters, garlic herb-roasted prime rib of beef with crabmeat and honey-infused thyme goat cheese cake.
5:30–10 p.m., Dec. 24 and 25, 921-7066, see the full menu here.
Hawai'i Prince Hotel
Three of the hotel's restaurants offer buffets:
Prince Court will host dinner buffets on Christmas Eve and Christmas Day, featuring appetizers, salads, soup, a soba station, seafood, select hot items, a dim sum station, a carving station and dessert specials. Santa and Mrs. Claus will also make an appearance during both meals, so bring the kids! For brunch, stop by on Christmas for pastries, waffles, omelets, eggs Benedict and more.

Brunch 9 a.m.–2 p.m., Dec. 25, dinner 5–9 p.m., Dec. 24 and 25, $60 adults, $30 children (6–10 years old), 944-4494.


Hakone's Christmas and Christmas Eve dinner buffets boast an array of Japanese-inspired dishes, from assorted sashimi and nigiri to beef shabu shabu, pork sukiyaki and chicken katsu with curry.

5–9 p.m., Dec. 24 and 25, $70 adults, $35 ages 11–14, $23 ages 6–10, 944-4494. See the menu here.


Bird of Paradise, which is at the Hawai'i Prince Golf Club, will have a brunch buffet on Christmas. Look forward to taro pancakes, saimin, steamed opakapaka, seafood linguine and more.

10 a.m.–2 p.m., Dec. 25, $46 adults, $23 ages 6–10, 952-4784. See the menu here.
Steak and lobster at Japengo
Photo: Courtesy of Hyatt Regency Waikīkī Beach Resort & Spa
Hyatt Regency Waikīkī—Japengo
While the first three courses of Japengo's Christmas dinner menu sound great, what really caught our eyes was the fourth course: a dessert extravaganza featuring 11 intriguing options. Where else can you find a chocolate peppermint semifreddo, bûche de Noël, Linzer torte, cranberry meringue pie and "Henry's" stollen bread all under one roof? But first, work your way through Jewel Bako (maguro, hamachi, ikura and spicy Alaskan crab), smoked Kona lobster with local fruits and veggies, and Hawai'i Ranchers sous vide beef filet. A vegetarian menu will also be available.
6–10 p.m., Dec. 24 and 25, $79, 237-6180, waikiki.hyatt.com
Kai Market
Kai Market was a finalist for Best Buffet in the 2015 Hale 'Aina Awards, so you know its Christmas dinner will be to die for. Notable menu items include a Farmer John bone-in country ham with Dole pineapple-rum-raisin glaze, coconut-lemongrass-glazed Okinawan sweet potatoes, head-on Kaua'i shrimp, chocolate pot de crème Yule logs and Ted's pies from the North Shore.
4:30–9:30 p.m., Dec. 25, $69 adults, $35 children, 921-4600, see the full menu here.
Mac 24/7
If you thought its pancakes were huge, check out Mac 24/7's Christmas buffet. We're talking all you can eat cherry-pineapple-glazed ham, lobster bisque, honey-jalapeño pulled-pork Benedict, seafood pasta, Portuguese bread pudding with maple-bourbon glaze and marshmallow, brownies and, last but not least, a pancake station.
10 a.m.–6 p.m., Dec. 25, $45 adults, $18 children under 12, 921-5564.
Tiki's Grill and Bar
Chef Ronnie Nasuti's Christmas dinner special starts off with a choice of beet soup or quinoa and apple salad, followed by a lobster and scallop turnover with a Waialua asparagus puree and truffle bacon scallion cream. Next is an herb-brined and slow-roasted game hen, complete with Kahuku corn bread, sauces and cauliflower gratin. And for dessert? Eggnog cheesecake. The regular menu will also be available, but we don't know why you'd skip this two-night-only treat.
5–10:30 p.m., Dec. 24 and 25, $49, 923-8454, tikisgrill.com