Make It: Caterpillar Cupcakes
This adorable cake centerpiece will be the life of your party!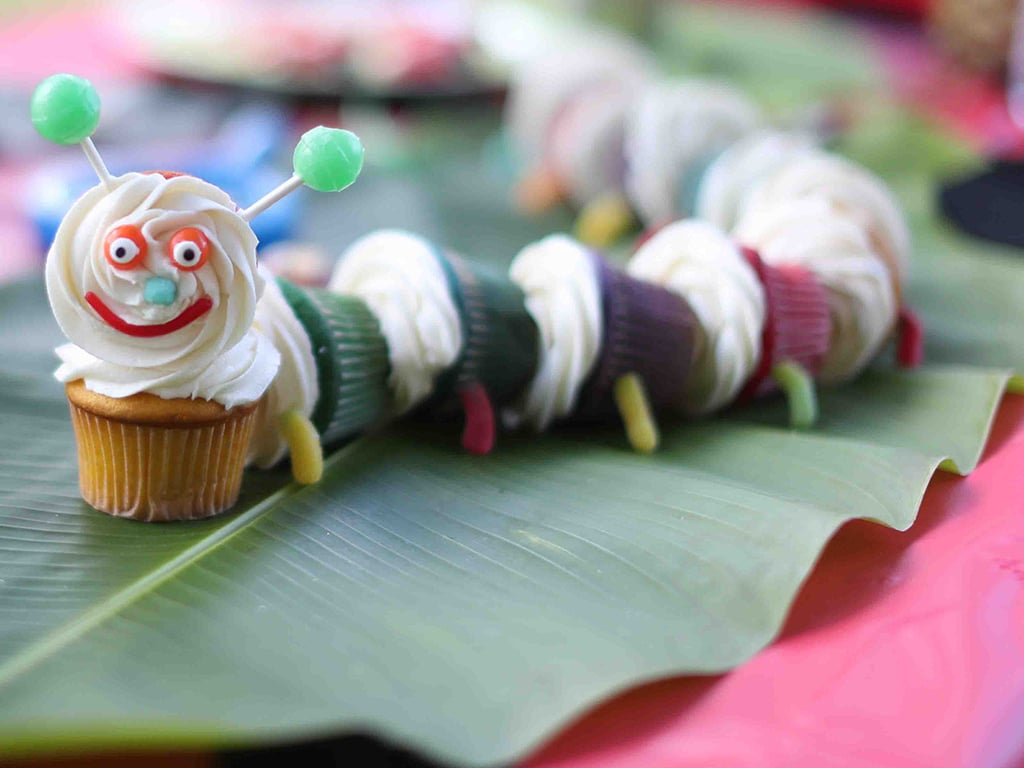 Materials
White or yellow cake batter for 24 cupcakes.
24 cupcake paper liners.
Regular-sized cupcake tins.
Liquid food dyes in six different colors.
Piping bag with a decorated tip (such as Wilton 1M).
Assorted licorice, mini lollipops, round hard candies and gummy worms.
Long serving tray or clean tabletop to display cupcakes.
A mixer.
1 cup room-temperature salted butter.
3 cups powdered sugar.
2 tablespoons heavy whipping cream.
Pinch of salt.
Cake Instructions
Make enough yellow or white cake batter for two-dozen cupcakes. Adjust the volume of this recipe based on your guest count.
Divide cupcakes into smaller bowls and add a few drops of food dye in each bowl. Mix well.
Line a cupcake tin with paper liners. Pour colored batter into the liners, filling each cup halfway with your choice of colored batter.
Bake according to directions. Completely cool cupcakes.
Use a dispenser to pipe and swirl frosting onto cupcakes.
Arrange a chain of cupcakes on serving tray or tabletop. Attach the bottom of each cupcake to the frosting of another cupcake. Connect as many cupcakes as many as you need or can fit.
Attach a side of a cupcake to the frosted top of the other. This will be the head and neck of the caterpillar. Secure with a toothpick.
For the face, attach licorice and hard candies for the eyes, nose mouth and antennae.
For the legs, attached a pair of sliced gummy worms to each cupcake.
Name your caterpillar cupcake!
Frosting Instructions
Beat 1 cup of room-temperature salted butter in a standing mixer until smooth.
Add 3 cups of powdered sugar.
Turn the mixer on low until fully mixed, then beat on medium for two more minutes.
Add 2 tablespoons of heavy whipping cream.
Add 1 teaspoon of real vanilla extract.
Add a pinch of salt.
Beat one more minute.
Put into a piping bag with a decorated tip and swirl onto cupcakes.
Frosted cupcakes will survive at room temperature or in a cooler environment. Keep away from direct sunlight and extreme heat.
Source: Mahalo to Lisa Nichols at @OahuCookieCo and Oʻahu Cookie Co. for the frosting recipe.