Made in Makaha
In his latest book, Stuart Coleman profiles Makaha, as seen through its most famous inhabitants.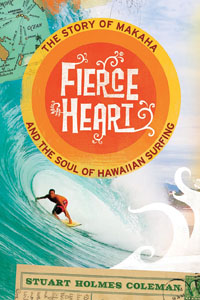 When local author Stuart Coleman began researching his latest book, Fierce Heart: The Story of Makaha and the Soul of Hawaiian Surfing (St. Martin's Press, $24.95), four years ago, his goal was to not only educate the world about Mākaha's history, but also provide stories of modern, local heroes for Hawaii's youth.
"As a teacher, I saw that there weren't nearly enough books about local heroes and cultural icons," he says. "They don't always need to be reading about people on the Mainland."
In the book, Coleman retells the history of Makaha from the days of Kamehameha all the way to the present, using Buffalo Keaulana and his family as the central vein in the heart of modern Makaha. Coleman got the idea of writing about the Leeward town and its residents, stereotypically known for their aggressive attitudes toward outsiders, while working on his first book, Eddie Would Go.
"I met Brian Keaulana out in Makaha and was just so impressed by how diplomatic he was," Coleman recalls. He spent hours on the beach with the surfing icon learning about Hawaiian history and local legends, and was eventually invited to meet the rest of the Keaulanas. "They were so nice and full of aloha, I thought, 'I have to write a book about this family one day.'"
In addition to the Keaulanas, Coleman includes the late Makaha legends Israel Kamakawiwoole and Rell Sunn. While Iz is internationally known and loved, Coleman was surprised that "many people don't know who Rell Sunn is," he says, of the surfer and free diver who died in 1998. "I think she is honestly one of the most extraordinary human beings I ever encountered. I'd never met a person who is so giving, wonderful and just such an embodiment of Hawaiian culture."
Coleman originally came to the Islands in 1993 from his hometown of Charleston, S.C., to teach English at Punahou. The Honolulu resident currently splits his time between working as the Surfrider Foundation's Hawaii regional coordinator, and writing his next book—a novel based on his experiences growing up in racially divided South Carolina and escaping to Hawaii in an effort to find peace.
For more information on author Stuart Coleman and his works, visit www.stuart-coleman.com.