Made in Hawaii: Hawaiian Sun's new flavor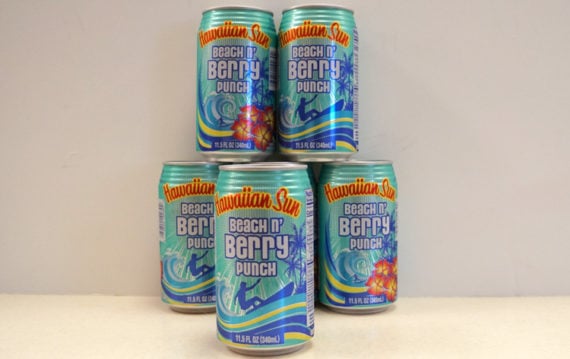 I gotta be honest, I don't normally review or blog about mass-produced, convenient foodstuffs. But I am headed to the big Made In Hawaii Festival at the Blaisdell this weekend, and as part of the hype about the new Hawaiian Sun Beach n' Berry Punch flavor, and I got an advance six pack so I don't have to stand in that massive line just to try it.
It was actually a good opportunity to revisit Marvin Nitta, who is the editor of the national snack blog, The Impulsive Buy, and make him sample it with me. This is more his speed, and I liked the risk that he could potentially not like the flavor.
The bonus while visiting him is the chance to sample interesting things he's got for his own blog: PBJ Oreos (yum!) and fruit punch pickles (yuck!).
Anyway, now you've seen our verdict on the new Beach n' Berry Punch. You can try it yourself this weekend at the Made in Hawaii Festival or when it drops in stores next week. Tell us what you think! And while you're at it, let us know if you want to see more of The Impulsive Buy.
Made In Hawaii Festival
August 18 to 20
Blaisdell Center
Admission is $6; children 6 years of age or younger are free