Lunch With Chef Chai: Duck noodle, Saigon Vietnamese Cuisine
Where do chefs eat? We caught up with Chai Chaowasaree at Saigon Vietnamese Cafe in Chinatown. Order the duck noodle, he said.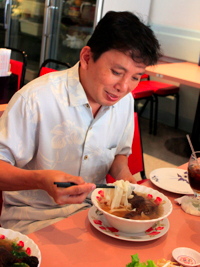 When Biting Commentary filmed a TV episode with Chef Chai Chaowasaree (you can see it here), we spent some time in Chinatown.
Where do you eat here? we asked him. Turns out that his favorite Chinatown eatery was the same as Biting Commentary's: Saigon Vietnamese Cuisine, a cool sanctuary across the street from the Oahu Market.
In Biting Commentary's humble opinion, Saigon Cuisine has the best pho in town: a perfectly balanced rich broth, fresh vegetables, noodles cooked perfectly. He's also a such fan of the rich red beef noodle that's he's learned to accept a little gristle and tendon in the Vietnamese manner.
"Me," said Chai, "I always eat the duck noodle. I think that's the best."
There was nothing for it but to go to lunch, duck noodle all around.
Turns out Chai knows what he's talking about. A deeply dark roasted hindquarter of duck sits atop the soup, so soft it comes apart with chopsticks.
"The secret's the broth," said Chai. "They make it the right way, with the bones. Bones are where all the flavor is. Spices, a faint hint of cinnamon." Hiding in the broth are a few cloves of garlic, roasted with the duck.
If you take a look at Chai's bowl above, you'll notice that his lacks the green onion and bok choy of my portion (left). Chai's secret is now out: He doesn't much like vegetables.
Don't follow his example. Get the greenery on yours: it's fresh and adds both flavor and texture. You can also add condiments; we suggest the pickled daikon for a bit of crunch.
Chai's also a fan of the look fun noodles, which are softer and easier to eat with chopsticks than the yellow noodles I ordered.
Either way, it's a fabulous lunch, and a lot of duck, for $9.45.
Saigon Vietnamese Cuisine, 164 N. King St., (808) 599-1866