Lucky Peach returns to Honolulu to save print through food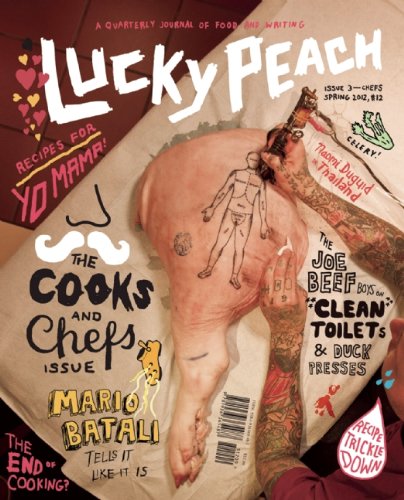 In the latest issue of Lucky Peach, editor Peter Meehan tours Oahu with Roy Choi (Kogi BBQ) and Christina Tosi (Momofuku Milk Bar), talks story with Matsumoto's and Leonard's and gets in a dig at the KCC culinary school.
This weekend, Lucky Peach is back in Hawaii, but this time, not as a tourist, but as Interisland Terminal's co-conspirators (the art group, not the airport wing). Events include a tell-all by co-founder and editor Chris Ying on the evolution of Lucky Peach, a restaurant industry night with the Lucky Peach team at V Lounge, and, if you've ever wondered what a potluck with top chefs would be like, you can find out at Monday's 'carnival' with Lindsey Ozawa and Aker Briceno of Prima, Mark Noguchi of Taste, and Alan Wong alums Wade Ueoka and Lance Kosaka, who will be serving their take on carnival foods.
It's all part of Interisland Terminal's scheme to convene artists, writers and the restaurant industry; Lucky Peach, whose story as the-little-print-publication-that-could is as compelling as its food content, is the perfect catalyst. Within years of Gourmet folding and print retreating against Internet forces, Momofuku's David Chang and McSweeneys, the offbeat publishing company started by the equally offbeat writer Dave Eggers, banded together to start a food magazine. Except it wasn't glossy and it didn't have much food porn. If it did, it was more likely to appeal to the necrophiliacs of food: the Apocalypse issue documented dishes from The French Laundry and Chez Panisse after they'd been left out to rot, and the first few issues had some dead animal on the cover, less a loving tribute to whole-animal cookery than arty grotesquery. (Interviews with the editors say they didn't have the money for pretty pictures, but I imagine the stripped down/deviant aesthetic is part of the appeal.)
But, in between drunken chef rants, recipes for deep-fried calf brains and a case against walnut shrimp, (partially for its "spermy" quality), is some excellent and thought-provoking food writing. Lucky Peach assembles top food writers (i.e. Michael Pollan, Ruth Reichl, John T. Edge) and chefs (Rene Redzepi, Roy Choi and of course, David Chang) to write essays on authenticity, ramen variations in the South, vintage vegetables.
This improbable mix of writing and design has landed Lucky Peach on The New York Times bestseller list. It appears print is not dead, just boring print.
August 3 to August 5, tickets from $5 to $40. Find the full schedule and buy tickets at luckypeachhnl.eventbrite.com