Locally grown foods cookbook: a project of Kua o ka La Public Charter School in Puna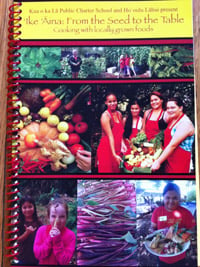 Kua o ka La Public Charter School in Puna on Hawaii Island recently published a cookbook, Ike Aina: From the Seed to the Table. The school connects students with the land through growing and cooking food; the cookbook is a documentation of some of the lessons taught, as well as some very accessible recipes using primarily locally grown ingredients, down to the coconut oil mayonnaise (recipe included). That means no rice, butter, bread, and lots of ulu and vegetables. The cookbook even has a substitute for shrimp paste and fish sauce for its Thai curries: offering instead a recipe for dried opelu paste.
Recipes in Ike Aina are written in both Hawaiian and English, with unique yet simple recipes including Atol de Elote, based on a Mesoamerican recipe for a thick fresh corn and cacao drink; a yacon (a sweet and crunchy root vegetable) and lilikoi salad; ulu tamales (which can be made vegan); a mac nut, ginger and cacao pudding with coconut lilikoi cream. Here's a recipe from the cookbook to give you an idea:
Ulu Pops
2 very ripe ulu
2 cups coconut cream
4 tablespoons honey
1/2 cup sugar cane juice
1 cup lilikoi juice
Mix your lilikoi juice with your honey and put it in a squeeze bottle
Scoop the very ripe insides of ulu into a bowl, add honey and sugarcane juice, put in blender (in batches if necessary).
Add coconut cream and mix thoroughly.
Scoop into popsicle molds and as you are filling the molds with ulu, squeeze some lilikoi in at the same time. Freeze and enjoy.
Cookbooks can be bought by calling (808) 965-5098. Visito kuaokala.com for more information on the school.