Local I'a: Hawaii's First Community Supported Fishery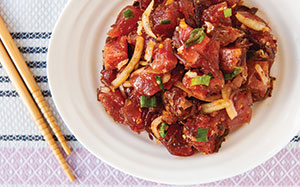 If you didn't already know Kaimuki Superette just opened, now you know. And while there's lots to be excited about at Ed Kenney's new spot (like the porchetta sandwich and the vibrant salads, the provisions fridge of fresh pasta, housemade Shinsato sausage and leaf lard, yup, lard!), what's just as exciting is what's going on in the back of the Superette.
Because there, in what's shaping up to become Kenney's catering kitchen, a community-supported fishery (CSF), Local I'a is hatching. The concept is the same as community-supported agriculture—members pay in advance for a weekly share of locally-caught or raised seafood, from wild fish to tilapia raised in aquaponics systems to seafood from restored native Hawaiian fishponds.
By connecting consumers directly with suppliers, Local I'a hopes to provide transparency in how our seafood is sourced, the supply chain of which can be incredibly murky. These days, "know your farmer" is an oft-repeated mantra and we can list 20 varieties of tomatoes, but how much do we know about our fishermen or our seafood? Like, did you know that more than 60 percent of commercial seafood sold in Hawaii is imported? (According to Conservation International Hawaii, the non-profit that created Local I'a.) It's a surprising statistic considering we're surrounded by an ocean.
Local I'a "promotes the idea of pono fishing, or sustainable way of fishing," says Jason Chow, operations manager for the CSF. Suppliers will adhere to guidelines such as not catching ahi when they're spawning, which further stresses an already declining population. "On the consumer end, you know exactly where your fish is coming from, how many days it's out of the water, you know who is fishing it," says Chow. "You can feel confident that the fish you're eating is sustainable." It's win-win for the fishermen, too, for whom Local I'a hopes to create a living wage.
The CSF will soft launch this fall—fish will be delivered and broken down into fillets in Kaimuki Superette's back kitchen—and hopes to be open for public enrollment by early next year. Members can expect between one and half to two pounds of seafood a week, though the price is still being determined.
For updates and to learn more, follow Local Iʻa on Facebook.