Little Oven returns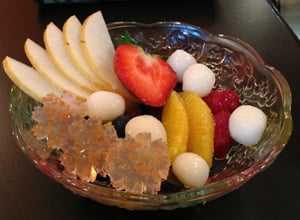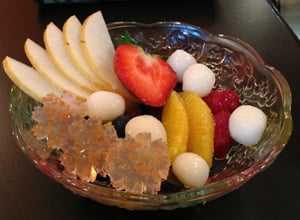 If you are active on Twitter and Instagram, you already know that Little Oven, the tiny, beloved dessert restaurant on King St., suddenly reopened on Friday night. If you have been active on Twitter for three years or more, you were probably waiting for the phoenix to rise from the ashes. It's real, folks. Joyce is back.
If you're familiar with the history of Little Oven, you can skip to the last few paragraphs. For those of you who are new to it, here's what you need to know: It opened in 2007, but people rarely noticed it due to its odd hours (open 7 p.m. to midnight) and its non-existent signage (white on white). I live near Little Oven, and never knew it was there. One day in February 2009, attorney Mike Schwartz decided that he wanted more people to know about this place — to keep it alive, and preserve the charm of the neighborhood. He brought Councilman Donovan Delacruz, who fell in love with the Little Oven and made me try it.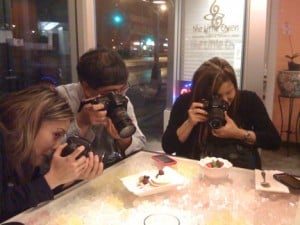 As you know, I post what I eat to Twitter. Back then, I just used Twitpic to get photos up, and Little Oven provides gorgeous food porn. People following me began to take notice, and soon everyone else wanted in on the dessert action. Shutterbugs started showing up just to be able to create food porn of their own. When they posted their photos, more people saw what Little Oven offered, and it became an ongoing cycle. Then one day, Diane Seo had me do a piece on it for the Honolulu Advertiser's TGIF section, and that kind of threw it over the top.
It got so overwhelmingly busy that there were always lines of people waiting to get in, and he only way I could get a seat was to bust in early through the back door. On Thursday nights, it was packed, almost resembling a club-like atmosphere (but with all Twitter people).
Here's the thing, though: Little Oven's desserts are yummy and unique, but they're not necessarily at crack status. The other factor that drove people — at least, the ones on Twitter — to gather here was simply the fact that people met here in real life, sometimes for the first time. It became an oddly magical place where friends and strangers reached out and touched each other over exquisite little desserts. "Newbies have no idea what a big deal this was," @KaimanaPine said on Friday, as he reminisced about his own good times there.
I don't think owner Joyce Harada ever meant for it to become that successful. She probably dreamt of a place that had a steady flow of mellow customers in a perfectly-timed stream from open to close. Unfortunately, reality isn't like that. As the place got busier, service got slower, and people who didn't understand the restaurant's quirkiness got angry and left complaints on online review sites. Although the Little Oven still had tons of adoring fans, the stress of angry reviews probably caused Joyce to open more infrequently, which just added to people's frustration. They have their rights! They want their desserts, and they want it, now! Who cares about your arthritis? The customer comes first, so open up!
She finally stopped opening around September 2010. And every time the light has gone on in that place since then, it sparks a frenzy from everyone who's been hoping to get that magic back.
NonstopHonolulu actually launched this site there, quietly, with just the core team, two years ago. I guess it's fitting that she reopened on the same night that we were out celebrating our second anniversary.
I'm using my blog not just to announce the restaurant's reopening, but also to apologize to those who stormed Little Oven after our party last Friday. Joyce told me that morning that she was reopening, but asked me not to tell anyone. She was afraid of the stampede, which happened anyway! Little Oven will now be open Thursday through Saturday from 7 to 11 p.m. and Sunday from 5 to 9 p.m. (Thanksgiving weekend, it will only be open Saturday and Sunday.)
Little Oven groupies have already posted and eaten these desserts, but you newbies may want to see what's being served:
Little Oven
1467 South King Street, Unit 1-A (between the Sake Shop and Mobi Store; if you hit Kaheka Street, you've gone too far)
Phone: 808-947-6836
Free street parking; $2 in the lot