Liquid Breadfruit: a Maui Brewing Co. and Dogfish Head collaboration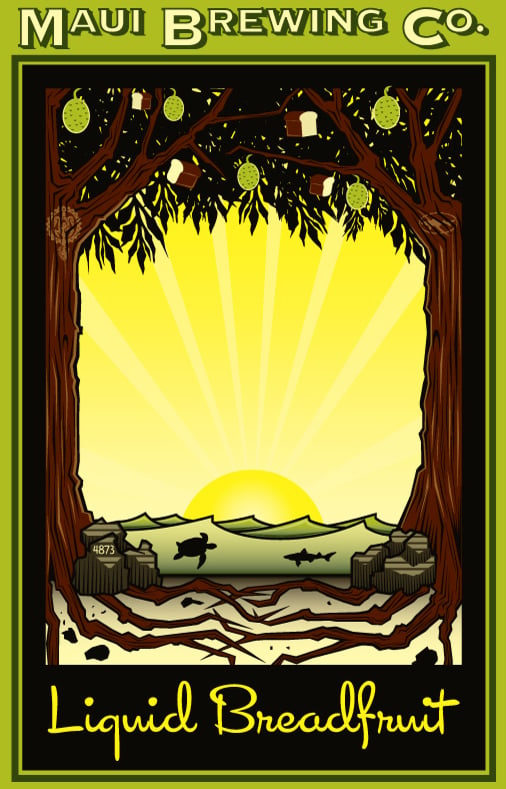 Breadfruit keeps trying to happen. The Breadfruit Institute (yes, there is one) positions the uber-productive breadfruit tree as a weapon against global hunger. But in Hawaii, it doesn't get much love outside of the typical Polynesian diet, perhaps because of its slightly spongy blandness (though depending on the variety, it can get really interesting). Some chefs are trying to up its hip factor by roasting it, mashing it, frying it (winner!), pounding it for a sweeter version of taro pa'i 'ai. Prima even pairs it with pear and chocolate for dessert. But so far, the most intriguing use of breadfruit I've come across? Beer.
Maui Brewing Co. and Dogfish Head (the Delaware microbrewery famous for its "extreme" brews), recently collaborated on a new beer: Liquid Breadfruit, brewed with breadfruit and toasted papaya seeds. Though it has a relatively high alcohol content (8%), this golden ale is still light, refreshing, a bit sweet, eminently drinkable. I can't say I recognize any breadfruit nor papaya seed flavor, but with a couple beers and the power of suggestion, sure. Liquid Breadfruit with ulu fries or chips? Make it happen.
Try it at Real a Gastropub, where it's on tap now. Murphy's Bar and Grill will be tapping it later in the week, and at the end of the week, you can buy Liquid Breadfruit in cans at the Liquor Collection ($3.50/can, $19.80/six pack).