Letters
November 2008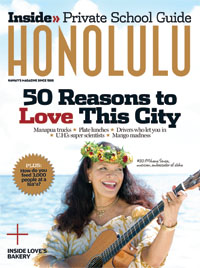 "50 Reasons to Love this City" 09/08
Our celebration of all things Honolulu included, at No. 30, Hawaiian music singer Mihana Souza, who we also featured on the cover of the magazine for subscribers.
There I am having dinner at Duc's downtown with Chuck Boller, executive director of the Hawaii International Film Festival, and my partner, Ron Ament, when this lovely guitar-carrying lady in a beautiful muumuu, with flowing hair and a big smile asks me to name my favorite Hawaiian song. "E Kuu Morning Dew' of course," I said. She began to sing and, caught up in the moment, I began to sing with her. I was amazed that I remembered any of the lyrics since I haven't sung the song since I lived in Hawaii in the late '70s and '80s. As we finished the song, we kissed cheek to cheek and she whispered, "You're kamaaina, aren't you?" Since I live in Los Angeles now, that was quite a compliment. We sang two more songs together, then took our little party out to the street where we were joined by passing tourists and other diners just leaving the restaurant. My singing partner of the evening didn't want me to leave and I didn't either. Imagine my delight to see her picture gracing the cover of HONOLULU Magazine! Yes, Mihana Souza is the ambassador of aloha—you could not have picked a better one!
—SUE RAYMER, LOS ANGELES, CALIF.
"Supplies, Demanded" 09/08
In her "Afterthoughts" column, Kathryn Drury Wagner suggested that the Department of Education, not parents, should pay for school supplies, considering that the D.O.E. has $332,500 available per classroom.
I was shocked to read the items that students are expected to supply each year. Where does the annual school budget fit in?
I was a teacher in several communities on the East Coast for 35 years and worked in a number of inner-city schools. Nowhere did students have to buy their own school supplies or pay for transportation.
I was surprised to learn when I moved to Hawaii that the whole state had one Department of Education. Where I worked each town or city had its own board, along with a state board. When will this change in Hawaii so that Neighbor Islands have a voice in their own destinies? Where do all the funds go as decided by the central board? Are they fair?
—ANN MACH, KAILUA-KONA
"Field Guide" 09/08
In your Calabash Field Guide (page 34) in your September 2008 issue, you announced the opening of a new organic baby store in Kailua, Little Sprouts. The store will be carrying PBC-free baby bottles. What is PBC? How dangerous is it?
—CORINNE TAKASE, HONOLULU
Editor's reply: We checked with store owner, Melanie Decker Koehl, who let us know that it's actually "PVC." Our apologies for the typo. PVC stands for polyvinyl chloride. There are widespread concerns that PVC, and the additives manufacturers use with it, can leech potentially carcinogenic chemicals into the environment, and that these chemicals can also affect hormones in the body.

"Does Hawaii Need a Con Con" 09/08
Our Scrapyard column focused on whether or not Hawaii should hold a state constitutional convention. Voters will be deciding the issue in this month's election.

Our state constitution calls for a constitutional convention every 10 years and it has been 30 years since the last Con Con? Clearly our constitution is to be a living document, subject to review every 10 years. How brilliant! How and why would anyone oppose such a democratic activity? This is our right.
The opposition seems to suggest that the proposed cost should be an obstacle to proceeding. What would the cost have been 10, 20 years ago? Significantly less, perhaps. And, what will the cost be in another 10 years? Significantly more, I suspect. Should we abandon our constitutional right to a Con Con because of the cost of having one? No! With the opportunity to address potential changes, like a balanced budget mandate, we may be able to recoup the costs and, in fact, save in excess of the costs of convening a Con Con. What a concept.
We need the opportunity to consider reasonable term limits, the ability to engage in the initiative and referendum process, and perhaps give the citizens of our great state the ability to recall elected officials who are not doing their jobs.
The opposition suggests that it makes no sense for the electorate to consider a Con Con at this point in our economic cycle. Now is the time to empower our citizens to make a difference.
—ELIZABETH RICE GROSSMAN, KAILUA

Ahana Koko Lele
We misidentified a photo on page 5 of "Farm to Table," inserted in October issue. The woman with flowers at the Kailua Farmer's Market is Lucy Hiraoka, with roses from the family-run Hiraoka Farm, in Waimanalo.
In "The Well-Planned Life," October, the correct number for the Sage PLUS hotline is 586-7299.
Letters to the Editor may be submitted online here, e-mailed to: letters@honolulumagazine.com, faxed to: 537-6455 or sent to: HONOLULU Magazine, 1000 Bishop Street, Suite 405, Honolulu, HI, 96813. Letters may be edited for space.