Letters
November 2007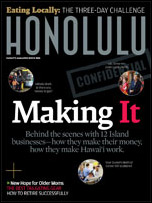 "Making It" 10/07
Our feature story had a chart with circles, each meant to visually represent where our city tax dollars are spent.
The size of the circle is supposed to be proportional to the amount of the expenditure. However, the circles in the article greatly distort reality, because of a basic misunderstanding of mathematics. The circles in your article are drawn such that a circle with a diameter of six represents twice as much expenditure as a circle with a diameter of three. However, a circle with a diameter of six has four times the area of a circle with a diameter of two, not twice the area.
A circle that represents an expenditure of $200 million should have twice the diameter of a circle that represents an expenture of $50 million, not twice the diameter of a circle that represents an expenture of $100 million.
– Randolph Moore, Honolulu
"Editor's Page" 10/07
A. Kam Napier talked about the recent American Institute of Architects awards.
A. Kam Napier's October '07 editorial on "Past-Tense Architecture" in Hawaii speaks approvingly of the new Bishop Museum Science Center, which Napier himself likens to "a giant, aluminum toolshed," and of the "vivid" Honolulu Design Center, while disparaging the "Neo-Territorial" throwback look of green roofs and beige stucco.
Color choices aside, what Napier ignores is that both buildings he praises are unsuited to the tropics. Without deep overhangs to shade their walls or pitched roofs to provide air insulation, these buildings incur very large thermal loads which can only be compensated for by massive air-cooling units, making the buildings expensive to run and environmentally destructive. There is a reason that Territorial buildings looked the way they did—no A/C. If we ever want to reduce our import of oil and export of pollution, we need architects who have, in addition to "nerve and imagination," a commitment to designing truly "green" buildings—whatever the color of their roofs.
– Peter Webb, Honolulu
Editor's reply: Modernism doesn't have to mean hot glass boxes. See page 28 for an example.
"Movin' on Up (to Kahala)" 08/07
In April, Dorie-Ann Kahale made headlines when she was chosen to move from a homeless shelter to a mansion on Kahala Avenue. Senior editor Ronna Bolante checked in with Kahale and her five daughters to see how their new lives were going.
I, too, am a single mother and have been for most of my children's lives. I know exactly how Dorie must have felt being on that beach and in the shelter. Please tell her that another single mom nearly 4,000 miles away is keeping her and her girls in our prayers.
Tell her not to worry about the horrible things that people may say in their blogs. I'm sure there are many more people who are happy for her than the few bitter souls who would write nasty things about her and other single moms. It's so hard to make a living and try to raise your children on a small amount of money. Dorie is to be commended for the great job she has done, even in the face of despair. Her daughters sound like great girls, and I know how proud she must be of them.
–Robyn Matthis, Lafayette, LA.
"Cheap Eats" 08/07
Our August cover story featured 23 meals that cost $20 or less.
As a homesick Island "boy" (living on the Mainland for more than 20 years now), I devoured your special section on Cheap Eats, and plan to visit, or revisit, many of the places listed during my next trip home. I'm sure I'm not the only person on the Mainland who reads HONOLULU and longs for a taste of the Islands more frequently than my frequent flier miles will allow.

–Gary Tucker, Seattle, Wash.
AHANA KOKO LELE
In "Night of the Living Lasagna," September's Dining column, the correct contact information for Licious Delishes should have been 536-9680 or 753-0050.
Letters to the Editor may be e-mailed to: letters_honmag@pacificbasin.net, or sent to:
HONOLULU Magazine, 1000 Bishop Street, Suite 405, Honolulu, HI, 96813.