Let's get raw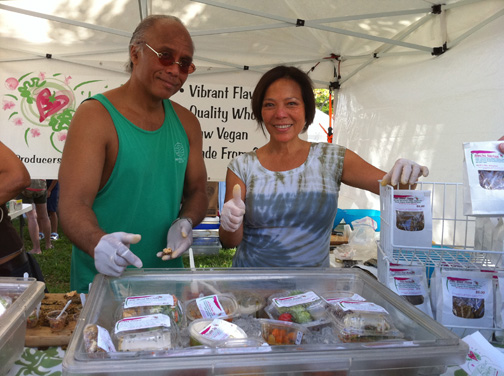 People often ask how I stay healthy (or try to) when I eat so much doing food galleries and restaurant reviews. Here's a secret: I'm always eating, even if it's not for Nonstop Honolulu. Here's another secret: I try to eat vegan in between assignments.
A while back, I blogged about the KCC farmer's market and mentioned Licious Dishes, owned by realtor Sylvia Thompson. She and her husband Pete had transformed their eating habits after Pete's heart attack a few years ago, and became vegan. Long story short, Sylvia decided to open her own business and sells vegan meals out of her shop at Dole Cannery, as well as at farmer's markets.
After that blog, I started going to Licious Dishes regularly to get meals. They're not just salads; they're all raw, organic fruits and vegetables, but chopped, sliced, mixed, pureed and/or dried into different combinations to make dishes that resemble foods that we love in omnivore life. Make no mistake: the vegan lasagne is nowhere near regular lasagne, and the ravioli is nothing like the pasta you know. But if you move past that knowing that you'll get a delicious vegan meal from Sylvia, you'll love it.
Here are some items I've eaten at Licious Dishes, in case you want to try it for yourself. I left out some items that don't photograph well, but at least you get an idea of what's available.
Licious Dishes
I always come away feeling like I'm doing my part to "push the reset button" on my body's health and well-being when I eat at Licious Dishes to balance out my food galleries, and it doesn't taste like punishment! Hey, it's more exciting than just eating a tub of tofu or an apple.
Licious Dishes
Dole Cannery (park on the Costco side)
650 Iwilei Road , #170
808-536-9680
========
You can read all of Melissa's blogs at www.nonstophonolulu.com/urbanmixplate. Follow Melissa on Twitter @Melissa808, on Foursquare as Melissa808, or email at Melissa@nonstophonolulu.com.
My recent blog posts:
Thanks for reading
Hawaii: In Real Life ~ Centering chi with Cary Tagawa
Jade Dynasty's grand opening
Hawaii: In Real Life ~ the Hawaii Bartending Academy
HURT so good
Hawaii: In Real Life ~ Sake 101
Top things to do in Vegas
One last look at Vegas food
Hawaii: In Real Life ~ the Fremont St. zipline
Hawaii: In Real Life ~ Caked Las Vegas
A taste of Hawaii in Vegas
Dinner and dessert at Caesars Palace
New Year's Eve at Serendipity 3 in Las Vegas
Vegas: The day of the food coma
Vegas: Visiting the M Resort
Breakfast of champions: The Cracked Egg in Vegas
Vegas: A fun day on the Strip
Welcome to Vegas, baby