Let it snow!…on Maui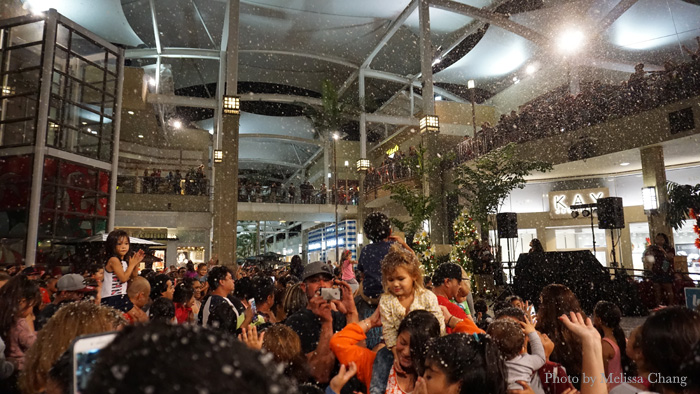 There's been snow storms on Mauna Kea, but did you know it's been snowing in Kahului? I got to visit Queen Kaahumanu Center last weekend to check out their holiday snow show in their center promenade, and was overwhelmed at the community support.
As someone who does mall promos on Oahu (for my real job), seeing such a successful event was doubly meaningful for me.
Every Tuesday, Thursday and Saturday at 6:30 and 8 p.m., snowflakes fall in the center atrium for 10 minutes accompanied by lively holiday music. Starbucks also treats early arrivals to the show to complimentary hot chocolate (while supplies last). As you can imagine, this is a huge draw — about 2,000 people fill the upstairs and downstairs wings not just to see the show, but take advantage of the unique photo op in a Hawaii venue.
Is it real snow? It's actually Hollywood special-effects snow, created with a special snow-making system that provides a realistic snowfall with millions of snowflake "bubbles." It's water-based, so it's not harmful, but if you catch it on your tongue, it will taste a little like soap. (I caught some in my eye and it didn't burn.)
The show just started on December 1 and runs through December 22, with special early shows on December 24 at noon and 2 p.m. It's still early in the season, so if their traffic is like my client Pearlridge, the crowd will be exponentially larger during that final week. So go early!
Here's an abbreviated video of my experience, and I apologize for the quality, but some snow bubbles flew into my lens! I wanted to give you an idea of the crowd, though. The opening shot is of the second show, which was actually smaller than the first show.
The snow is going to be a new Maui tradition, but Christina Yumul — who helps with the PR for Queen Kaahumanu — showed me an old tradition in the center: Koho's.
For me, Koho's was a hidden gem, but Maui locals have known it as a mainstay for the last 30 years. And if you are even older, you'll remember it as Apple Annie's, which probably opened with Queen Kaahumanu Center in 1974. People have been bringing their families here for decades, and it's so ingrained in Maui culture that residents recognized the dishes I posted before they even read the caption.
We were really full, but manager Gerri Eckart wanted us to try their famous guava vinaigrette (not pictured), which they use for salads and on one of their fish dishes. I put it in my chicken fajita and it was pretty mean! I recommend getting a little container of it on the side so you can put it on your food, too, when you're not putting the garlic mushrooms all over it.
Mahalo to Queen Kaahumanu Center for bringing me to Maui for this old and new holiday tradition, and mahalo to Koho's for dinner!
Koho's, Queen Kaahumanu Center
275 W Kaahumanu Ave.
808-877-5588