Let It Go: The Ins and Outs of Selling, Buying and Donating Kids Items in Honolulu
All you need to know about selling or donating your child's old things. Plus, money-saving shopping ideas.
Editor's Note: This story was first published in 2015 in HONOLULU Family magazine and updated in 2020.
The first time I sold my daughter's baby clothes to a kids resale shop, I sat in the parking lot afterward and cried—out of regret and sadness. Clearly, my post-partum self wasn't ready to part with a little dress symbolizing the end of her babyhood. "Letting go" eventually became easier as I learned how to sell and donate items she no longer needed and shop for bargains. Dozens of helpful moms also taught me their tricks of the trade. Here are their money-saving tips.
For Sellers: Learn the Rules
For the simplest way to sell everything from clothing to toys anytime, resale shops let you drop and go. Familiarize yourself with store rules and policies before you stop by.
Keiki2Keiki, for example, only buys on certain days of the week and requires that clothes be neatly folded. Caterkids buys items days when it is open but only accepts one bag of clothes per seller. Rhea Lana's, a consignment event, encourages its sellers to use its online program to price and track items.
If you're looking for used cribs and car seats, you won't find any at Keiki2Keiki, Caterkids or thrift shops, due to ongoing recalls. If you do find and decide to use second-hand car seats and cribs, check for current safety alerts from the Consumer Product Safety Commission, cpsc.gov, and the National Highway Traffic Safety Administration, bit.ly/CarSeatRecalls.
Used books, CDs and DVDs are usually the most difficult to sell. Used-media store Book Off has two locations on O'ahu and only accepts items in above-average condition. You are paid in cash.
To clean toys, soak in a mixture of one gallon of water and one tablespoon of bleach; or wipe down with rubbing alcohol or a disinfectant, such as Lysol or Clorox wipes.
For Buyers: Avoid malls and boutiques
The money-savvy parents that I personally know shop for clothes and toys at Goodwill and Savers, and frequent Craigslist and Facebook for baby gear and larger items.
Tialei Scanlan, mother of a 2-year-old daughter and 4-year-old son, is one of those parents.
"At Goodwill, I would rather buy five pairs of shoes for $20 instead of one for $20," says Scanlan, a certified public accountant and college accounting instructor. "My kids love to splash in puddles, trample through dirt, drag their feet, ruining the edges of their shoes and, oftentimes, we lose shoes."
The best time to buy used items is at the start of the school year and after the holidays—when parents clean out closets.
Sommer Hovey enjoys the thrill of buying second-hand items for her 4-year-old daughter. Past finds include: A Hawaiian American Girl doll ($4) from Savers, a new Leap Pad ($5) from Goodwill, and a Kelty Kid Carrier Backpack ($100) in perfect condition and a toddler slide ($20) from Craigslist.
"At Savers, I love the bagged toy items that have missing parts to other toys, like wooden knives for wooden chopping veggies," says Hovey, who runs Chinibaa Trading Post, an online boutique specializing in Native American designs.
Other parents buy clothes and toys at swap meets and garage sales—then sell the items for higher prices on eBay and at local resale shops, such as Keiki2Keiki in Kāhala and Caterkids in Waipahu.
Cora Spearman, a kids' clothing designer and mother of two girls, ages 6 and 3, finds fashionable items at sample boutique sales on O'ahu. She shops on websites shanandtoad.com, gilt.com and zulily.com and swaps clothes with other mom-designers. Spearman frequents online contests, where prizes are children's clothes and gift certificates. Once, she won Dolce & Gabbana dresses for her daughters.
"Be on the lookout for cool contests via social media and brands like Coradorables (Spearman's line) that have giveaways and contests, so you can score new designer duds free," she says.
Buying: De-germ and sanitize
Once, while sorting through jackets at a second-hand store for kids, I found stray dog hairs and a tick clinging to the fabric of a sleeve. I dropped the jacket, ran and never returned to the store.
Hovey, an accessories designer, has some advice for parents shopping at local thrift stores, including the Goodwill surplus store in Kalihi: "Bring gloves, because you sift through bins of unsorted items," she says.
Needless to say, disinfect used items that you bring home. To clean toys, soak in a mixture of one gallon of water and one tablespoon of bleach; or wipe down with rubbing alcohol or a disinfectant, such as Lysol or Clorox wipes.
To clean stuffed animals and plush toys, toss them in the washing machine and dryer, seal the toys in Ziploc bags, then leave in the freezer overnight to further zap dust mites.
Kids' shoes can be wiped down with disinfectant wipes or a rubbing alcohol-water mixture; soft shoes can be thrown in the washing machine, then left out to dry. To sanitize grimy books and DVD covers, use cleaners, such as Wet Ones and Purell wipes, or milder Seventh Generation and Melaleuca sprays.
You won't find these hard-to-sanitize, used items at local stores: potty seats, diaper pails, breast pumps and certain baby carriers. However, they are available on Craigslist and Facebook.
For sanitary reasons (and for your own peace of mind), sometimes it's best to splurge on some brand-new gear for your children.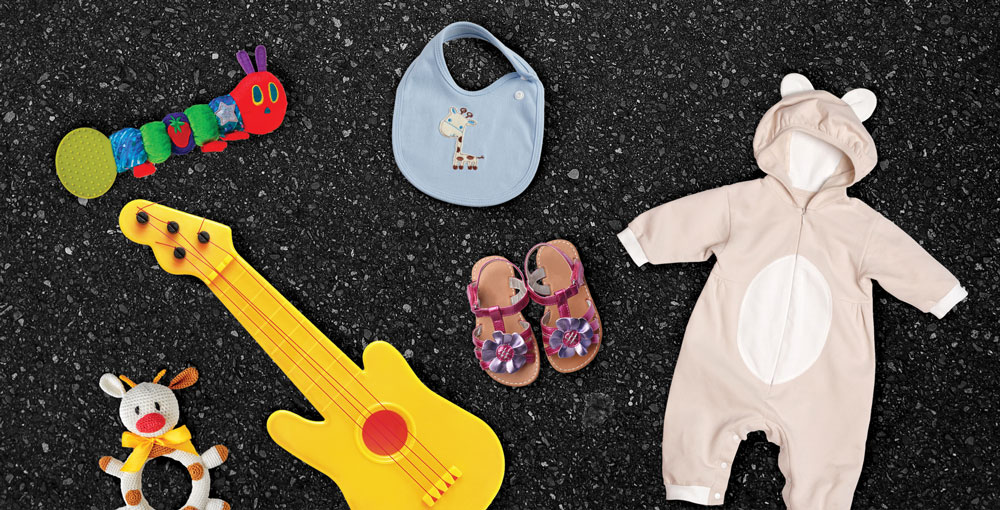 Just let it go, already
Buying and selling is a time-consuming process for busy parents. Unless you're motivated by money savings, it's easier and faster to donate to charities.
Big Brother/Big Sisters, Helping Hands Hawai'i, Kidney Foundation of Hawai'i, Salvation Army and United Cerebral Palsy Association will pick up clothing, toys and small appliances from your home.
More than 27 nonprofit groups accept drop-offs. Find the list on opala.org.
The annual summer book sale by the Friends of the Library of Hawai'i is another place to buy used books and music. You can donate year-round at all 50 libraries statewide.
Some parents find it best to hand off items to family and friends.
"I am a huge giver," says Spearman. "Seeing that we are blessed, we like to keep the blessings flowing by giving things away to family members and girlfriends who are expecting or have kids younger than my own."
Second-Hand Checklist
Sure, the items may be gently used. But you still want them to last. Conduct a thorough inspection before you decide to purchase.
Make sure zippers and buttons are not broken.
Do a quick sniff test for mildew.
Hold clothes up to the light to check for damage, especially in the knees, elbows and crotch areas. Don't forget to inspect the pockets.
Press buttons and switches on toys.
Look for sticky tape and tags that might rip books and puzzles when removed.
---
Directory