Lessons learned from Social Wahines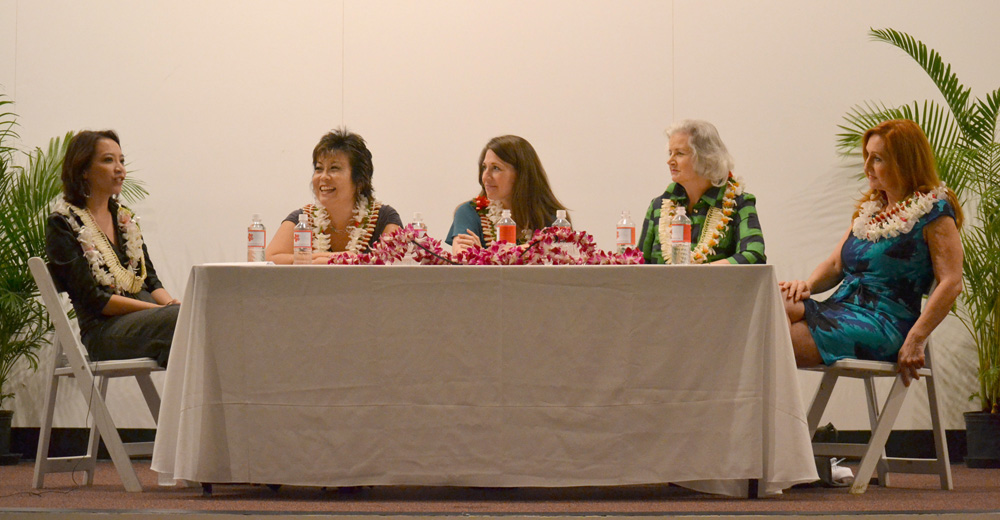 Last night, I was a panelist at Social Wahines' "Strictly Business" event. It's a series of professional development workshops geared toward women (although men are welcome), and this one focused on successful career paths and reinvention. I'm not sure if I'm successful yet, but I'm definitely a product of reinvention!
The other panelists were Alyson Helwagen, Paula Rath, and Linda Fulgenzi. I had known Alyson first through our work in public relations, then as the owner of LeiChic.com, and today am meeting her as the publisher of Honolulu Magazine. Paula also made her mark in Hawaii public relations, but is best known as the fashion and fitness writer for the Honolulu Advertiser. She recently launched PaulaRath.com to continue her work. Linda is a vice president of wealth management at Merrill Lynch, but many people don't know that she was once a teacher.
It was interesting for me to hear different perspectives on what it takes to make it to the top of your field, no matter what it is, but I think we can agree that there are similar recommendations:
Play nice. This is true in any city, but more so in Hawaii. It's a small town, and people's paths cross multiple times over one's lifetime. Do good, be good, and pay it forward, and it all comes back in positive rewards at the end. I think a lot of people forget this as they get wrapped up in their own (sometimes blind) ambitions and try to race to the top of the corporate ladder.
Be open to new experiences. In fact, seek them out. A big part of being successful is having a broad knowledge of many things, whether it's food, culture, art, or technology. Paula highly recommended travel, and I agree. I would even take that a step further and say travel with an open mind to the culture you're visiting, since many people are often tourists who try to find "home" in destinations but think they're really traveling. No new experiences available? Take a class. You don't have to make it higher education — it could be ikebana, bartending, or language — just learn something.
Read. Along the same lines, reading helps you build your knowledge of different things. I also try to add to my skill set by indulging in Esquire magazine — it's a men's magazine, yes, but the writing is so great that I read it to hopefully improve my own. And who knows? Maybe I'll learn a little about how men think while I'm at it. Maybe.
Be prepared to take risks. Alyson shared a famous quote: "Jump, and the net will appear." For anyone hoping to start their own business, change careers, or just enhance their job life, they need to move out of their comfort zone and take the rise needed to get from Point A to the desired Point B. Otherwise, you'll just be dreaming about Point B for too long. We all agreed that even if you make a mistake, that's a learning experience, and in that case just pick yourself up and move on. There's really no such thing as a mistake if you learn something from it.
Give back. In this economy, there have been a lot of people left without jobs and often retreat into depression over their sudden loss. Instead of wallowing, volunteer for a nonprofit. In fact, do it even if you're gainfully employed. The experience not only enriches your life as you help others less fortunate, you expand your network to people that you might not meet otherwise in the regular course of your life.
There's more — way more— but I think you can get the rest in small bites from event sponsor One Source Support in the coming week as they give out tips from their human resources professionals.
I do want to leave you with one last tip from last night, something that I already knew, but had forgotten to practice in several years: Make time to work out. When I first started working, my dad told me to schedule my workout time and treat it like an important business meeting. I did, until 2000, when I got a job that swallowed my life and had no consideration for people's personal lives. I've unconsciously been making work a priority over my health ever since. Linda reminded us that men are great at compartmentalizing their lives, whereas women tend to accommodate everyone's needs before taking care of their own. We need to be more like men and not feel guilty about making time to work on our own health; the activity will actually help free our minds and relieve stress in the process, too.
Mahalo to Social Wahines for putting on this event, and to the sponsors Pacific Business News, Shidler College of Business, and One Source Support for helping to make it happen! Big kudos to (McKinley grad) Linda Chiem of PBN for moderating and making us feel comfortable.