Lessons from a 'rich dad'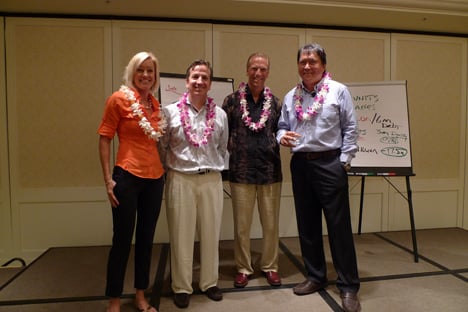 Once or twice a year, real estate company Kahala Associates holds a big event for their agents and clients for personal and professional development. The other night, they brought in author Robert Kiyosaki of Rich Dad, Poor Dad fame to talk about "Mastering the Art of Building Wealth through Real Estate," and I was fortunate to get an invitation to sit in.
Interestingly enough, although Kiyosaki and his team used real estate projects as examples of wealth building, they didn't really push real estate buying, selling, or flipping as a means to the end. He even opened his talk with the jarring statement that "your house is not your asset; it's your banker's asset."
The goal, Kiyosaki says, is to acquire assets in the form of cash flow — businesses (even in the form of real estate, like rentals) that bring more cash than expenses. While his initial recommendations investment seemed incomprehensible for most working people, he later clarified that he doesn't use his own money, but uses other people's money to make the projects a reality.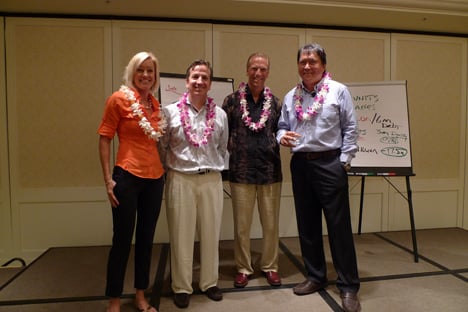 Kiyosaki brought his wife, Kim; Ken McElroy, the principal and co-partner of MC Companies, a property management and development company; and Tom Wheelwright, a CPA and the founder and CEO of ProVision Wealth Strategists. Each speaker touched on their areas of expertise and gave quick examples their work to illustrate how their mentality, based on Robert Kiyosaki's methodology, has grown their wealth.
Wheelwright also explained various tax laws and tax breaks and encouraged attendees to take advantage of the current gift tax exemption, which is currently more favorable for real estate investors than ever but may possibly go away in a couple of years.
The goals presented were lofty and probably not reachable for the average person (raises hand), but Kahala Associates' goal wasn't necessarily to get people to run out and try to invest millions of dollars that they don't have.
"These workshops are interesting because they make you shift your thinking," says Kahala Associates Vice President Chuck Garrett. "You may not have the means to invest in the kinds of projects they talked about, but it makes you step back and look at what you have and what your goals are, and maybe refocus if you need to."
So what can regular people do to start?
Kim Kiyosaki gave the most practical advice, which she says is great for teaching kids about investing. "Buy an ounce of pure silver, which is now about $40," she says. "Then track its value daily online. Watch the trends, learn about the market, be skilled in the world of silver. Because you've put money on the table, you'll pay attention to what that one ounce is doing for you!
"This is also good for getting you accustomed to getting educated before you buy," she adds. "Don't just go on a hot tip, invest some time before you invest your money."
Kim Kiyosaki was probably my favorite person of the evening because she gave a lot of practical, concrete advice, especially for women. Here's a short video of a conversation I had with her after the presentation:
We may not necessarily become as rich as the Kiyosakis have, but they do give a lot to think about.
"Don't be trapped by the mentality that there are things you can't do," urged Robert Kiyosaki. "In Hawaii, many people say, 'Oh, you can't do that here.' Really? If you don't do it, someone else will."