Less is more at Gokoku Sushi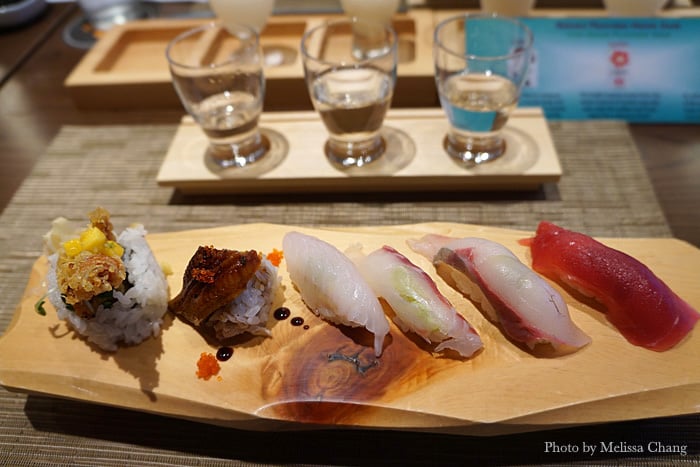 When Gokoku Sushi opened in grand style at Koko Marina Center a year ago, it was all set to bring upscale Japanese dining to Hawaii Kai. The problem was, the upscale prices matched the real estate market projections for East Honolulu, but not the income level of the many families who live there. And the service, unfortunately, wasn't up to par, either.
It took a while, but after a period of growing pains and introspection, Gokoku has re-emerged with new kaiseki (multi-course) and sampler plates that will appeal to a wide range of customers, in addition to its regular menu. I'll admit, quite a few of us were reluctant to go back after its bumpy start, and we were all pleasantly surprised to find the menu and the service had greatly improved. (And I can say this with confidence, as I've sent friends there since these tastings and they reported that it was a lot better.) The change was dramatic enough that I wanted to blog about it.
If you're familiar with sake, you know that Kubota is a premium brand, and bottles — if you can get them — are pretty expensive. Here, they offer a sampler of three sakes from the Kubota line for just $20 per flight: Manjyu, Hekijyu, and Ginjo Genshu. I believe the two on the right are only sold in restaurants. That's a crazy deal, but they partnered with sake distributor The Cherry Company to bring this flight and educate Hawaii consumers on the product.
If you like lighter, more dessert-like sake, they offer a nigori (unfiltered sake) flight. You get coffee, lychee and peach flavors, which are great on their own. (My favorite was lychee.)
Don't drink on an empty stomach. If you do the sake sampler, at least order the monthly otsumami trio, which is only $5.50. The staff will tell you which bite of food goes best with the specific sake in the flight; it's not always presented in the same order as the sake. (Otsumami means food that is consumed with alcohol.)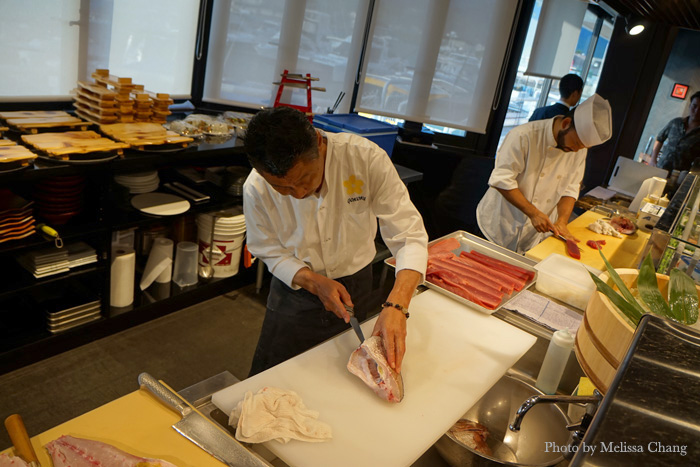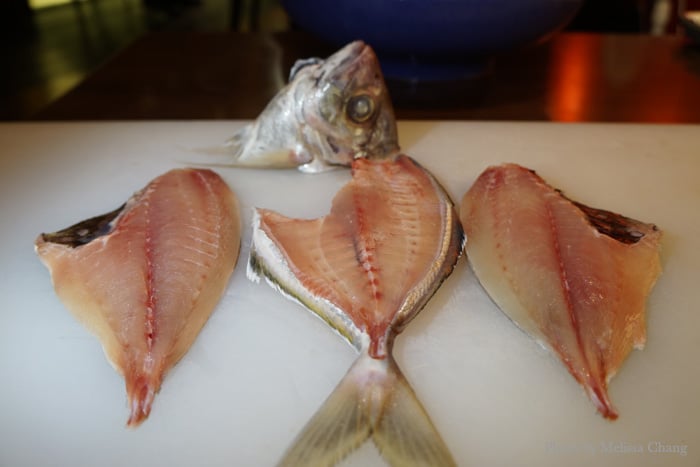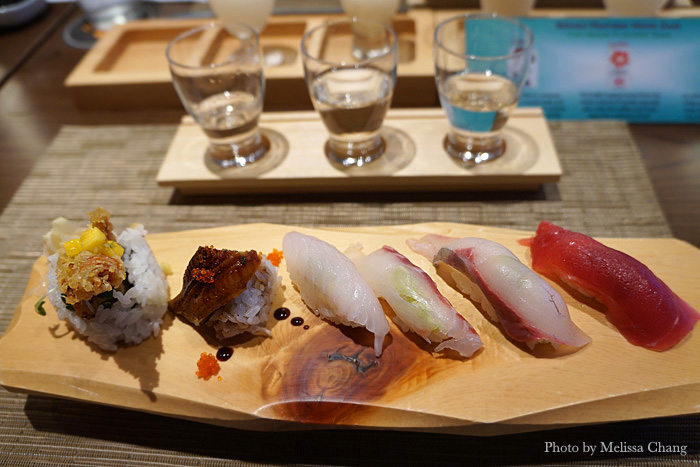 On the night that we went, the chefs prepared a nigiri sushi plate (market price). They bring a variety in, fresh from the market daily, so the selection may be different each time. This drew a lot of gasps from the impressed dinner crowd.
The biggest change to the menu is the introduction of their kaiseki sets, which have personal servings of a variety of foods. This one includes kisu or sillago tempura, ahi poke, sake-infused steamed local monchong, personal-sized yosenabe or seafood pot, two "kobachi" small dishes and unagi rice. This is quite a deal, and I like that you can get tastes of everything instead of committing to an entire entree.
This kaiseki set is a little larger, with more premium items, as well. By the way, the kaiseki is available at lunch and dinner, and they've been changing up the prices and offerings, so don't rely on their website to get the exact details on what they offer.
Dessert can also come in an assortment of bite-sized sweets, served on a plate with a cup of matcha. (My favorite was the mochi.)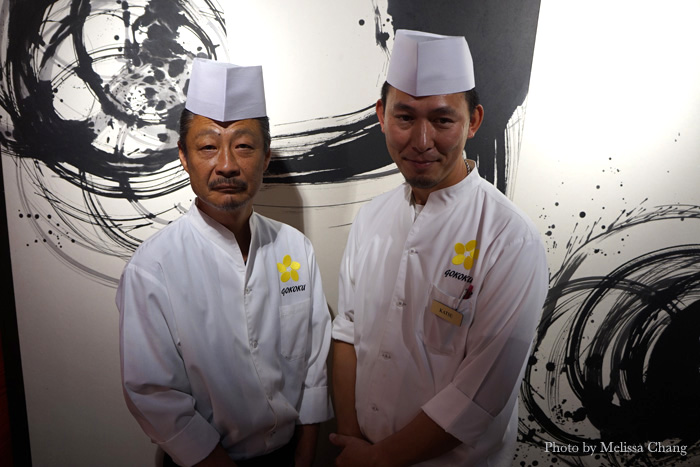 Mahalo to Gokoku for hosting us at their tastings! The regular menu is also available in addition to these sets.
Gokoku Sushi
Koko Marina Center
7192 Kalanianaole Hwy.
808-888-7777