Legit flavors at the cutest poke shop in Manoa
This one is Off the Hook with flavors like miso, shiso and ginger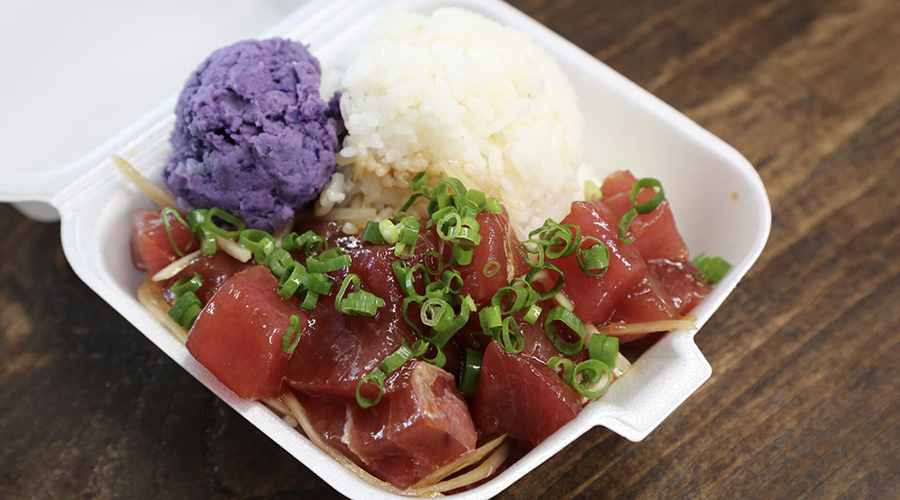 It's worth a drive into Manoa for a new poke shop with shave ice in an old-time Hawaii storefront. Off the Hook grand-opened this past weekend in between Starbucks and Andy's Sandwiches on East Manoa Road across from Manoa Marketplace.
If partners J.P. Lam and Tomoki Ito look familiar, Lam is featured on KIKU TV's "Naruhodo," "Itadakimasu" and "Japanese Word of the Day." Ito gained a following with his Yajima food truck, which served udon and his famous mushroom chicken until it graduated to the brick-and-mortar Yajimaya restaurant on South King Street.
So while Off the Hook's poke includes different styles featuring ahi and tako, including favorites like spicy ahi, shoyu ahi and miso tako, there are more Japanese touches that set it apart from other poke shops. There's a cold ginger ahi poke and Lam's personal recommendation: the Japan Deluxe, which combines fresh ahi with white miso, sesame seeds, fresh ginger and shiso leaf. You can get the poke by the pound or in poke bowls with white, brown or sushi rice.
Like traditional poke shops, this one's mostly for takeout, although you will find a few spots to sit inside and enjoy your poke bowl. If you do, stick around for the shave ice. The fruity syrups — in mango, strawberry and coconut — are housemade.
Off the Hook Poke Market
2908 E. Manoa Rd.
Manoa
800-6865
Mon-Sat 11a.m.-6 p.m.