Lee Anne Wong to Helm the Upcoming Koko Head Cafe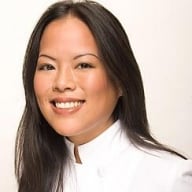 Kevin Hanney has tapped Lee Anne Wong to run Koko Head Cafe, a breakfast place that will open early next year in the old 12th Ave Grill space.
This opportunity was "the universe speaking to me: This is what you're waiting for," Wong says. Wong, perhaps most well known as a contestant in the first-ever Top Chef and for her culinary television work since then, had been looking for a gig in Hawaii for the last year and a half, ever since she met her North Shore farmer boyfriend on an impromptu Hawaii visit.
Most recently, in her Hawaii job search, she had been interviewing for a hotel chef position, when the call from Hanney came. She describes the upcoming cafe as a perfect fit; just a year ago, she had already been planning a Hawaiian-style diner breakfast cafe. She's brimming with menu ideas such as a stir-fried breakfast udon, a dressed-up congee, some sort of dim sum, perhaps in the form of dumplings and wontons, kimchee scallion biscuits and other fresh baked goods. And she promises pancakes that will command your attention.
"I met my boyfriend through breakfast," she says. And so it's fitting that the meal that gave her a reason to move to Hawaii is the reason she'll stay here.
"I've just had this crazy amazing journey the past 10 years," says Wong, previously based in New York. "I've had so many adventures in travel, but [opening and running] a restaurant is the only thing I haven't done. I'm like a dog with no home finally deciding to settle down … I want to be there everyday."
In the past year and a half, she's traveled frequently to Hawaii and participated in events, from the Hawaii Food and Wine Festival to rolling out her boyfriend's Hawaiian Fresh Farms food truck. So she's already found a home in Hawaii's culinary community. "Everyone thinks New York is the center of the universe. But I get to come here and learn all over again—all the native and exotic ingredients." She hopes that Koko Head Cafe will be a showcase of the best of Hawaii's products.
She and Hanney will be spending the next month or two renovating the old 12th Ave Grill space, but, until then, you can get a taste of Wong's cooking tonight, at a special chef collaboration dinner to raise funds for Haiyan relief. The dinner will feature all the chefs in Kevin Hanney's restaurant group: Jason Schoonover and Ryan Durham of 12th Ave Grill, Quinten Frye of Salt and Cocina, Pablo Perez of Salt, Lee Anne Wong and, of course, Hanney.
Haiyan relief benefit dinner tonight, December 10. Tickets ($150) must be purchased in advance. For menu details and to reserve your spot, visit 12thavegrill.com/one-night-one-kitchen-five-chefs-a-unique-benefit-dinner/