Lawson Station opens in Hawaii!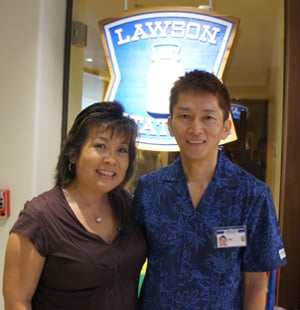 Japanophiles around Hawaii let out a collective squeal of "OMG, that's my favorite!" as the first Lawson Station opened in the United States today, right here in Hawaii. The famous convenience store (also known as conbini) opened not one, but two stores — one in the Sheraton Waikiki, and one in the Moana Surfrider.
If you're not familiar with such Japanese convenience stores, this is a pretty good introduction. When we went to Fukuoka in April, Catherine Toth and I went crazy for these, which seemed to be on every corner. They feature a variety of cheap, quick snacks and bentos, all at fairly good quality. In fact, Lawson is one of chef David Chang's favorite places to eat in Japan.
For those of you who are familiar with the chain, be warned: It's not exactly like the Lawson you know and love. Yes, they have their famous onigiri and oden, a selection of quick Japanese snacks, and Japanese toiletries, but it's really designed to be convenient for Japanese tourists. There is a mix of American snacks and drinks, and — most important for the visitors — souvenirs and products from Hawaii.
That's not to say you won't find a good variety of unique items. Here's a close up of some of the Japanese products we saw today at the Sheraton Waikiki. (And no, I'm sorry, there are no Kit Kats here.)
Lawson Station – Japanese products
As mentioned, there are American products mixed in. Here are just a few of the domestic products you will see in Lawson:
Lawson Station – American products
Want to take a quick tour and see what they have? Check out my video, here: