Last day in Paris ~ À bientôt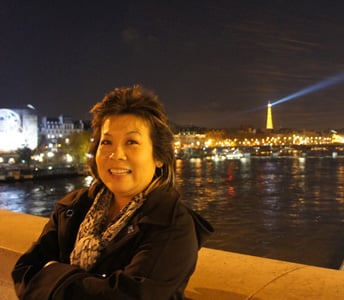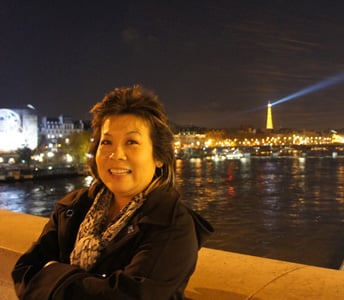 I spent my last day in Paris — Christmas Day — in a similar fashion to the way my family used to always spend it: lazing around. If you are there on Christmas, don't be afraid to venture out, as a surprising number of cafes and bistros are open. Ahnya bought a few crepes for us to eat, and Cymri almost bought a few meat pies. In fact, I was tempted to pop in to a bar across the street from my apartment for one last drink on Christmas evening, but decided I didn't want to chance not being able to wake up.
I had been in Paris for Easter once, and found that Chinatown was bustling. Pakes never close! Not only that, this is one of the world's largest Chinatowns, even larger than San Francisco. I wanted to share this experience with my nieces, but alas, due to our dawdling, we didn't make it there until it was quite late. If you decide to do this on a holiday, take the metro down to Olympiades, and use Tang Freres as your landmark when asking directions.
As we walked through the area, we noticed an abundance of Western-style (or is it Asian-style?) condominiums. Ahnya noted that this made us a little disoriented, as it didn't feel like we were in Paris anymore, but in New York or Hong Kong. If you go, you will notice that there are a lot of Chinese/Vietnamese restaurants; this is due to many ethnic Chinese fleeing Vietnam during the war in the 1970s. Here's a bit of trivia for you: Paris' Chinatown's residents include Chinese, Vietnamese and Laotian nationals, as well as Chinese from French Polynesia and French Guiana, plus various Asian ethnicities from New Caledonia.
Changs take Paris
After Chinatown, Adrian took us to the movies, and we all watched "Wreck It Ralph" in 3D. Not Christmassy, you say? Not Paris? Who cares? This is how many people spend Christmas, after the gifts and eating are done. The photos in this blog are just the highlights; to see the rest of the day's photos, click here. To see the whole trip, click here.
Just one last note, as mentioned in my first blog on Paris, I came to spend Christmas with my nieces in my favorite city. I know a lot of people have commented on how short my trip was, and thank you for making me feel bad. I don't regret doing it the way I did, though, because it's just too expensive for me to stay too long right now, and I had to get to Vegas to be with some other friends, for just as important reasons. This trip was perfect for getting my Paris fix, and seeing my nieces. I would have regretted it for the rest of my life if I had not gone.
I had a really good time showing my nieces "my" Paris and they were amazed at how different the city looked to them the second time around (which was also my experience). I was happy to provide them with special meals — Parisan delights that were different from the stuff they'd been eating as backpackers. It was also so much better to see them and hear them regale the stories of their European adventures so far — from the Bolivian salt mines to the KGB museum — in person and while it was fresh in their minds. We could compare notes from places we'd all visited, and they made me excited to seek out these places that I haven't been to yet.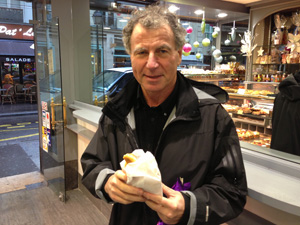 I'm bummed that our lodging plans didn't mesh, though, as they were across town near the Eiffel Tower and I was in the Marais, and it's actually a pain in the butt to get to each place, even by metro. Well, we are better prepared for next time. Mahalo to Yoko and Sylvain (pictured at left, with my croissant greeting on my first day back in Paris), from whom I rented the Marais apartment; the girls loved it so much, they took over the apartment after I left.
BIG ups to my friend Adrian Santos, who spent every day with us, took us around, and gave us tips on how to be French. I can't wait to return … rumor has it, the U.S. dollar is slowly regaining strength!
À bientôt (see you next time), Paris.