Ladies vs Gents: Whose cuisine will reign supreme?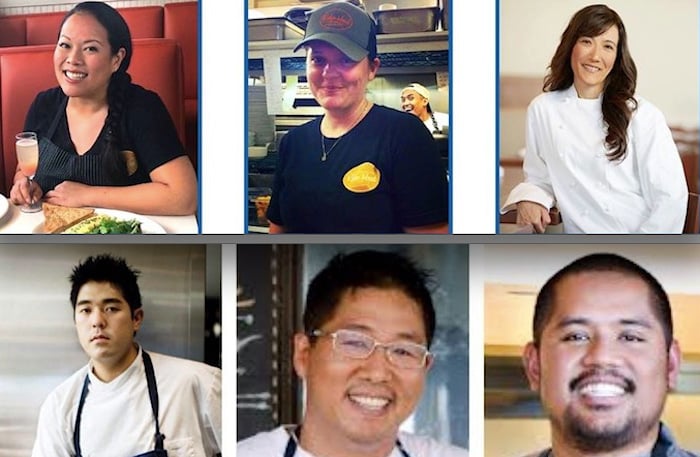 So MW Restaurant is putting together a benefit dinner with a male vs. female lineup of culinary superstars. Which is heart-stopping enough (I know who I'm putting my money on), but I wanted to know more.
"It all started because Lee Anne wanted to do a girls dinner, so last month we did one with Les Dames d'Escoffiers," MW's Michelle Karr-Ueoka says. That's Lee Anne Wong of Koko Head Cafe, who famously soared to national prominence when she made the final four in season one of Top Chef.
"We had so much fun," Karr-Ueoka was saying. "Wade (Ueoka, the other half of MW) goes, when's the boys dinner? I said we should do a boys vs. girls. Then Lee Anne says, that sounds cool! So Wade got his team together and we said let's go."

Up for the women: Wong, Koko Head's new chef de cuisine Nicole Anderson, Karr-Ueoka, Pig and the Lady pastry chef Rachel Murai and Roy's Restaurants corporate chef Jackie Lau. Their mixologist is Chandra Lucariello of Southern Wine & Spirits.
For the men: Chris Kajioka of San Francisco's Mourad and formerly of Vintage Cave, Mark "Gooch" Noguchi of the new Mission Social Hall & Cafe, Sheldon Simeon of Migrant Maui, Pig and the Lady's Andrew Le and Ueoka. Mixologist is Bevy's Christian Self.

With each chef making one canape and cooking one course, every diner gets 10 canapes, 10 courses and two cocktails, all featuring local ingredients. The catch? You won't know who cooked what.
"Let's say Lee Anne is competing against Gooch, they're gonna have the same ingredient," Karr-Ueoka says. "You'll get five pink tickets, five blue tickets. Let's say the first dish is made with kampachi. You'll know which kampachi is from the female and which is from the male. That's all. If you like the boy dish, you give the blue ticket to the server.
"It's like a people's choice award. At the end, the team who has the most tickets wins. It's a friendly competition, and we wanted the guests to be the judge."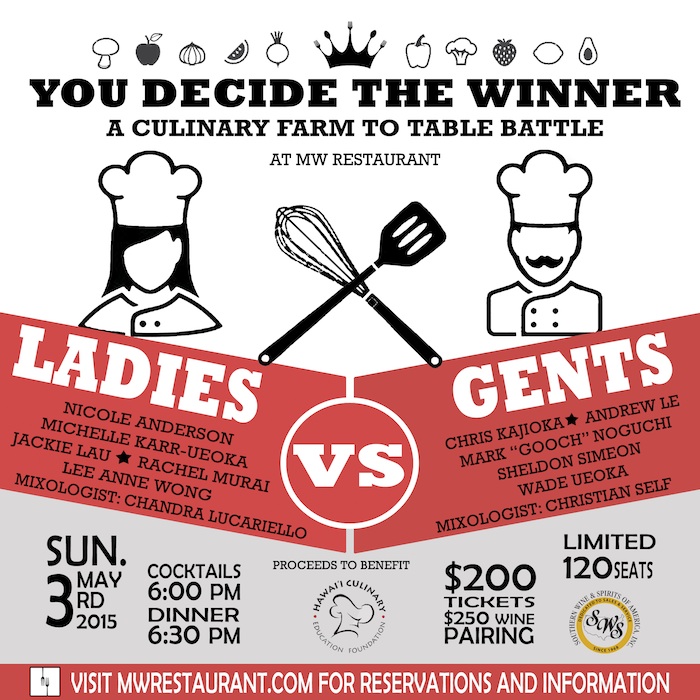 Ha so. Proceeds benefit the Hawaii Culinary Education Foundation, which helps culinary programs throughout the state with funding and professional resources. This fundraiser is created and brought together by chefs, to help give a leg up to chefs of the future.
Ladies vs Gents
A Culinary Farm to Table Battle
Sunday, May 3
Cocktails 6 p.m., dinner 6:30
MW Restaurant
1538 Kapiolani Blvd.
955-6505
Tickets: $200 for dinner, $250 with wine pairings, available online at mwrestaurant.com