LA: Lunch at Anqi, celeb spotting at Umami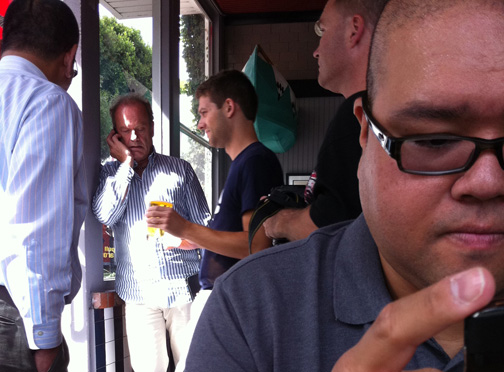 I'm already back, but I want to tell you about the rest of our trip and the things we ate. There were two lunches (no, not on the same day) that we got to squeeze in. The first was at AnQi Bistro, which is owned by the same family that owns Crustacean and Thanh Long. It's located in the shopping mecca South Coast Plaza, which I wanted to see for myself, so we were headed there anyway. Also, call me quirky, but businesses who follow me on Twitter and engage do pique my interest — not to mention, it signals that they want my business. So I make an effort to visit, if I can.
Twitter friend D.K. Mashino was nice enough to drive me out there, and we tweeted up with former Hawaii resident, Alicia Kim and her husband Tom. Here's what we ate:
Lunch at AnQi Bistro
The next day, D.K. and I went to Umami Burger in Santa Monica, since so many people had told us to go there. Lunch was good, but you know what was better? The celebrity sighting! Kelsey Grammer of "Frasier" walked in and put his name in for a table.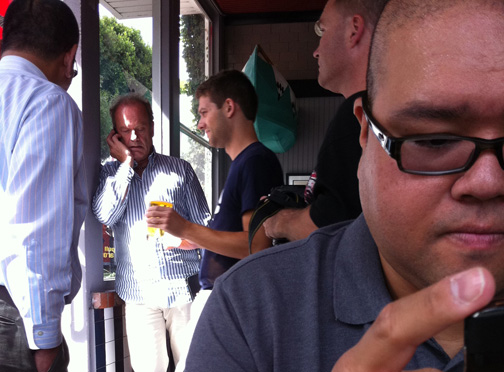 Everyone in the restaurant was pretty nonchalant about it, except for me and D.K. This was the L.A. experience I had come for! By the way, I think he ended up ordering a vegetarian burger. Here's what we ate:
Lunch at Umami Burger
We would still go to Umami Burger again, even without the exciting celebrity sighting. It seemed like there were a few other actors that we recognized, but we couldn't place their names.
Next in the Los Angeles blogs: Dinner at Bazaar.
========
You can read all of Melissa's blogs at www.nonstophonolulu.com/urbanmixplate. Follow Melissa on Twitter@Melissa808, on Foursquare as Melissa808, or email at Melissa@nonstophonolulu.com.
My recent blog posts:
My top 10 San Francisco eateries (for this trip)
Tweetup: Dinner at Sashi in LA
Tweeting up in Napa
San Francisco: Wandering Noe Valley
Visiting Family and dinner at Zero Zero
Eating, meeting LiveFyre, eating, and more eating
Eating my way around San Francisco
The San Francisco Nike Women's Marathon
San Francisco: One of my fave ways to chill
What's hot in San Francisco: Off The Grid
San Francisco, Day 2
San Francisco, Day 1
Backstage at Cirque Alegria
California, here I come!