Korea comes to Chinatown: Topped restaurant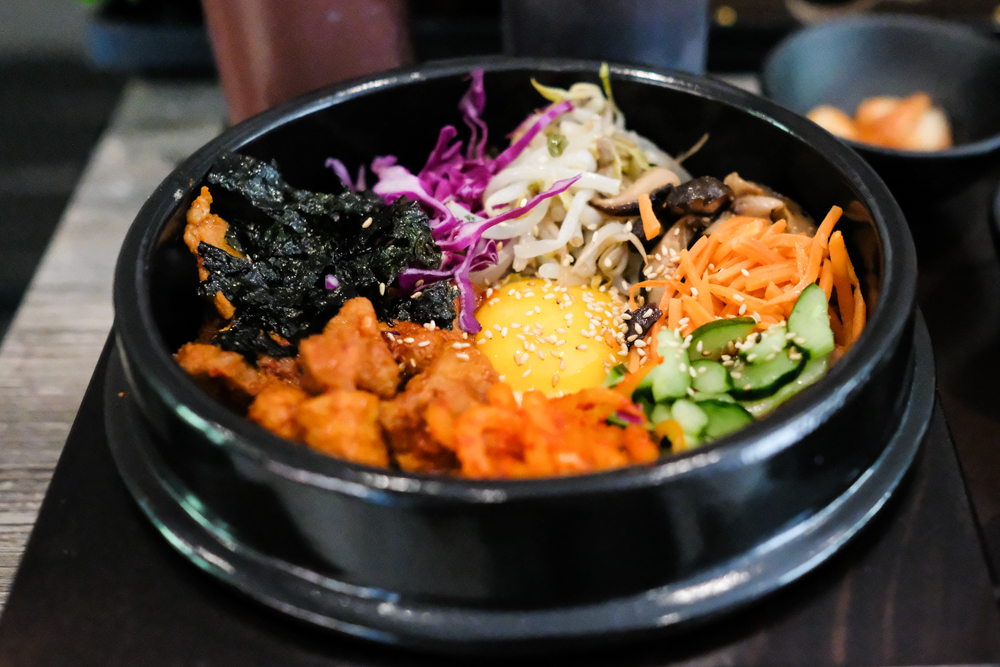 An astute downtownie might have noticed that the latest restaurant openings in Chinatown have been on and around Bethel Street, on the outer fringe of the 36-acre district. Korean newcomer Topped is different. It will have you venturing into the thick of Chinatown for sizzling bi bim bap bowls and tender kalbi ssam wraps.
Topped started as a stall at King's Village farmers market in Waikiki in late 2015, serving up casual bi bim bap cups (cup bap) and kalbi short ribs. As of this past Tuesday the restaurant has a new permanent home on Hotel Street. High ceilings, slate-colored walls and monochromatic tables and dinnerware provide the perfect backdrop for Korea's violently colorful cuisine – it's as if you used an app to enhance its vibrancy.
The menu is simple and easy to approach. Starters include homemade mandoo, tofu kimchi or ahi salad for $8 each or a hard-to-pass-up plate of jeon, a.k.a. Korean pancakes, for $9. For mains, you have a choice of several bi bim bap (their specialty) for $13-18, ssam lettuce wraps ($20-22), or dup bap rice bowls ($13-15).
Although variety is nice to have, I favored the corn jeon over the rest as it reminded me of buttery pan fried corn fritters. The dipping sauce is light with hints of sesame oil, shoyu and rice wine.
The spicy pork bi bim bap ($15) is a cornucopia of texture and flavor. Bap cognoscenti will appreciate the generous amount of shiitake mushrooms, pork, seaweed, cucumber, carrot, radish and cabbage that come together with the broken egg yolk. Fragrant sesame oil permeates the entire bowl. Other baptions include kalbi ($18), bulgogi ($16), chicken ($15) and tofu ($14). The stone bowl is a $1 option that you must have, because what is bi bim bap without the dolsot?
If you're on a carb-less diet, consider getting the ssam kalbi or bulgogi wraps and forego the rice for more leaves of fresh Manoa lettuce.
For $22, you get a decent amount of boneless kalbi meat along with six lettuce leaves, miso soup and banchan. The kimchi, made in-house, is one of the better ones I've tasted. You can always ask for more banchan when your dishes run low.
The owner and chef, Justin Sok, walked us through the menu. He let us have a taste of his homemade mandoo, delicious pork and scallion dumplings pan-fried 'til crisp, and we'll be ordering them on our next visit. He tells us he's keeping his menu strictly Korean and wants to focus on solid dishes before branching out to specials and other items. You can also expect Korean libations like soju, makgeolli and beer when they get their liquor license.
Your meal ends with a small sipping bowl of iced plum tea to aid in digestion – a nice way to close out an eating marathon.
Topped
66 N. Hotel Street
Chinatown
Lunch 11 a.m. – 2 p.m.
Dinner 5 – 10 p.m.