Koko Head Cafe's secret menu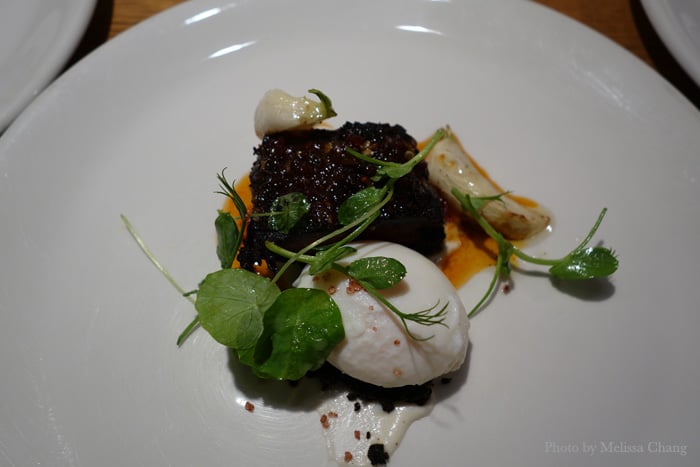 By now you know that most, if not all, restaurants have some kind of off-menu items or combos that you can order, anytime, and impress your friends while enjoying an extra special meal. Double double animal style? Check. Sriracha breakfast burritos? Check. Foie gras loco moco? Check. I've done blogs on the hidden menus from various restaurants around town, thanks to my foodie friend Sean Morris, and his latest event knocked our socks off.
Lee Anne Wong at Koko Head Cafe agreed to show us nine of her secret menu items, things that people "in the know" can order any time, using ingredients that are already in her kitchen. They don't really have names, but you can use this blog as a guide. Like pouring a scoop of chili on anything at Zippy's, almost anything is possible if they have all the items handy.
We started with volcano meatballs using Shinsato Farm pork and focaccia from 12th Avenue Grill. This is the same sauce used on their volcano eggs; note that it's not called volcano because it's spicy, but because it looks like hot lava. Yum!
We all loved the Haloa gnocchi, which was a spoonful of luau leaf, chives, pa'i'ai, and toasted coconut. This was melt-in-your-mouth goodness! All the flavors were very subtle, so you get the earthiness with the sweet coconut at once.
Apparently customers already know to order the mega hash browns, but these have a Reuben topping: pastrami, kim chee slaw, cheese, and "eight island dressing." This was good, but the Reuben lovers in the crowd absolutely loved it. You can also order this volcano style, with mushroom gravy, or with the ohayo egg sauce.
Another huge favorite, even with people who don't usually eat salad: Fried tofu salad. Their salads change daily, which Lee Anne says pushes the crew to be fresh and creative. This one had large blocks of fried tofu (as delicate as the ones you get at Raku in Las Vegas) on a bed of lettuce, ali'i mushrooms, Easter egg radish, and watermelon radish. The kochoojung dressing and bubu arare topping pulled it all together. I could probably eat the whole bowl as a meal!
Whoa. I had to cut one third of this sandwich to taste, then take the rest home. The jidori chicken is poached in mirin, sake, shoyu, and herbs, then fried in tempura batter — this method of cooking twice enables them to produce a moist chicken nugget every time. It's topped with cheese, billionaire's bacon, and savory mushroom sauce, all on sweet bread buns. The sandwich was lovely, hearty, and savory, but using sweet bread buns was genius. Don't settle for a regular bun! This was still good the next day, too.
Don't forget, Lee Anne is Chinese, so getting a bowl of congee/jook is always going to be kicked up a notch. Instead of fish balls, she uses miso marinated swordfish (or whatever fish of the day) and tops it with scallions, chili flakes, bubu arare, house-made chili oil, and Indonesian sweet soy sauce so you get a range of flavors and textures in what would normally be a plain bowl of rice soup. I need to have Lee Anne do a congee showdown with my Aunty Helen, man. And with a big bottle of that sweet soy sauce so I can put it on everything.
Another of my favorites for the night: "Piggy in the garden," a riff on Koko Head Cafe's Donburi Chen (named after our own Will Chen). The restaurant always has fried and miso pork belly, so you can pretty much order combos using that. This one is pork belly fried in sweet chili glaze, with a poached Ka Lei egg on black garlic "soil," Maui onion puree, and fried turnips. The black garlic and Maui onion lend sweetness and earthiness to this dish, which we gladly licked up. Vern Yoneyama wrinkled his nose when I told him there were turnips on his plate, but even those were cooked to perfection, and he surprised himself by gobbling those up, as well. Okay, well, we all did.
Just when we thought we couldn't eat any more, they busted out this noodle dish using Sun Noodle Okinawan soba. It's topped with shredded miso smoked pork, caramelized onions, fried onions, garlic croutons, and parmesan sauce. It looks really heavy, but the flavors are all delicate and complement each other well. This was another one I had to pack up, and it was also delicious the next day. Normally it's a crap shoot with noodles that are already sauced, but the soba was sturdy enough to keep its integrity.
And finally, dessert: Fried Big Island Cuban red banana dipped in ricotta pancake batter, then rolled in corn flakes and toasted coconut. Creamy lehua honey pepper sauce is then drizzled over the top. It's like a fruity version of their French toast, with a little savory crunchiness with the more dominant sweetness.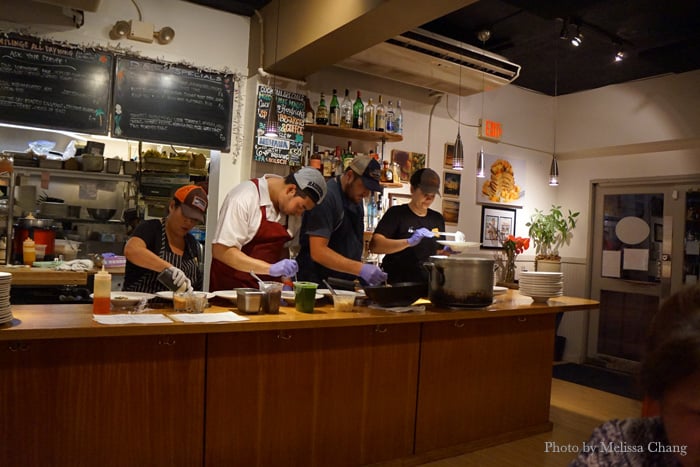 Mahalo to Lee Anne Wong and her crew at Koko Head Cafe! They opened late to bring us this dinner, and they had to clean up and get back to work so they could open at 7 a.m. the next day.
Don't forget, you can order these off-menu items at any time. To see more, look for the #KHCSecretMenu hashtag on Instagram or Twitter.
Koko Head Cafe
1145 12th Ave.
808-732-8920