Kimukatsu vs. Bairin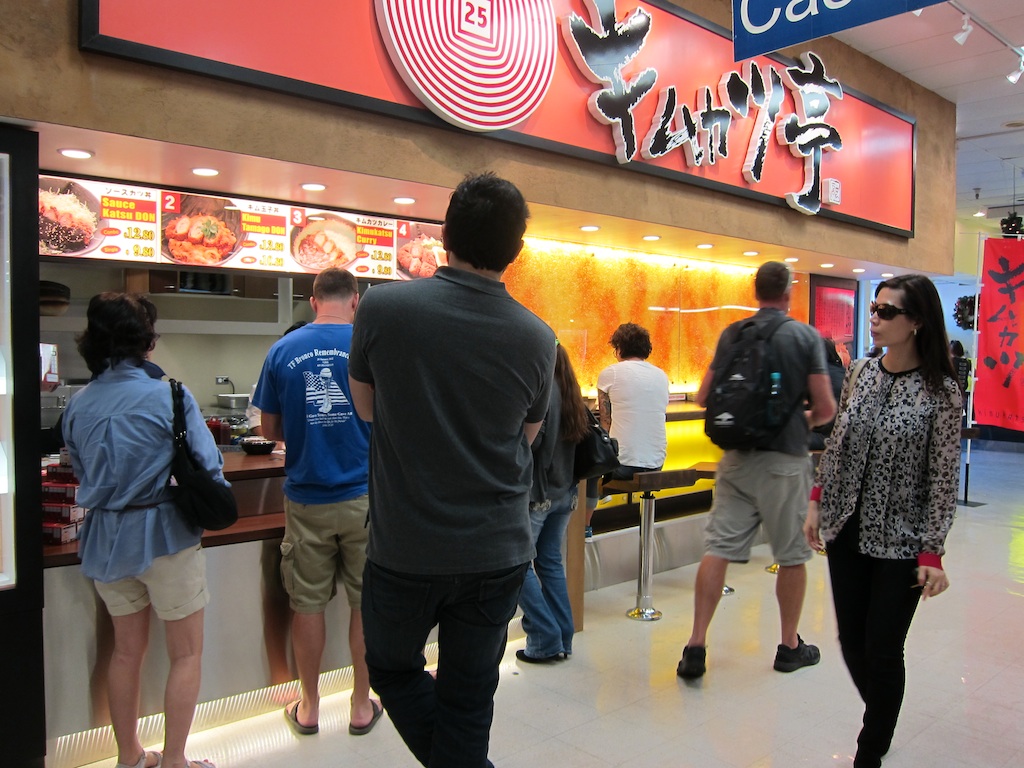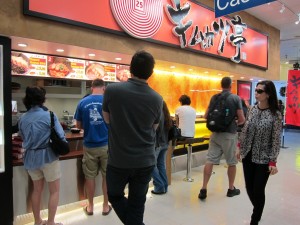 Happy Friday, tonkatsu fans, happy one week since the battle of the tonkatsu giants came to Shirokiya!
I've found that in Hawaii, asking who likes tonkatsu is like asking who likes Spam. So this is momentous: Waikiki's Kimukatsu debuted in a permanent spot at Yataimura last week, bringing the inconvenient battle of tonkatsu kings with restaurants located 0.3 mile and 6 minutes apart to within literal spitting distance of each other. Waikiki's Tonkatsu Ginza Bairin, as many of you know, has already been in the middle of Shirokiya's ongoing street food fest since just about forever. Which means you can now do your own head-to-head comparison over one lunch. Sort of.
In my book, the tonkatsu rankings go Bairin, Ringer Hut and Kimukatsu (Whose tonkatsu reigns supreme?, Nonstop April 2012). But never mind Ringer Hut, mine is a minority opinion. The real battle has always been between Kimukatsu and Bairin. On Day 4 of the permanent Battle at Shirokiya, I grabbed a friend and we headed to Yataimura.
First, the options. Kimukatsu's menu lists four offerings, all bowls of rice topped with tonkatsu and sliced cabbage. You can get it slathered in tonkatsu sauce, slathered in curry or topped with egg two ways. For about $13 you get this plus a small bowl of miso soup, with free pickles at the counter. No unlimited rice, cabbage or miso soup like at the restaurant. It's also a lot cheaper.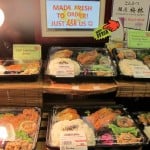 Bairin offers a mind-boggling array of tonkatsu: a la carte, different cuts, complete bentos, katsu curry bowls, katsu sandwiches. You can grab your choice to go or have them cook it fresh for you on the spot. I ordered the most expensive: thick-cut loin katsu bento, $11.
Anticipation was surging as I climbed onto a counter stool at Kimukatsu, directly opposite the cash registers. At least, mine was. My friend, sent to order Kimukatsu's storied 25-layer katsu, had been waiting for me forever. Her katsu came out almost the minute she ordered it. Nobody cooked it low and slow for 8 minutes, as proclaimed at the restaurant.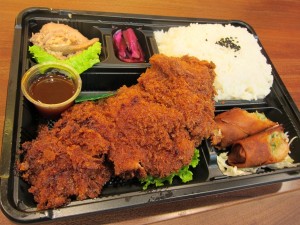 On the other hand, look at my Bairin katsu. Nothing is Photoshopped. This is the real color.
Which brings me to the results. They are a travesty. Kimukatsu fans, you can exult: Your katsu may not be piping hot, but slathered in the tangy, mildly sweet sauce with a hint of apples, it is moist and tender enough to part with the softest bite.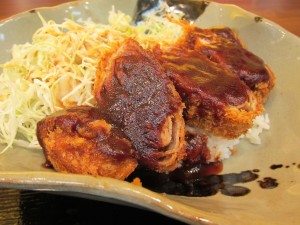 Bairin fans, my katsu was an injustice to the pig. The katsu was overcooked, the meat aggressively tough, dry and tasteless. The middle piece actually repulsed my efforts to bite it. I left tooth marks on all sides from my efforts: I'd bite down, and my teeth would fly off. Bite down, teeth fly off. I was doing battle with my tonkatsu.
We were sad. I've liked Bairin's Shirokiya takeout, marveling at how well the light, juicy katsu holds up even when cold. Friends rave over the katsu sandwiches. This was my first time ordering fresh. I won't do it again.
And honestly, I preferred Kimukatsu's Shirokiya fast-food version to its restaurant one. No gushing taste of pork fat here. Just the apple-y sauce and the happy meat.