Kikue brings luxe izakaya fare to Kaimuki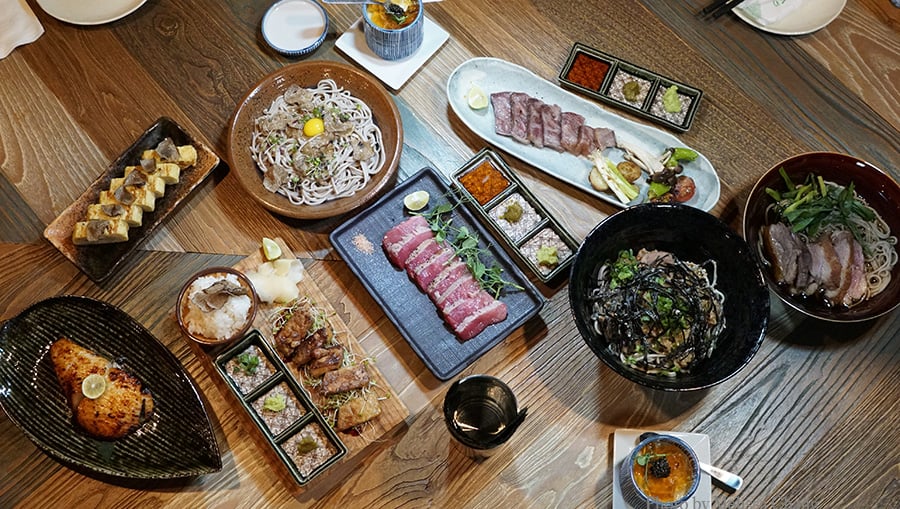 Many people got a first taste of Kikue at this year's Joy of Sake, where the restaurant served one of their signature dishes, homemade soba topped with uni and uni foam. The dish was a hit, which built the excitement to check out the newly opened Kaimuki izakaya on Waialae.
Their introduction at Joy of Sake was appropriate, not just because they're new, but also because their food is sake-friendly. Manager Man Bong Ching said that Kikue currently offers about 40 sakes, but he's working to have about 80 — making their list the largest selection of sake in Hawaii.
Kikue is located on Waialae where Kona Kai Sushi used to be, so it's meant to be a neighborhood restaurant. You'll find the menu has a lot of casual izakaya fare, like chicken karaage, tempura, miso soup, tempura, tofu, somen, and a unique homemade soba, so people should feel comfortable showing up in jeans or shorts, as we and other patrons did. But there are also many exclusive, fancier items in the mix that set Kikue apart. Chef Satoshi Kaneko has worked at more elevated establishments in town, including Arancino di Mare, Vintage Cave, Teppanyaki Onodera, and most recently Yamada Chikara. Kaneko is apparently a quick learner, as Kikue's owner tasked him with making soba in house, and he brought the art to life without having made soba at his previous restaurants.
Here are some of the items we tried on two visits with different diners.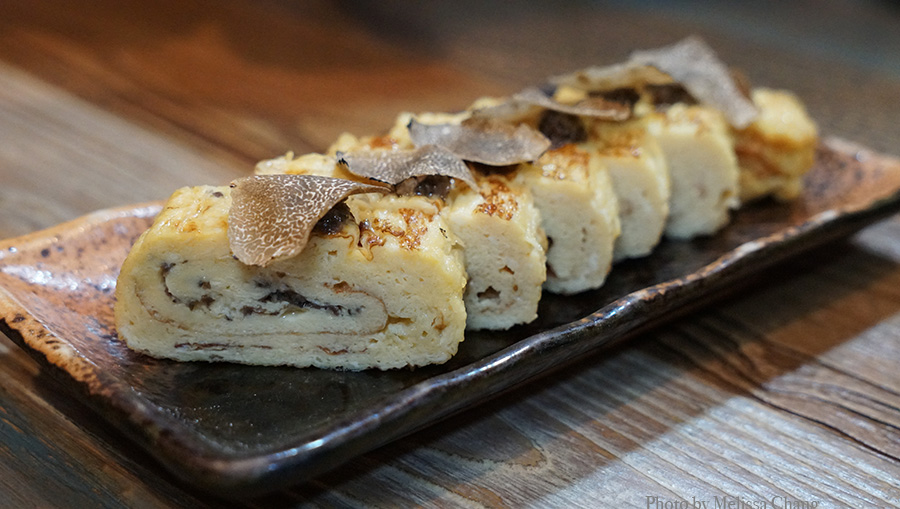 Plain dashimaki tamago is on the menu for $9.50, but since I was with my fancy friend Sean Morris, Kaneko made one with truffle oil and freshly shaved truffles. This Japanese omelet is one of my favorite things to eat when it's done well, and the addition of truffles made my eyeballs roll back into my head. I thought this beautifully aromatic egg would cost too much to have again, but Ching said it will be an off-menu special for $15. Whaaaat?! I'm coming back just for this!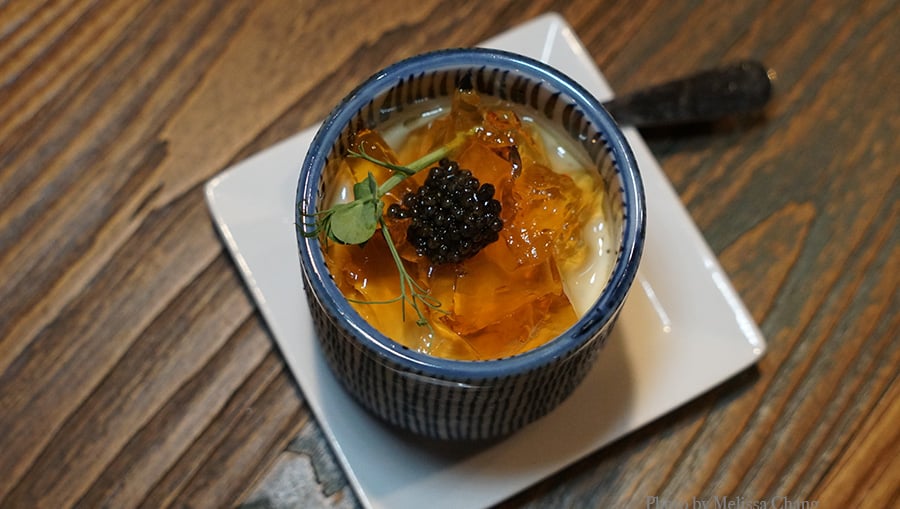 The Kikue royale is a cold chawanmushi. Normally it's served with uni, but on this evening they substituted crab, which was still pretty decadent. It's topped with a delicate dashi jelly and caviar, giving the delicate egg custard an infusion of salt and texture to make it addicting.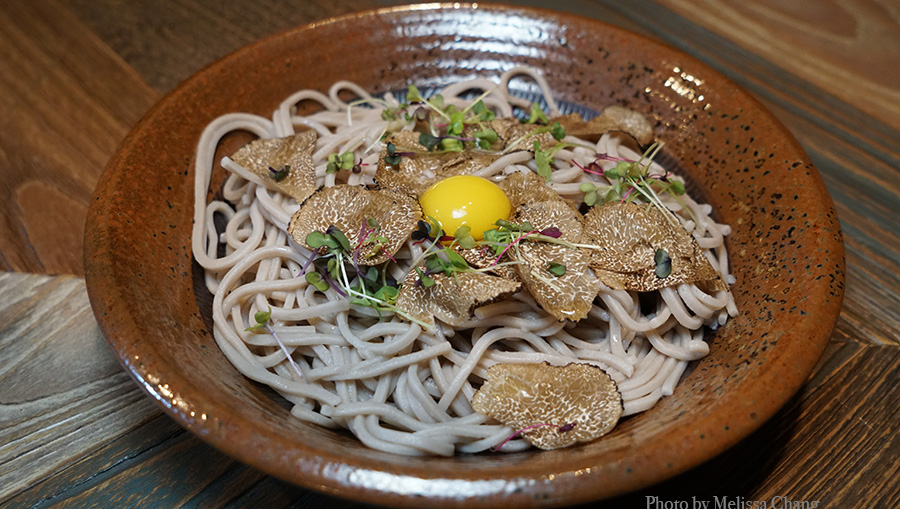 Soba can be luxurious! The truffle soba is topped with freshly shaved truffles and a quail egg, and is accompanied by a dipping sauce with more shaved truffles. The umami works so well with the soba, you'll wonder why no one thought of this earlier.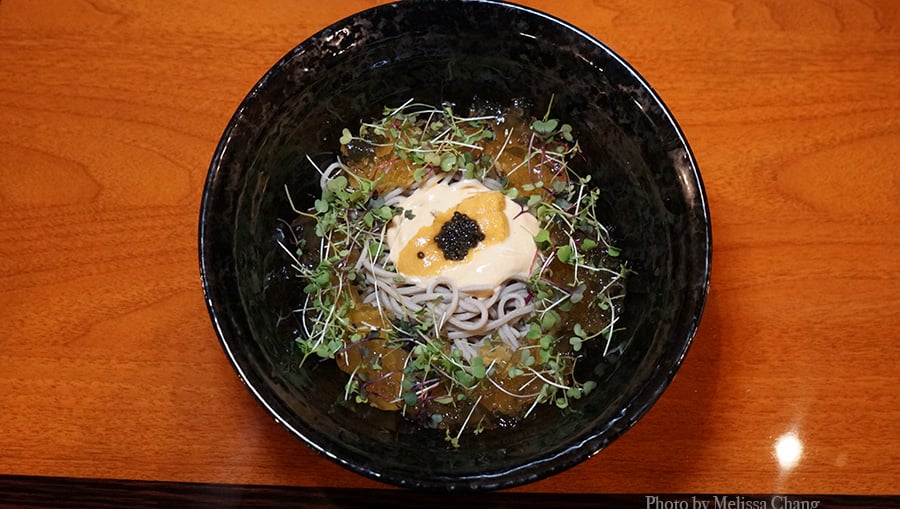 One of their signature dishes is their uni soba, topped with the dashi jelly, uni foam, and more uni topped with caviar. Keep in mind that Kikue is still new, so although this was basically good, I had to suggest that they provide a spoon — we ended up with more dashi jelly on the bottom of the bowl than in any bite of soba. (As an uni lover, I would also have liked to have had more uni.)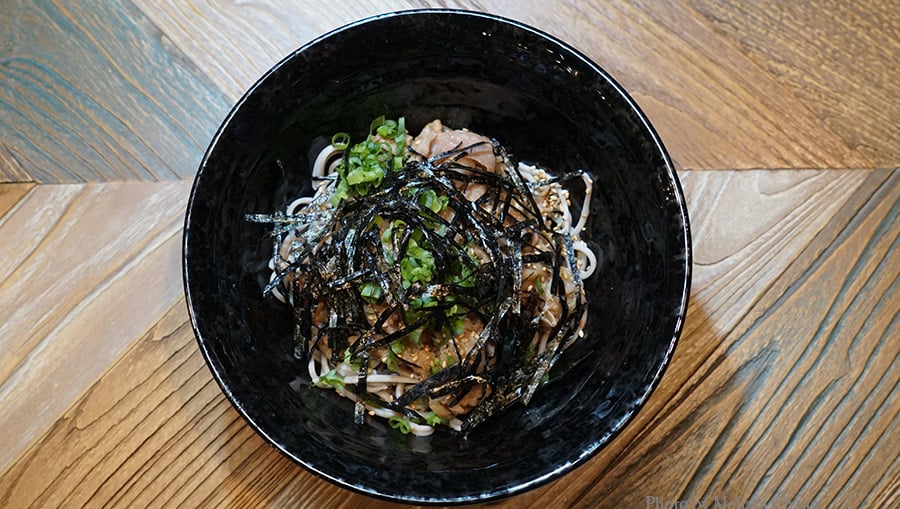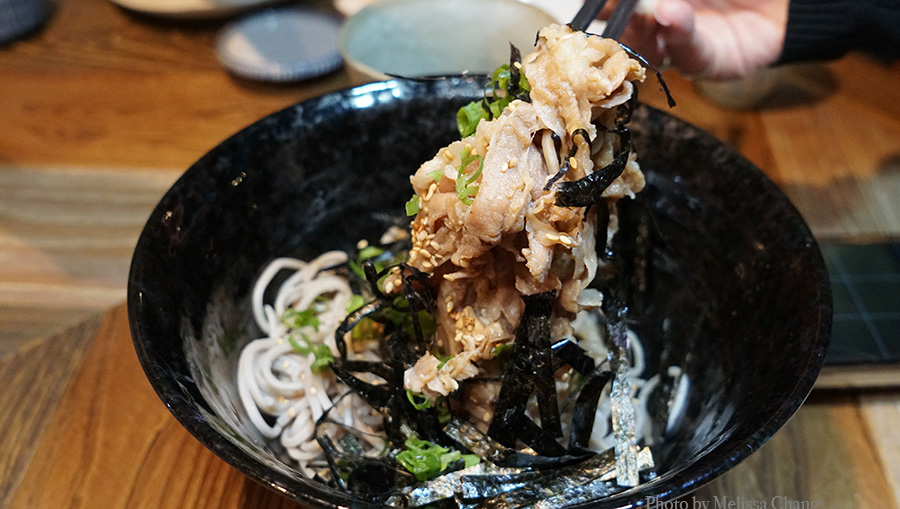 The niku soba is another signature dish, featuring strips of pork belly with nori, green onions and sesame seeds. It seems really simple, but it's perfect for people looking for comfort food. It's very straightforward and quite filling.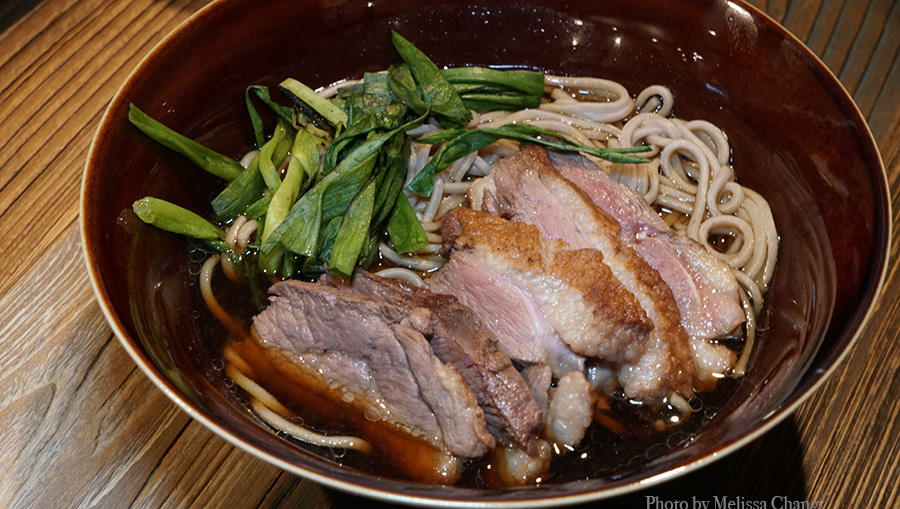 Duck soup, served with soba, is a very common dish in Japan, so there's no question that Kikue would have it on the menu. The flavor was good, but I found the duck to be a little tough. I should note that the soba noodles in all of these menu items seemed a little too firm for me, but my friend Ritsuko Kukonu explained that it's because Kikue's noodles are 100 percent buckwheat. I left most of the bowl on the table, but Ritsuko, who could appreciate the 100 percent buckwheat noodles in duck soup, inhaled the rest. So keep your own personal preferences in mind when you order.
Here's a little trivia for you Pokemon Go players: "Kamo" means duck and "negi" means leek in Japanese. "Kamonegi" is a short reference to a Japanese proverb that refers to a duck carrying a leek on its back, meaning a convenient stroke of luck — as if the duck came along just asking you to eat it. It's probably like our own Western "It's like duck soup" or "sitting duck," thus why you have a little wink and nod to the proverb through the Farfetch'd character in your game.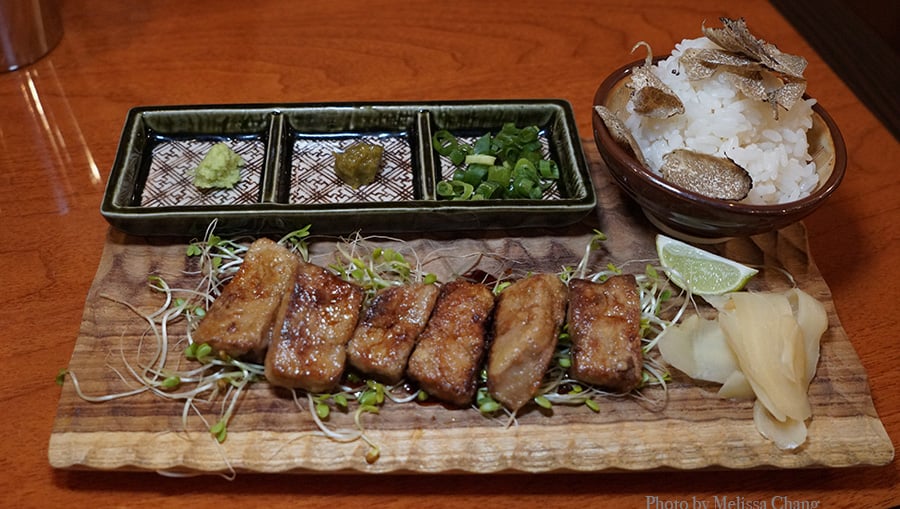 My friend Yumi Ozaki loves foie gras more than anything, so she was in heaven with this interesting presentation of her beloved ingredient. The foie gras is seared with a light teriyaki sauce and served with truffled rice. You make your own mini hand rolls with the accompanying condiments and nori (not shown), which is a most luxurious way to enjoy it. And as a hand roll, you're able to eat each slice more slowly than you would if it were simply served as is, thus extending the experience. Some customers are put off by the price, but if you love foie gras, you know $24 is pretty reasonable for such a plate.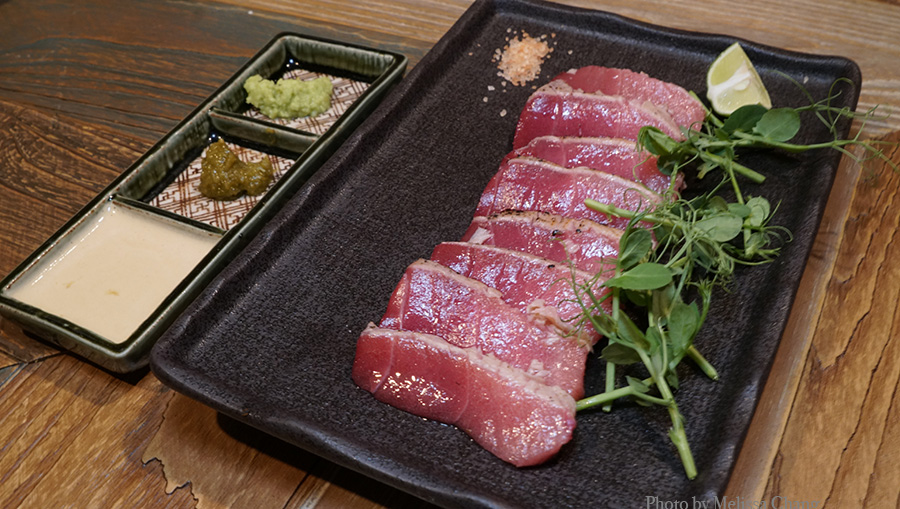 Ootoro, or fatty tuna belly, will melt in your mouth no matter what, but Kikue serves it aburi style, or lightly flame-seared. We shared this dish so I only got one piece, but if I had it all to myself, I would probably experiment with the different condiments beyond the wasabi. It comes with yuzukosho, ponzu espuma, rock salt and lime, all of which you can use in different combinations or by themselves. No matter which way you prefer, this is a heavenly experience for your palate.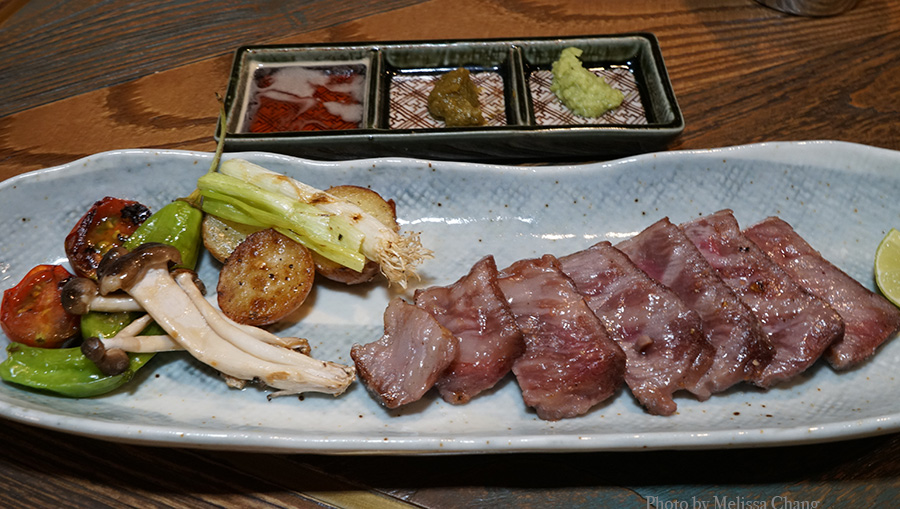 Kikue does the same light flame searing on slices of wagyu. Again, this was shared, so I only got one piece, but I'd also experiment with the accompanying condiments if I had this all to myself. The meat is beautifully marbled and good quality, so you completely enjoy the beefy flavor as each slice melts in your mouth (I have to mention this because I've had wagyu at other restaurants recently where the wagyu was actually tough). I think you get the idea: don't share these dishes unless you're a really nice person.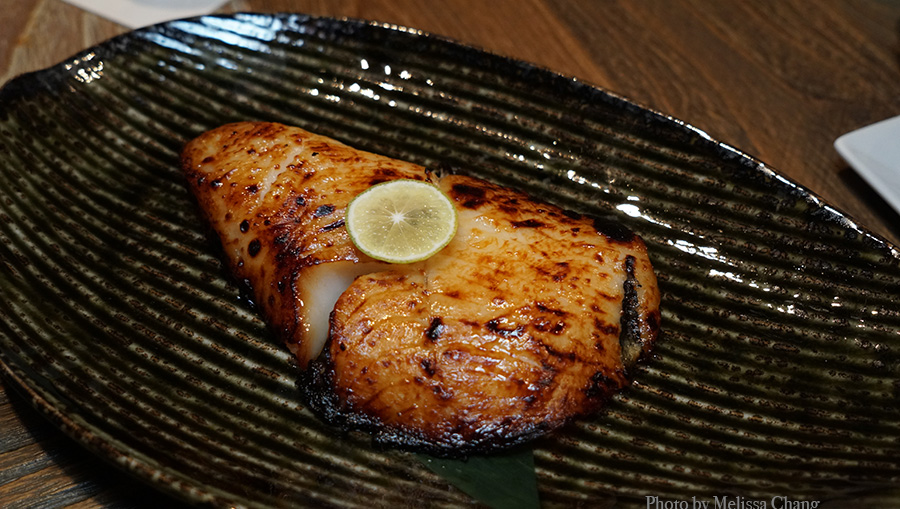 The grilled miso butterfish is another very straightforward dish, but I appreciated that the miso was more delicate. Most local places use miso with heavier flavor that punches your mouth with flavor, which is fine for me, but this lighter version enables you to enjoy the butterfish for what it is. You almost don't need rice! Almost.
The menu at Kikue is still evolving, and you'll see the menu will have "coming soon!" next to some items. They plan to add four or five more soba dishes, as well as a more approachable $40 tasting menu. You can also currently get a more extensive tasting menu for $80.
I'm looking forward to more good things from Kikue's owner, too. This is his first restaurant venture, as he is a sponsor of robotics teams in Japan — which is why Kikue has a machine for soba, shave ice, sushi, and castella cake in the works — but he's looking to expand with more. His next project is apparently a big space in McCully Shopping Center, according to Ching. I can't wait.
Kikue
3579 Waialae Ave.
Kaimuki
376-8576
Sun-Tue and Thur 5:30 – 9:30 p.m.; Fri and Sat 5:30 – 10 p.m. (Closed Wednesdays)