Kicking off Mele Mei 2014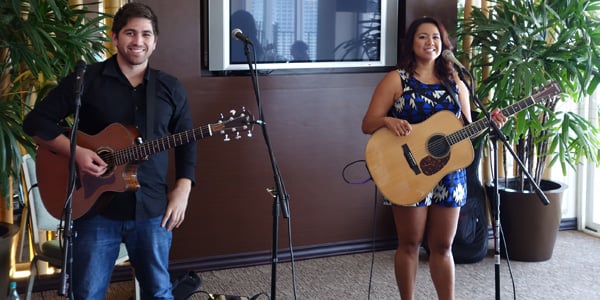 Mele Mei kicked off on May 1, starting a monthlong celebration of Hawaii's music that culminates with the Na Hoku Hanohano festival and awards. For the launch, various local musicians (who are also Na Hoku Hanohano Award nominees) played for a crowd at Altitude@37 in the Hilton Waikiki Beach Hotel, including Sean Robbins, Kaiholu, Mailani Makainai, and the late Chino Montero.
In previous years, the prestigious Na Hoku Hanohano Awards was an annual event that honored the talents and achievements of Hawaii's musicians. Now, with Mele Mei, the public can partake in various events throughout the state to learn about the different genres, artists, history and culture that comprise Hawaii's unique music. While you can take part in ticketed events and concerts, there are many free, family-friendly events to make the music accessible to everyone.
Click here to see the entire schedule, or click here to get a PDF of the calendar of events. There are still tickets ($25 each) available to this Saturday's All-Stars concert at the Hilton Hawaiian Village, which will feature Maunalua, Natalie Ai Kamauu, John Cruz, and Amy Hanaiali'i Gilliom. For those of you on Hawaii Island, I'll see you this Saturday at the big Ka'u Coffee Festival Hoolaulea!
As in previous years, NonstopHonolulu will bring you coverage from some of the bigger events, including the Na Hoku Hanohano awards and the Ukulele Picnic at the end of the month.
I was fortunate to see slack key artist Chino Montero perform "Kawena" at the kickoff luncheon. This song is up for Song of the Year at the Na Hoku Hanohano Awards. As you may know, Montero passed away suddenly on Thursday, two days after I shot this video:
In true kanikapila style, local band Kaiholu performed at the kickoff luncheon with a hula dancer:
Mailani Makainai and Imua Garza also showed their talents at the kickoff:
(I was, unfortunately, running around the room during Sean Robbins' performance, but will catch him at an event sometime this month.)
Disclosure: Mele Mei is my social media client.