HONOLULU Family Easter Recipe: White Chocolate and Jelly Bean Bark Treat
No baking required for this festive sweet treat.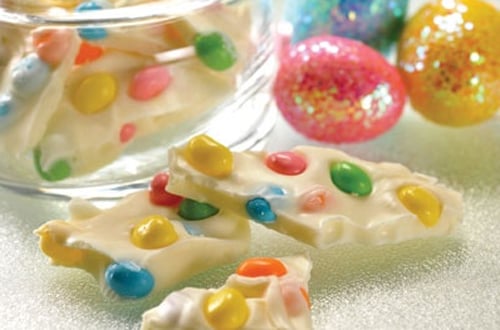 Ingredients
2 cups Nestle Toll House premier white morsels
2 teaspoons vegetable shortening
½ cup Wonka SweeTarts jelly beans, divided
Instructions
Line baking sheet with waxed paper.
Microwave morsels and vegetable shortening in medium, uncovered, microwave-safe bowl on medium to high power for 1 minute and stir. Morsels may retain some of their original shape.
Stir in ¼ cup SweeTarts Jelly Beans.
Spread mixture to ¼-inch thickness on prepared baking sheet.
Sprinkle with remaining ¼ cup SweeTarts Jelly Beans.
Refrigerate for about 15 minutes or until firm.
Break into pieces. Store in airtight container at room temperature.
Order HONOLULU Family's Surprise Easter Bunny Box here!
---
Looking for more Easter Fun? Check our Easter Corner for a roundup of events and activities, at-home craft ideas and even virtual storytimes!