Keiki in the Kitchen: Turn Your Honolulu Kitchen into a Parisian Pâtisserie
This holiday season, let your keiki be the sous chef. Vive la France!
Heading into the holidays, we have high hopes for our family time: lots of fun, lots of learning, lots of togetherness. Experiences that feel special—but please, please let them be simple to pull off. Cooking can be a great way to achieve all of that, and more.
Chef Praseuth "JJ" Luangkot trained in Paris and New York, and now owns JJ Bistro and French Pastry in Kaimukī. Winner of this year's Hale 'Aina Gold Award in the Best Dessert category, JJ's bistro has been called "a little slice of Paris in Honolulu," and it's there we turned to find a few sweet family cooking experiences with a certain je ne sais quoi. Though the artful creations JJ is known for can require years of rigorous training, for Keiki in the Kitchen, he drew on his years of daily life in France. It turns out that French families like simple, special dishes, too.
These creations, says JJ, have the right combination of fun and taste. "You don't want it to be too hard to do, or the ingredients to be too hard to find. Some things, you need a lot of knowledge to make—but these, everyone can do."
Each recipe contains several kid-friendly steps, so smaller children can flit in and out of the action, and bigger kids can trace the continuity as it all comes together.
Banana Yogurt Parfait with Oreo Cookies
Banana yogurt parfait is equal parts healthy and oh là là.
"In a good dessert combination," says JJ, "you have all different textures." This many-layered parfait fits the bill, with the smooth creaminess of homemade banana yogurt marrying with the bright pop of berries and the comforting crunch of Oreos. Note: To kick up the yum factor even further, mix a few well-crumbled Oreos with a pat of butter, and toast for a few minutes in the oven until the Oreo pieces are crisp.
INGREDIENTS
 2 bananas (the common supermarket variety works best)
 1 cup plain yogurt
 2 egg whites
 2 tablespoons powdered sugar (2 ounces)
 2 or 3 small baskets of different berries, gently rinsed and dried (strawberry and raspberry both pair well with banana)
 1 cup whipping cream (8 ounces)
 1 small packet of Oreo cookies
INSTRUCTIONS
Parfait Base:
Make a soft-peaked meringue from the egg whites and sugar. Set aside.
Peel and puree the banana, setting aside a few slices for garnish.
Add banana puree to the yogurt and mix by hand.
Fold in the meringue.
Whip the cream to soft peaks, using an electric mixer.
Fold in the cream. Set aside.
Parfait Layers:
Crumble the cookies, set aside. The chunks can be as big or small as you like.
In a glass-sided dish, build the parfait in layers: Oreo/yogurt base/berries/Oreo/ yogurt base.
Garnish with whole berries and bananas. If you like, perch an Oreo on top.
Serve very cold.
Chocolate Mousse Cup
In France, this easy and delicious classic is one of the first desserts children are taught to make at home.
INGREDIENTS
 8 ounces semi-sweet chocolate
 1 egg white
 2 tablespoons powdered sugar
 2 cups whipping cream (16 ounces)
INSTRUCTIONS
Note: It's called a double boiler, but it doesn't mean you'll boil water inside it. Keep the heat on low, so the water is steaming but not boiling.
Melt the chocolate in a double boiler on low, stirring constantly when it starts to soften. When the chocolate is melted, remove from heat.
Add the powdered sugar to the cream, and whip into soft peaks. What does that mean? "Like shaving foam," says JJ. Too stiff, and it will be hard to combine with the chocolate.
Fold the cream into the chocolate, little by little. Make sure it's not the other way around (adding the warm, melted chocolate to the cold cream), or the chocolate could solidify.
Whip the egg white into meringue. These, too, should be soft peaks.
Fold the meringue into the bowl,  gradually.
Garnish with a snowfall of powdered sugar (sprinkled through a sieve) and a raspberry or two for color and taste, and some grated chocolate or chopped macadamia nuts.
Melted Chocolate
The time-honored way to melt chocolate is in a double boiler, or a metal bowl perched over a water-filled pot on the stove—but, now that microwaves exist, it's 100-percent fine to use them, says JJ. Put the chocolate in a microwave-safe plastic or ceramic bowl and, for this amount of chocolate, try it on medium or high for 40 seconds. If it's not all melted, give it a gentle stir and wait; the residual heat may liquefy the last chocolate. If it needs another boost, put it back in for another 15 to 20 seconds and stir again.
Meringue
Many French recipes rely on meringue for their legendary lightness, but meringue is one of those things that feels more intimidating to make than it should, says JJ. Here are a few of his tips to ensure making meringue is fail-safe.
TIPS
Make sure the bowl and utensils are squeaky clean and absolutely dry. Any residual oil or water can make the meringue "break" (refuse to hold its shape).
The egg whites should be as fresh as you can get, with no yolk included.
Use powdered sugar, which blends into the meringue more easily and evenly. It also contains a trace of cornstarch, contributing to stability.
Throw it all in. Many meringue recipes say to whisk the egg whites first and then fold in the sugar. JJ says there's another way: Just put the sugar and the egg whites in at the same time. The result is an approach that's much more forgiving—perfect for kids' first time.
Use an electric mixer. Meringue's tricky reputation is partly a holdover from the bad old days of hand-whipping, says JJ. Today, he says, "It's OK to combine everything and just let the machine go."
Clafoutis
It's OK if you haven't heard of clafoutis (pronounced kla-foo-TEE), a beloved French dessert that's little known outside of France. Maybe that's because clafoutis is not a bakery product, but a rustic, delicious standard of country kitchens.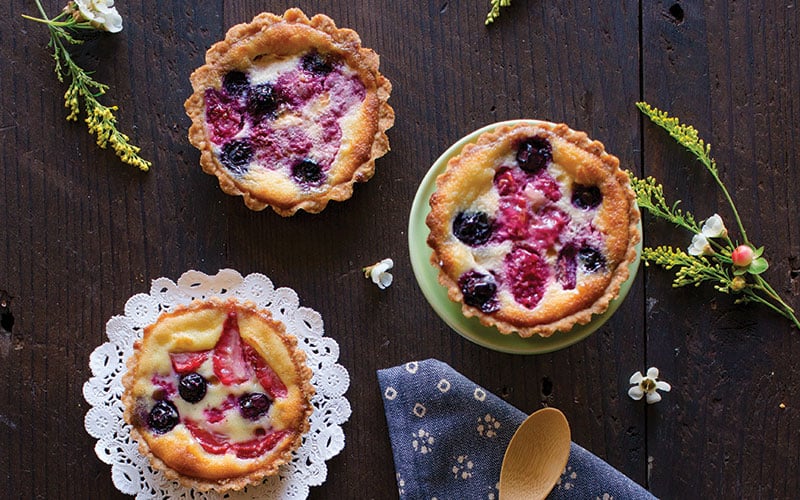 Note: Clafoutis is an ideal make-ahead dessert. Fresh fruit starts to loose oomph as soon as it's cut, but desserts that use cooked fruit can last for days.
INGREDIENTS
 1/2 cup mascarpone (4 ounces)
 2 tablespoons sugar (2 ounces)
 2 egg yolks
 1 small basket mixed berries
 10 3-inch, or 1 8-inch, tart shells (optional)
INSTRUCTIONS
1. Preheat oven to 375° F.
2. Combine egg yolks and sugar in a double boiler over low heat; whisk until sugar melts and they become thick, smooth and creamy.
3. Still on low heat, whisk the mascarpone in slowly, which helps it melt. Remove from heat.
4. Distribute the berries equally in tart shell(s), or scatter in a buttered 8-inch round baking dish.
5. Pour the egg/mascarpone custard mixture over the berries.
6. Bake for 5 to 7 minutes (for 3-inch tart shells or ramekins) or 10 to 12 minutes (for 8-inch tart shell or dish).
7. Allow to cool, then sprinkle with powdered sugar, slice and serve.
VARIATIONS
Grownup version: Add a dash of sophistication by whisking 1/2 teaspoon of rum into the custard just before pouring over the fruit.
OTHER SEASONS
Traditionally, clafoutis is made with whatever fruit is in season: cherries; pears and raisins; tart apples. "Any dry fruit will work," says JJ—but not pineapples (too juicy) or kiwis, which lose their color and texture when cooked.
Want More Kid-Friendly Recipes?
Start at honolulufamily.com/keikiinthekitchen for more local chef recipes including:
Spaghetti tacos
Chocolate pasta
Strawberry shortcake in a jar
Summer rolls with peanut sauce
Turkey-dog sushi
Strawberry and kale smoothie