Keiki in the Kitchen: 3 Hawaiʻi Watermelon Recipes That Will Wow
Li hing mui kebabs with creamy Romanoff sauce and other fun ideas from one of our Hawaiʻi chefs.
Ice-cold watermelon wedges are a surefire hit for all ages. Why not turn the healthy, after-school snack into a quick flavor experiment?
Chef Ronnie Nasuti of Tiki's Grill and Bar introduced three combinations that surprised and delighted parents and kids alike at our recent Keiki in the Kitchen workshop at the Hawai'i Children's Discovery Center. First, local salt added crunch and a surprising sweetness to the fresh fruit. Kids tasted the subtle differences between smoky, black salt and red 'alaea salt. Next, the chef whipped up a rich Romanoff sauce that added an almost cheesecake-like decadence to melon pieces cut in playful shapes. Some kids couldn't stop dipping their fruit skewers. We spotted others eating the sauce by the spoonful.
The final dish was a Tiki's original. The watermelon salad with savory local cheese, tangy balsamic vinegar and salty olives had the kids gobbling up greens without complaint. We shaped the melon with cookie cutters for a keiki-friendly version of Tiki's signature salad. Or, you can layer the ingredients on top of simple, streamlined slices to create chic plates perfect for grown-up parties.
---
See also: 🍉 Cool Down with This Watermelon Coconut Slushy Recipe From Kale and Caramel
---
Nasuti focuses on featuring local produce and ingredients on his menu at Tiki's, so he brought Hawai'i-grown watermelon, honeydew, cantaloupe and strawberries to our workshop. Feel free to add in local pineapple, papaya or any other fruit currently in season to create your own, personal fruit kabobs.
Learn more about locally owned, locally focused Tiki's Grill & Bar's award-winning keiki menu—every meal comes with a flying disk, souvenir cup and a killer view of the sunset—at tikisgrill.com.
Tiki's Watermelon Salad
By Chef Ronnie Nasuti
Sweet and savory flavors in this signature Tiki's Grill & Bar salad appeal to both kids and adults.
Chef tip: Start with the balsamic vinegar. If olive oil is added first, the watermelon will suck up the oil and won't absorb any vinegar.
INGREDIENTS
6-ounce watermelon slab (about 6 inches by 1/2 inch by 3 inches)
1 tablespoon balsamic vinegar
1 tablespoon olive oil
Hawaiian salt, as needed
1/2 cup micro arugula
1 ounce Naked Cow feta cheese
1 tablespoon mint pesto
1 tablespoon harissa, optional, for spice lovers
INSTRUCTIONS
1. Place watermelon slab on plate.
2. Drizzle balsamic vinegar over fruit, followed by olive oil.
3. Sprinkle Hawaiian salt over the watermelon, then layer the ingredients in this order: mint pesto, micro arugula and feta cheese.
4. For spice lovers, serve with a dash of harissa for dipping.
Mint Pesto
By Chef Ronnie Nasuti
Fresh mint adds a bright note to rich basil pesto.
INGREDIENTS
1 cup extra virgin olive oil
2 garlic cloves, smashed
15 basil leaves
25 mint leaves
1 tablespoon macadamia nuts, chopped
1 tablespoon Parmesan cheese
2 tablespoons Kalamata olives, chopped
Salt and pepper, to taste
INSTRUCTIONS
1. Muddle everything but the olives with a mortar and pestle.
2. Mix in the olives.
3. Add salt and pepper to taste.
Li Hing Mui Melon Kabobs with Romanoff Sauce
By Chef Ronnie Nasuti
A kid-friendly version of a classic cream sauce adds a decadent tang to fruit in fun shapes.
Chef Tip: For an adult version of the Romanoff sauce, add a dash of brandy after the kids go to bed.
INGREDIENTS
Watermelon, cut into slabs
Honeydew, cantaloupe or other melons cut into wedges
Grapes
Strawberries
Fresh mint
Li hing mui powder
Skewers
Romanoff sauce
INSTRUCTIONS
1. Use a melon baller and cookie cutters to cut the melons.
2. Skewer fruit and fresh mint leaves, alternating colors and fruit.
3. Sprinkle kabobs with li hing mui powder. Dip in Romanoff sauce and enjoy!
Kid-Friendly Romanoff Sauce
By Chef Ronnie Nasuti
Sour cream mixed with whipped cream makes for a slightly tangy, not-too-sweet sauce that our kid testers couldn't quit dipping into.
INGREDIENTS
1/2 cup sour cream
3 tablespoons brown sugar
1/2 cup heavy cream
3 tablespoons sugar
INSTRUCTIONS
1. Mix sour cream and brown sugar in a bowl.
2. In a separate bowl, whip heavy cream until it starts to thicken. Add sugar and whip until thick.
3. Fold cream into sour cream mixture and blend well.
4. Drizzle on top of kabobs or serve in dipping bowls.
Watermelon Pops
By Chef Ronnie Nasuti
Chef Tip: Remember, you can always add salt but you can't take it away. So start with a small sprinkle and add as you go.
Note: Don't overdo the honey. It's actually the salt that brings out the natural sweetness of fruit.
Local salt adds crunch and enhanced sweetness to simple wedges.
INGREDIENTS
Watermelon wedges
Popsicle sticks
Local honey
Gourmet local salts
INSTRUCTIONS
1.Use a paring knife to make a small cut in the rind. Work the popsicle stick in through the cut into the melon.
2. Let kids drizzle local honey onto each slice. Sprinkle various salts on top.
3. Freeze the pop or eat right away!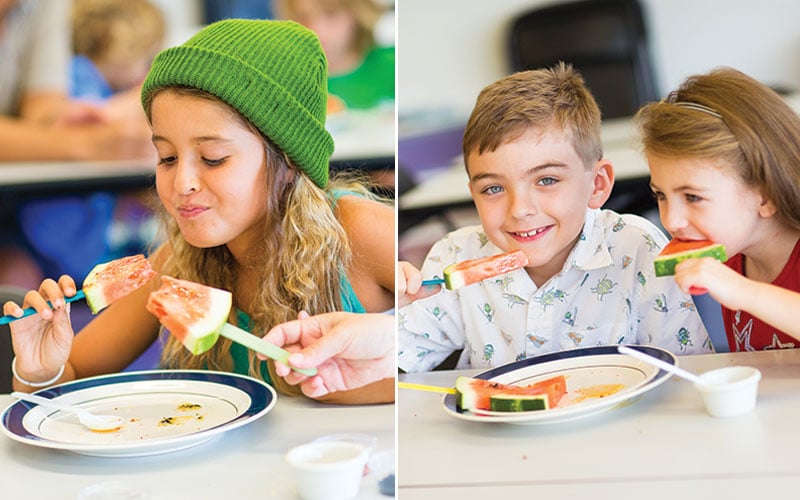 Want More Kid-Friendly Recipes?
Start at our list of family recipes for more dishes from local chefs and our team including:
Spaghetti tacos
Chocolate pasta
Strawberry shortcake in a jar
Homemade marshmallows and graham crackers for s'mores
Summer rolls with peanut sauce
Turkey-dog sushi
Strawberry and kale smoothie