Keiki-Friendly Kaua'i: An Island-Hop Adventure on the Garden Isle
Follow this O'ahu family's jam-packed four-day itinerary exploring food, farms and fun towns.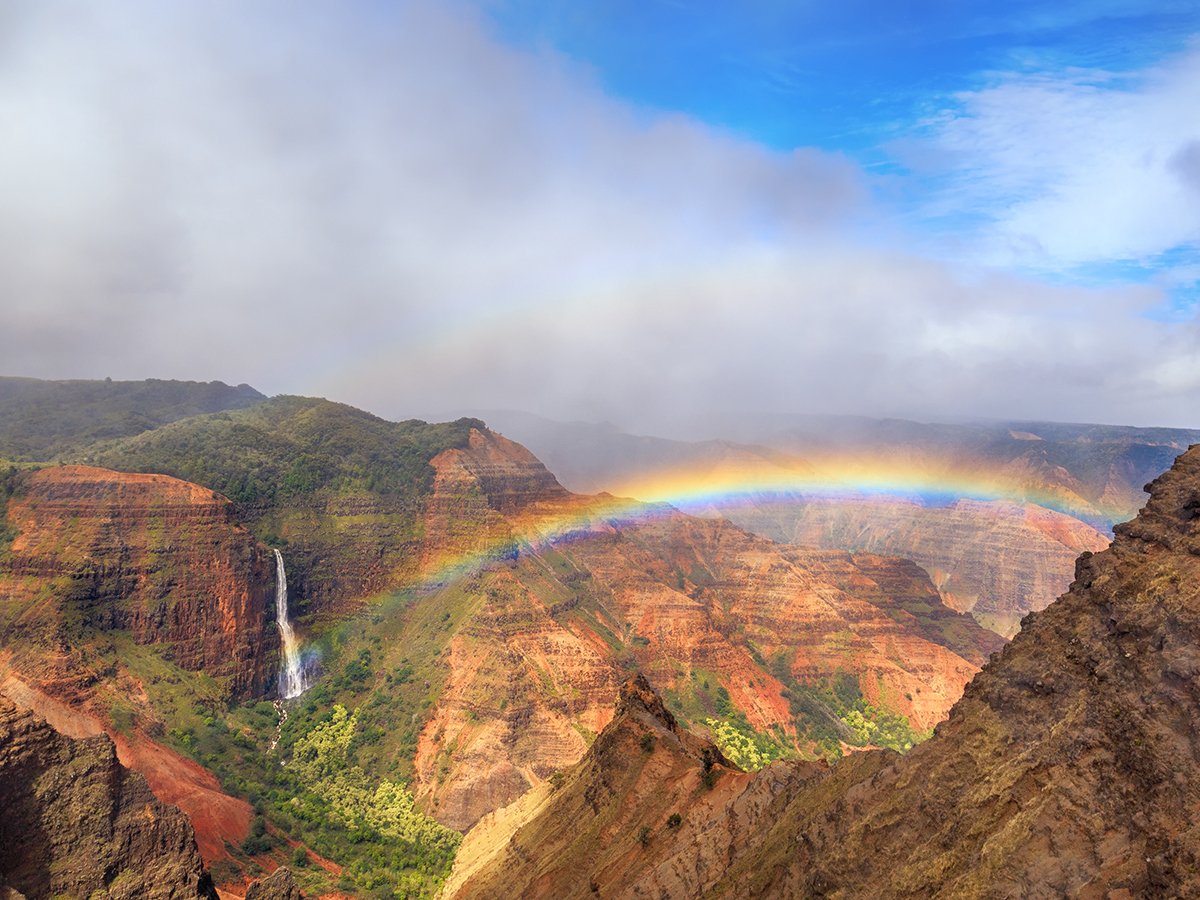 After the past couple of years being cooped up in a condo, our family needed a getaway from Honolulu but wanted to stay close to home. Kaua'i fit the bill as a lush, quiet haven only 22 minutes of flight time away. It had been years since my husband and I visited the island—definitely before our 5-year-old son was born—so we were determined to scope out all the family-friendly fun the island has to offer. The result was so much to do and see that we didn't even have time for a beach day! Read on to see what we discovered.
---
SEE ALSO: ✈️ Our Tips for the Best Family Staycation in Hawaiʻi
---
Day 1: Līhu'e
Welcome to Kaua'i! Hopefully you had an easy, uneventful flight like us (thank goodness for iPads and Disney+, right?!). If you're hungry, head straight over to Hamura's Saimin Stand for hot house-made noodles and ice-cold liliko'i chiffon pie in a counter-style setting. The no-frills atmosphere, plastic serve wear and ability to order the perfect size bowl for each family member's appetite, from small to extra large, makes it a slurping success for kids and grown-ups alike.
To keep your family entertained until hotel check in time, jump "all aboard" on the train at historic Kilohana Plantation. On the 40-minute narrated ride, you'll pass through fields and orchards of sugarcane, taro, mango, banana and papaya. But the best part is stopping to feed the fun-loving wild pigs, goats, sheep and friendly donkey, Stiney!
Day 2: Waimea Canyon
Of course, the "The Grand Canyon of the Pacific" must be on your to-do list. With scenic overlooks of the gorge, cascading waterfalls, and plenty of hiking trails, scale your visit based on your family's ability and attention span. For older keiki, drive further into Kōke'e State Park to visit the dramatic Kalalau Lookout for sneak peeks of the Nāpali Coast. For us with a 5-year-old, we only made it to the first lookout at mile marker 10 before he fell asleep in his car seat, but the incredible photo op was worth it! (The drive is windy and long, just FYI, especially if you're prone to car sickness.)
On your way in or out of Waimea, stop at Waimea Plantation Cottages to let your kids stretch their legs and run around on the manicured lawn of the hotel property, which resembles old Hawai'i. Grab a bite to eat on the lānai at Chicken in a Barrel BBQ and digest afterwards in the porch rocking chairs.
Day 3: Hanapēpē Town
Explore this charming town on foot, and pop into Talk Story Bookstore to pick up some vacation reads. The kids' section is small, but your keiki are sure to find something—we scored a used Magic Tree House book! Then wander over to the swinging bridge for a thrilling walk over the river. Watch out—it sways and creaks! Reward your bravery with a buttery pastry from Midnight Bear Breads. Think: ube kouign amann, mountain apple turnover and Spam musubi croissant. Heads-up: ordering online in advance is recommended.
Tip: Try to time your visit to coincide with Friday Art Night, happening weekly from 5 p.m. to 8 p.m., where the streets of the historic town light up with local vendors, open galleries, food and live music.
Day 4: Kapa'a
Start the morning with dedicated playtime at the epic Kamalani Playground in Lydgate Beach Park. The wooden play structure is the largest I've seen in the islands with a volcano slide centerpiece, castle-like turrets, cave tunnels and swings. Just watch out for splinters! Afterwards, you could decide to take a dip in the calm, protected lagoon at Lydgate Beach, but we ventured inland for a tasty detour at a cacao farm.
Learn about how cacao is grown, get hands-on with a cacao pod and sample the exquisite chocolate at Lydgate Farms. If you want an in-depth look, book the three-hour tour; otherwise, do as we did and score samples and knowledge at the gift shop. Don't miss a chance to cool off with a cacao nectar popsicle made from the white pulp of the cacao pod which is only sold at the farm. Expect a mild, sweet flavor that tastes nothing like chocolate!