Our Tips for the Best Family Staycation in Hawaiʻi
Summer's around the corner—why not vacation in one of the world's best vacation spots?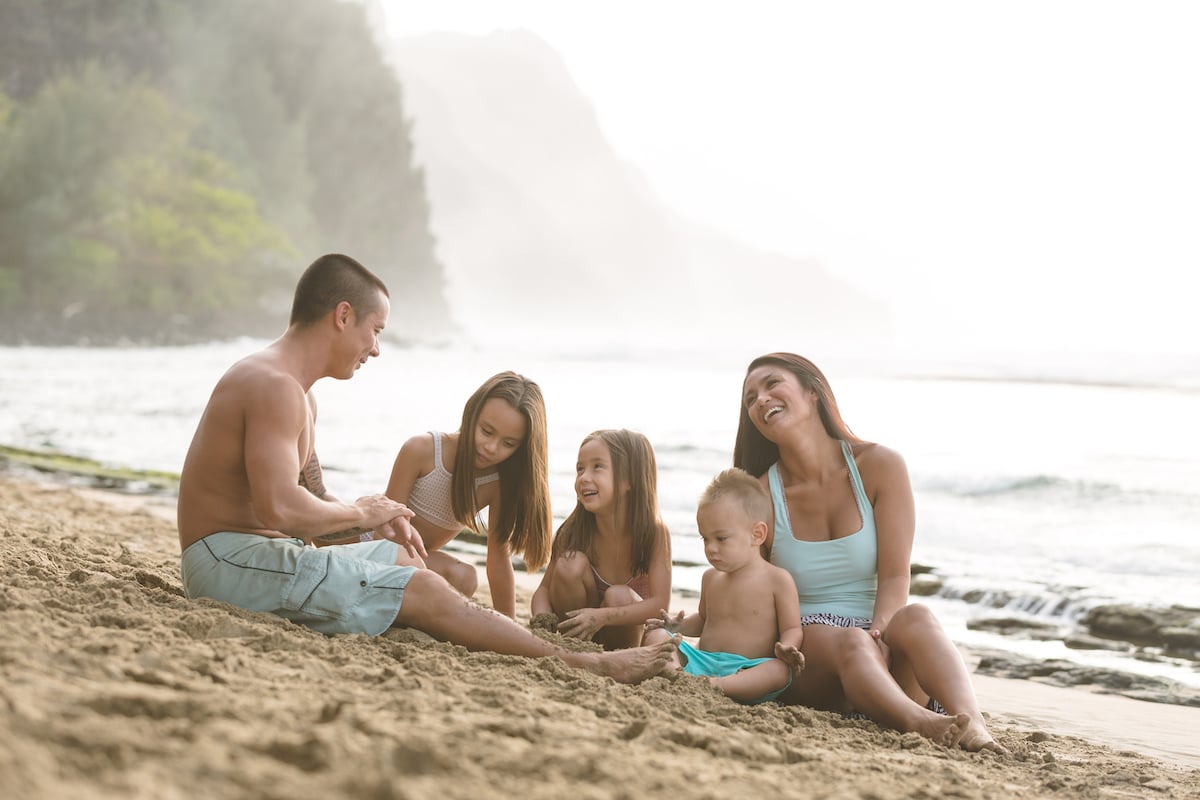 How it is possible it's the second week of May already?
Now that Teacher Appreciation Week and Mother's Day are over—and that pile of laundry you've neglected is finally washed, folded and put away—it's time to start planning for the next big thing: summer vacation!
And for those of you—like me—who need to save up for things like school tuition, summer camp fees and your next Costco run, consider a staycation instead.
Yes, a staycation! And why not? We do live in one of the world's most popular travel destinations! And half the time, we don't have time to enjoy it. There's so much to do in Hawaiʻi that's fun for keiki, too, like visiting a real-live erupting volcano on Hawaiʻi Island and doing goat yoga (yes, it's a thing) on Maui. There are hiking trails, museums, farm tours and other cool experiences—not to mention some of the best beaches in the universe—right in our backyard.
Here are our tips to planning a memorable staycation this summer.
Summer is Hawaiʻi's Busy Season, So Plan Now
When you live in a coveted travel destination, you're competing with the thousands of visitors who are planning trips here, too. Keep that in mind. Hotel, airfare and car rental rates tend to be higher during this peak time, and weekends are the priciest. Consider a staycation during weekdays and avoid popular holidays like Memorial Day weekend or the Fourth of July.
Look for Deals—and Unconventional Options
Many hotels—including kid-favorites ʻAulani, a Disney Resort & Spa and the Grand Wailea on Maui—offer great kamaʻāina rates and lots of family-friendly amenities. But look for lesser-known hotels, too, like Kōloa Landing Resort at Poʻipū on Kauaʻi, which boasts a 350,000-gallon pool with waterslides, swim-through waterfalls and grotto and splash pad, and campfire s'mores at night.
Consider non-hotel options, too, like the cabins at Kōkeʻe State Park on Kauaʻi, where you can hike all day—there's 45 miles of hiking trails through the park—and climb into one of the rustic cabins that are heated by an old fireplace. Or go glamping on Maui at Camp Olowalu, with tentalows (a portmanteau of tent and bungalow) that have lānai, beds, a private shower and sink, and access to the black-sand Olowalu Beach with its stellar snorkeling.
Book Unique Experiences for the Family
Part of the allure and appeal of traveling—especially somewhere outside of our comfort zones—is to learn something new. about a place, a culture or even ourselves. But you can do all this right here, too. You just need to look for unique experiences.
We thoroughly enjoyed the experience at Maui Goat Yoga in Upcountry Maui, where you take a leisurely yoga class with about a dozen adorable Nigerian Dwarf goats walking and napping around you. Or book a guided hike with an experienced outfitter like Hawaiʻi Forest & Trail; its Kohala Waterfalls Adventure in Hawaiʻi Island, which takes you on a hike to a private waterfall, is suitable for all ages.
And if surfing is on your bucket list, you don't need to fly to Nicaragua for a surf retreat. There are plenty of surf schools in the Islands, many of which offer lessons for kids and private ones for families. Pro Surf School Hawaiʻi, run by world champion longboarder Kai Sallas, offers two-hour lessons in Waikīkī for kids 5 and older (5 to 8 need to book a private lesson, 9 and older can do small-group private lessons, 11 and older can do group classes). Learn to surf in Hanalei on Kauaʻi from veteran waterman Titus Kinimaka's Hawaiian School of Surfing; instructors will ride tandem with very young or insecure kids. Or book a session with Maui Surfer Girls—boys are welcome, too!—or a week-long surf camp for teens. (All 2022 camps are already sold out.)
Another unique experience on Maui: Maui Treasure Hunt takes families on an action-packed, 3-hour tour with hiking, swimming (weather permitting) and exploring—all while fulfilling fun tasks and looking for hidden treasures.
Tour a Farm
Every island boasts farm that families can tour and learn about everything from coffee production to chocolate-making. At the Surfing Goat Dairy on Maui, kids can help the farmers with their evening chores and milk the goats. Hold seahorses and learn about ocean conservation at the Ocean Rider Seahorse Farm in Kailua-Kona on Hawaiʻi Island. Or ride a train, stroll through one of the world's largest mazes and indulge in Dole Whip at Dole Plantation on Oʻahu.
---
SEE ALSO: 🐐 4 Family-Friendly Farms to Check Out Next Time You Island-Hop in Hawai'i
---
Get Outside and Explore
There's no better time than the summer to explore Hawaiʻi's outdoors. It's typically drier—so fewer muddy trails!—than other times of the year, and the days are long and languid. Take time off to go hiking—here are some suggestions—or snorkel at spots like Hanauma Bay on Oʻahu (Hawaiʻi residents can skip reservations from 6:45 a.m. to 9 a.m. Wednesdays through Sundays) or Mākua Beach (aka Tunnels) on Kauaʻi. For older kids, consider booking a half-day excursion to Molokini on Maui; this small, crescent-shaped island 3 miles off Maui boasts some of the best snorkeling grounds in the state with super clear water and a bounty of marine life.
Be Flexible and Have Fun
No trip is perfect—and don't expect them to be. Plan as best you can, but know things—bad weather, delayed flights, cancelled reservations—can happen. Don't overbook or plan too many experiences in a single day; instead, leave room for unexpected finds, for exploring, for sudden bathroom stops. The more relaxed you are, the better you'll feel and the more fun you'll have, even if you're just lounging around the hotel pool with a mai tai. Hey, there's nothing wrong with that!