Kealoha: Kailua's New Hawaiian Food Eatery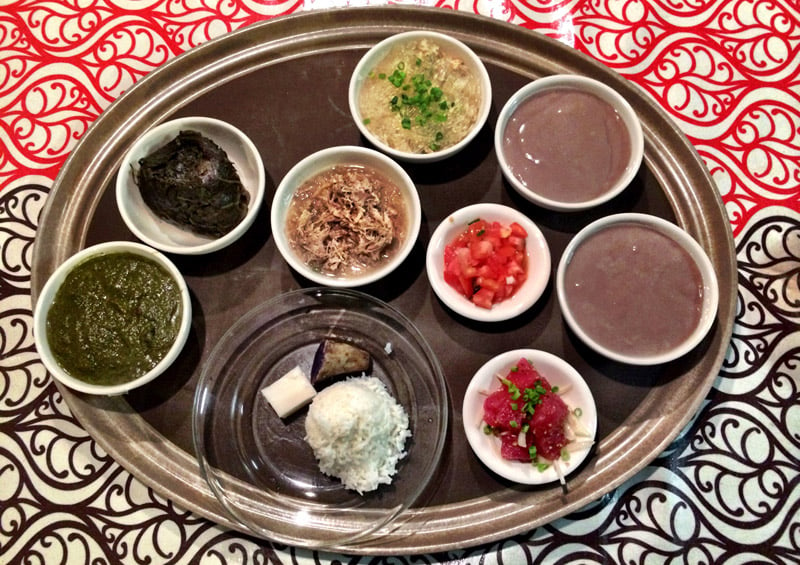 We're sometimes struck extra hard with the reality that is Hawaii life. The sunshine, the beaches, the mountains, the perfect skies that hang over it all—all of that makes us happy every day. But every so often we have an encounter with Hawaii that jolts us back to that place where we think: This is why we stay. Never mind all the beauty outside.
Kealoha, Kailua's new Hawaiian food eatery, is everything that's right about Hawaii. In the markedly unsophisticated space next to Pali Lanes bowling alley that was once home to popular dive bar Tiare, Kealoha serves up Hawaii like no one else does. The only people who can do it better is your own family.
An old concrete room that could double as a storage facility, minus the AC, is filled with folding tables covered with Manuheali'i tablecloths and folding chairs. It looks like you walked into your cousin's grad party three hours early—before all the decorations are up. It's unremarkable, to say the least. It doesn't matter. Because the moment you look around and notice that the chairs are filled with families and young couples, grannies and teenagers, you know you've walked into a killer party. It's paina time in Kailua.
The family-run restaurant is just that. Auntie takes your order. A kid in slippers and board shorts delivers the food. Auntie no. 2 asks if you want chili pepper water and when it's time to shut down, the keiki grab the broom and dustpan.
The menu is short, but full of Hawaiian staples. Get the Paina Plate, which is some of everything they make, plus rice and poi, for $27.95 and is enough to easily feed three people. Or make your plate with one or two choices ($9.95, $13.95) that include kalua pig, squid luau, chicken long rice, lau lau and beef stew, plus rice, lomi salmon, sweet potato and haupia. Our lomi salmon was more like lomi tomato—there wasn't a morsel of salmon in it. We suspect we got the last of that day's batch. Or maybe because it comes with the meal, they go easy on the salmon. We'd rather pay for it and get some fish. The chicken long rice has great flavor, but ours sat too long and we were left with a bowl of dry swollen noodles. The kalua pig is good and the poi is great. Thick and fresh and cheap—$4.50 for a big bowl. We'll go just for the poi. Kealoha also has an 'ai pono, or healthy, menu that includes a few salads and their bestseller, a turkey ulu burger ($13.95). The ground turkey and breadfruit make for a meatloaf like patty that is moist and tender. It's a good choice if Hawaiian food isn't your thing. Kealoha doesn't sell alcohol, but you can order drinks at the bowling alley bar and bring them in.
When we go back, and we will, we'll get the two-choice plate with kalua pig and lau lau, with a side of poi. And we'll go on a Friday night when there's live Hawaiian music because even better than good Hawaiian falsetto is watching the guests stand up and break out in hula, unprompted and completely spontaneous.
You know when they say, lucky you live Hawaii? This is what they mean.
Kealoha, 120 Hekili St., in the same building as Pali Lanes bowling alley, plates from $9.95, ala carte items from $6.95, 262-1100