Kawaii! Why Daiso's kitchen department is my happy place
The discount retailer has a treasure trove of unitaskers, kitchen gadgets and bento accoutrements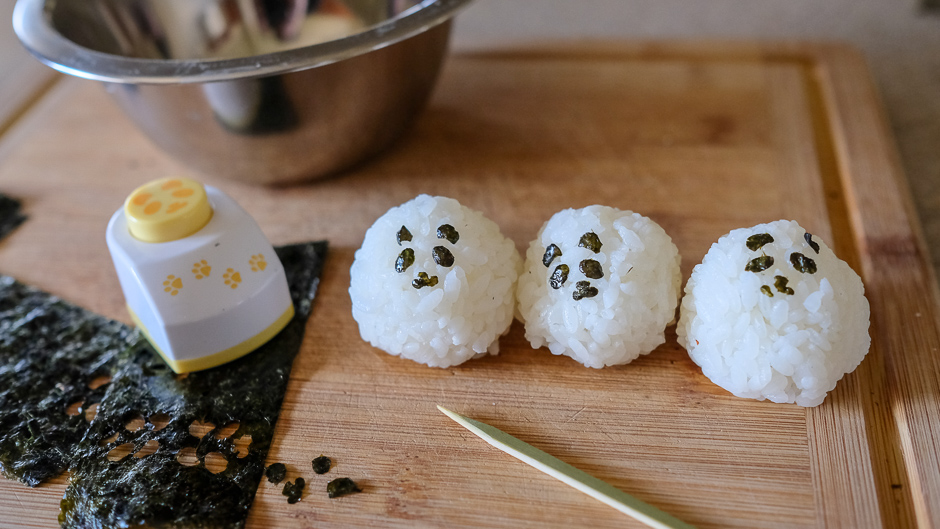 Daiso, Japan's discount store of knickknacks, doohickies and daddledoos, opened its second Hawaii location in Honolulu on March 14. The new Piikoi store has uku-billion more stuff than Daiso's Pearl City location, with new products rotating through the racks almost every day. Each visit is like digging for buried treasure — you always leave with something in hand. When items are just a buck-fifty, why not?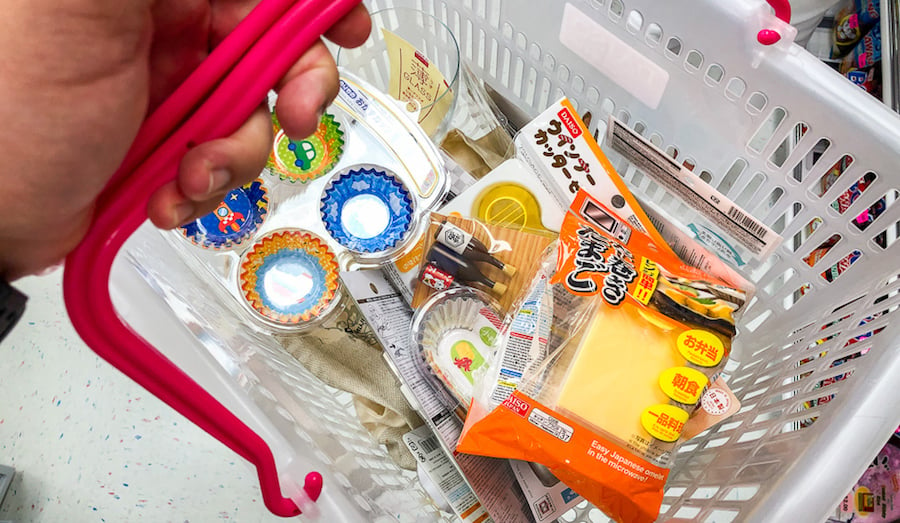 I have always collected gadgets. Some have more uses than others but hey, if it sparks joy, it totally deserves a spot in the drawer. So when I visited the new Daiso, I came home with a loot of unitaskers, utensils and kawaii bento accessories. Best of all, I only spent $25, which isn't much when you consider the price of kitchen tools elsewhere.
The first thing I picked up is a green onion slicer. Barbecue restaurants in Korea include a simple salad of shredded green onion mixed with garlic, chili powder and sesame oil as part of the banchan offerings. That perfect cool bite of mild oniony heat with the roasted nuttiness of sesame oil goes so well with grilled meat! I love this salad, but cutting up all those green onions just seemed like too much work.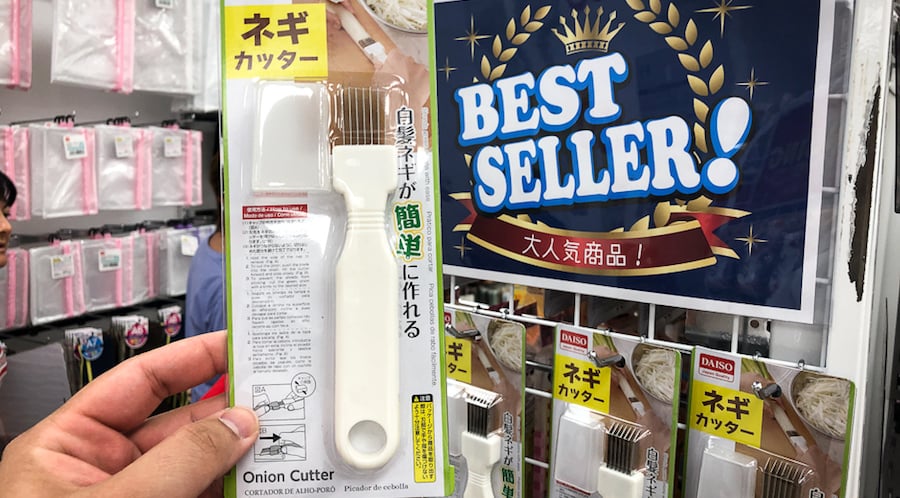 Now with my new slicer, I can shred my onions in one easy swoop! The sign says it's a bestseller so there must be an army of home cooks that have solved their green onion problem!
Next we head into bento territory. Japanese moms love to flex on other moms by preparing kyaraben or character bento for their keiki-chans. These laborious creations of food art are often themed around cartoon characters with happy musubis, octopus hot dogs and colorful fruit picks. They say kyaraben encourage kids to eat their lunch by making the food colorful and interesting. If I got one of these for my lunch, I'd eat it up.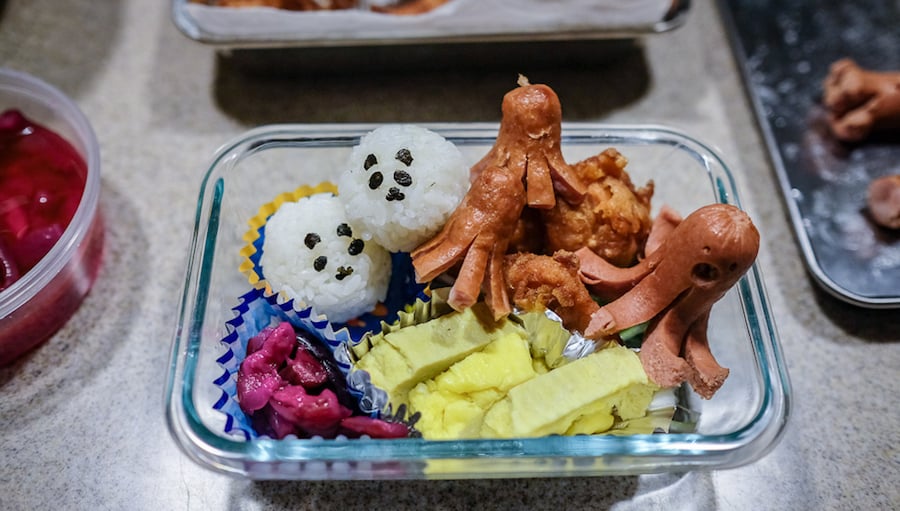 Well, now I can make my own happy musubi using these punch tools for dried laver animals, or what I prefer to call seaweed face punchers. Just stick in a sheet of nori, press the button and out pops a panda or cat face to stick on a rice ball. Kawaii!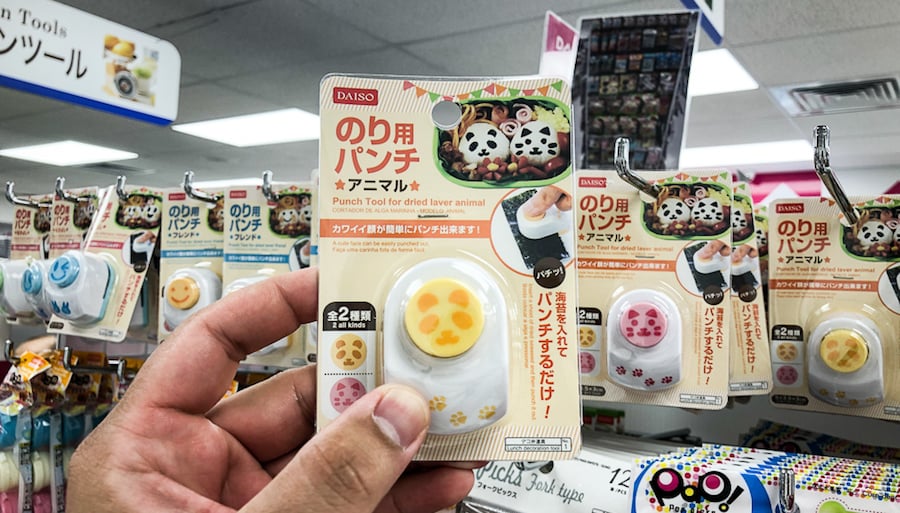 And how about those octopus-shaped hot dogs? Cute, yeah? With the sausage cutter kit you can add octopus legs and faces to your arabiki and create crabs, piggies and penguins, too. I swear, adding smiling faces to sausages just makes them taste better.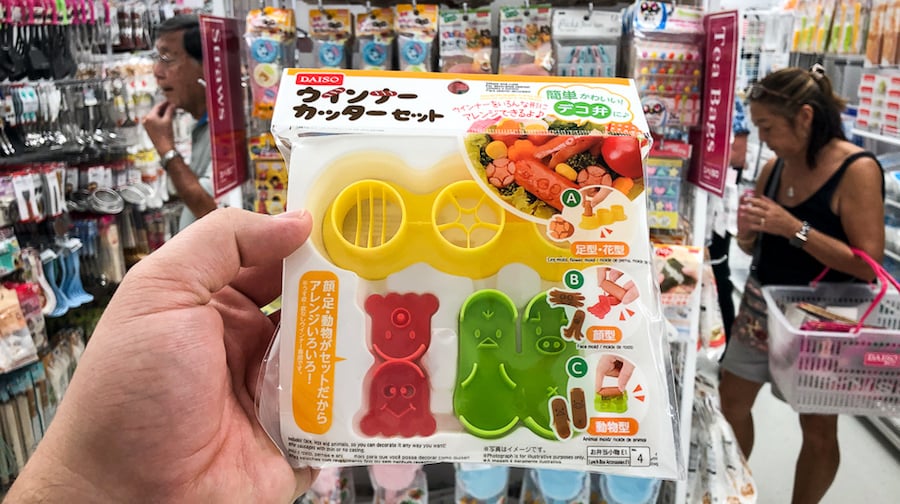 Daiso also stocks bento accessories like cool cartoon rocket ship- and airplane-patterned foil cups for saucey items, cellophane dividers with cute shapes and tiny shoyu bottles shaped like just about anything. My pick are the ones that look like sake bottles. Don't get me started on the tiny utensils and picks.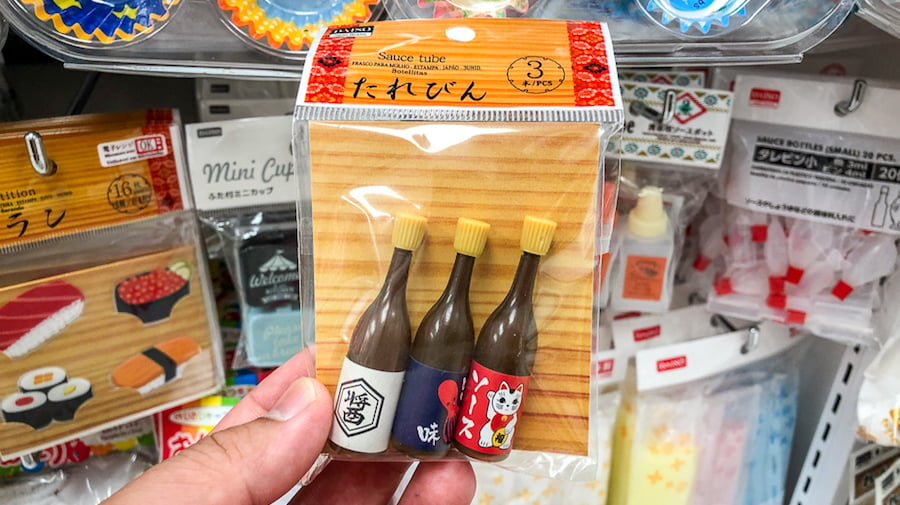 The most useful tool I picked up would have to be this ingenious butter knife with a built-in butter grater. When you run the knife over cold, hard butter, it creates spreadable butter noodles that melt easily into hot toast. OMG, right?! It basically lets you avoid mutilating your breakfast. This one's $3, but it's made in Japan and has some heft so it's totally worth the splurge.
If you have a kawaii or handy Daiso find, let me know in the comments below. I'd love to see what treasures you've uncovered on your visits to my happy place.
Daiso Piikoi
1024 Piikoi St
10 a.m. – 6 p.m. daily
Free parking lot on site and on Young Street