Karma is a B…eautiful Thing: Stretch Your Imagination's Family Yoga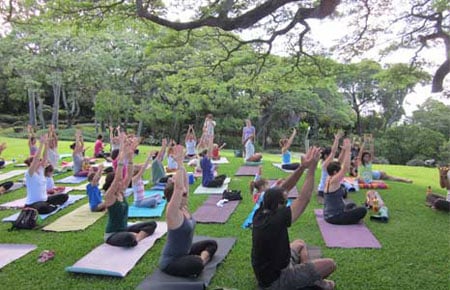 Disclaimer: I am not a yoga person. The closest thing I've done to a Downward Dog in years is pick up Legos off my floor. That's why, at first, I was a little intimidated when I heard about family yoga at the Contemporary Museum, a monthly event held by local group Stretch Your Imagination. It sounded fun, but would I be the bumbling newbie in a group of graceful yoga masters? Would my kids run wild while the other children displayed stellar mindfulness in perfect Sun Salutations?
Turns out, no. It was just a friendly group with regular, hyper kids just like mine. Instructor Brynne Caleda makes it clear from the beginning that everyone is welcome and anything goes. Need to feed the baby or change diapers? No problem. Would your kid rather run around on the museum lawn? Go for it. It's all about having fun, no experience is necessary, and all ages are welcome. There were even a few newborns lounging on their mother's yoga mats.
The class is definitely geared toward the children, and parents get their yoga time in almost as a side bonus. We sang "Twinkle, Twinkle Little Star" as we stretched and reached for the sky. We made meowing and mooing sounds as we did our cat and cow poses. We pretended to be surfers in our warrior poses. And when we paired off with a partner, that's when the big giggles began. My daughter especially loved the "lizard on the rock" pose, in which the parents curled up like rocks and the kids lounged over us like sunbathing lizards.
I was proud of my 4-year-old for trying most of the poses, and she had a blast. She went rogue toward the end, running off to roll down the grassy hill with a new friend. But, hey, anything goes, right? She got to learn something new, I got a nice little stretch in (and vowed to try more yoga at home) and we enjoyed some quality time together, and that's all pretty enlightening. Namaste!
Family Yoga by Stretch Your Imagination. Next session is Saturday, August 18 from 10:30 to 11:30 a.m at the Contemporary Museum. $10 for museum members, $12 for non-members. Children 6 to 12 years $5, children 5 and under free. For more info, visit www.stretchyourimagination.org.