Kapiolani Spaghetti House just opened near Ala Moana
The former Bread + Butter space transforms back to a pasta spot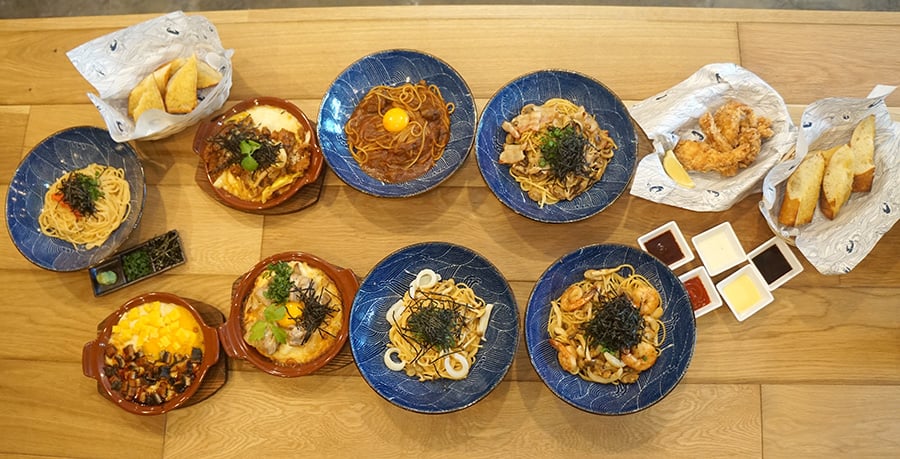 A new pasta restaurant opens today in the former Bread + Butter location, which was previously Angelo Pietro. Coincidence? Maybe. Delicious? Definitely.
If you're familiar with the restaurant business, you know that Diamond Dining, which owns Shokudo, Buho and the previous Bread + Butter, know their food. After closing Bread + Butter, they regrouped and figured out a new concept, then renovated the space. Part of the idea behind Kapiolani Spaghetti House was to provide Japanese-style pastas and dorias (creamy, cheesy rice casseroles), which few places offer in Honolulu. Actually, the only place most of us can think of for Japanese pasta would be Angelo Pietro … and ironically, it occupied this same space for decades. Kapiolani Spaghetti House is a pretty straightforward name, and in the Japanese style of combining words, it's called KapiSpa on all of its materials.
As you can see in the photo above, there are dozens of different pastas and several dorias to choose from. KapiSpa is currently only open for lunch, but will start dinner on Dec. 21. Kelli Shiroma and I chose one "traditional" pasta, one Japanese pasta and a doria during their mock service so we could try a good variety of flavors. Here's what we ate: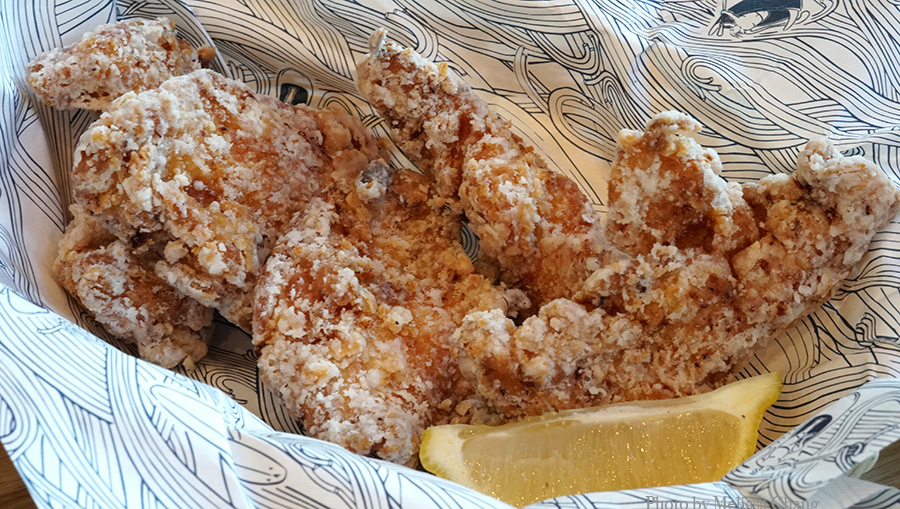 "Tori" means bird in Japanese, so their torikara is chicken fried karaage style. Unlike the bite-sized karaage, these are large, hearty pieces. Squeeze lemon over the basket to brighten the flavor, and dip into your sauce of choice: wasabi ranch, honey mustard, Hawaiian barbecue, spicy chili or hatcho miso. We ordered it with wasabi ranch and spicy chili, neither of which was super spicy (that's a good thing). Need I say more? Who doesn't love fried chicken?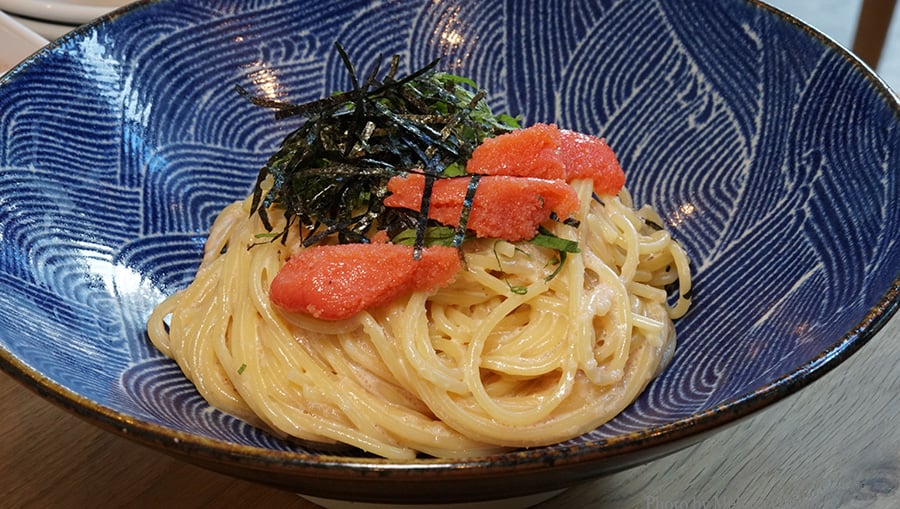 Tarako, or salted cod roe, is offered in various forms on pasta: You can get just the tarako in a light cream sauce, or tarako tarako, shown here, which is extra tarako. You can also get tarako mayo, which is tarako and mayonnaise atop the tarako cream sauce pasta. I'm a big fan of tarako pasta — the unique saltiness of the roe mixed with cream (or anything rich and eggy) is fabulous. I'd go back just to have this again.
When they start dinner service, you can add the salad bar for just $3 to any of the entrees, which is a nice touch to help get your greens in. Or if you're low-carbing it, you can have the salad bar as your meal for $13.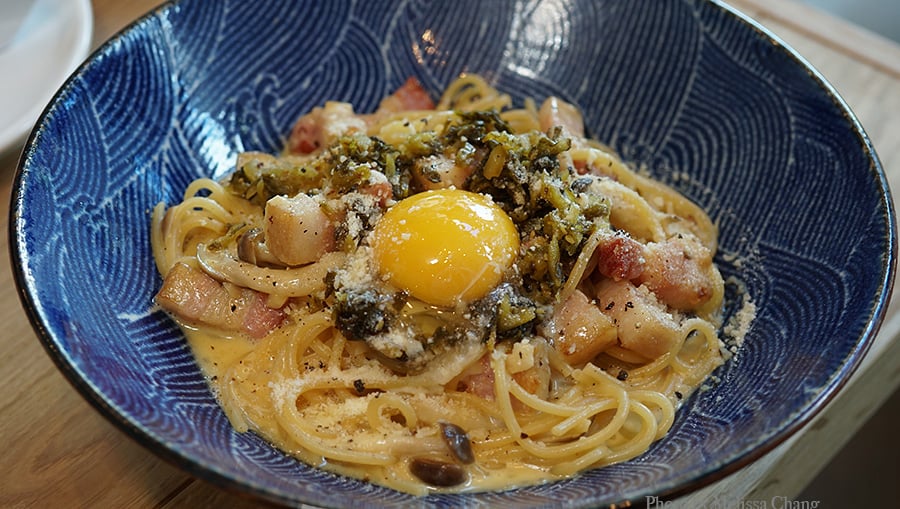 Put aside your preconceived ideas of what carbonara should be at KapiSpa. This one is served with cream sauce and bacon, but the egg is served raw atop the noodles and is meant to be mixed in (which is, according to Food Network chefs, the more authentic way to eat it). KapiSpa gives it a more unique flavor and texture profile with a bit of Japanese pickled vegetables. While that may sound strange, it actually works, as it subtly adds a little more savoriness and umami to it. We liked this, but we liked the tarako pasta more; it's probably good for people who prefer simpler, more familiar flavors.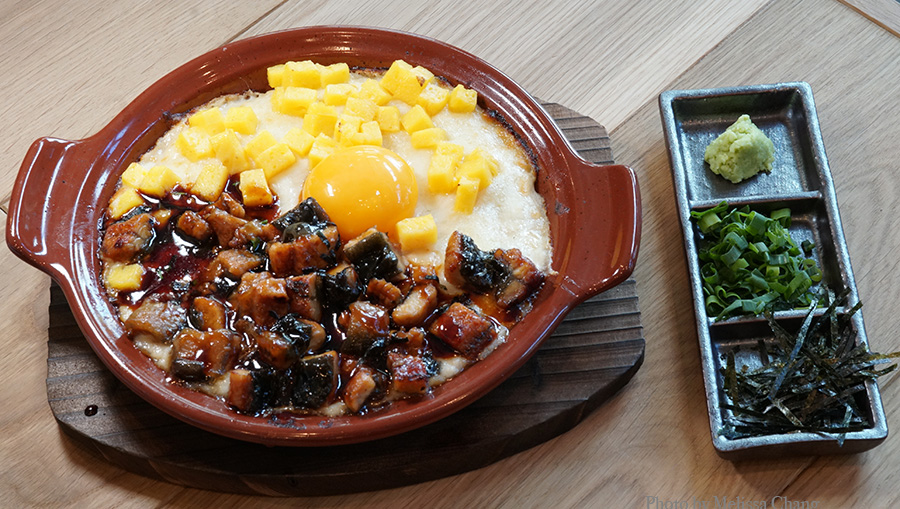 It was a hard decision, but we finally settled on the unagi doria, since we'd never seen that before on any menus. Like the carbonara and some other dishes, this is served with a raw egg yolk, to be mixed in at the table to add even more richness to this creamy, cheesy dish. I liked the slight sweet-salty flavor that the unagi lent — it was unusual, but it wasn't weird. By the way, those little cubes atop the doria are not mango, but pieces of omelet. To be really Japanese, add nori and green onions to it, and try a bit of wasabi. The richness of the doria mellows out the spiciness of the wasabi, while the wasabi helps to cut the richness. I'd probably order this again, but I'm also curious about the katsu doria.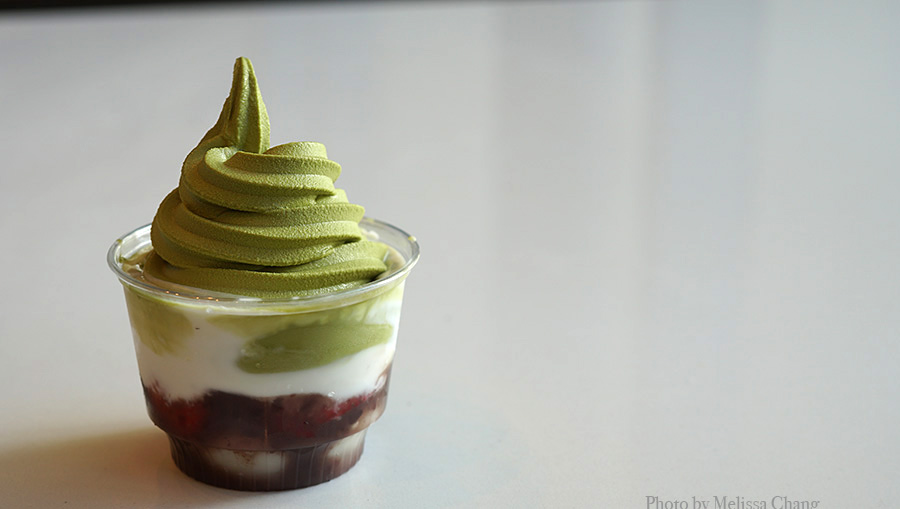 If you have to end your meal with dessert, KapiSpa has about five to choose from. You can get soft serve by itself, or order it atop the desserts. I was too full, but Kelli couldn't pass up the matcha soft serve on their azuki cream, which she said was good — and as you can see, it's super instagrammable. You can also get the matcha swirled with vanilla.
Overall, we thought KapiSpa offered good value and it's a nice, casual spot for family dining. We'd go back to try more items (if I can resist the tarako!). KapiSpa is currently open from 11:30 a.m. to 3 p.m. daily, and on Dec. 21 dinner hours will be from 5 to 10:30 p.m. Validated parking is provided.
Kapiolani Spaghetti House
1585 Kapiolani Blvd.
Ala Moana
949-3430