Kapalua Wine Fest and cooking with Michael Mina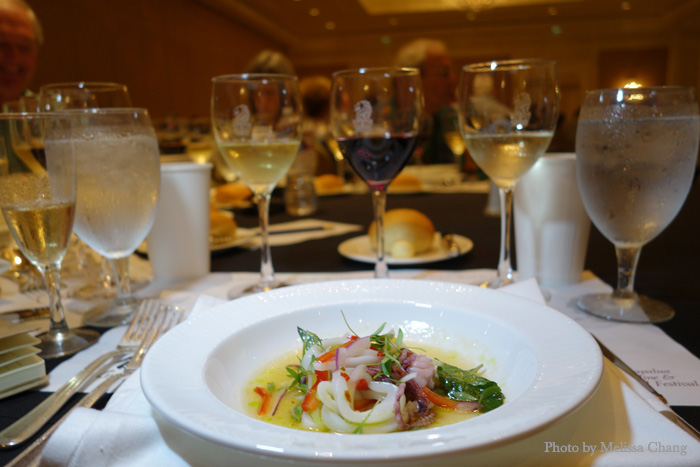 As mentioned yesterday, one of the must-do things at the Kapalua Wine & Food Festival is a celebrity chef demo. You get to watch them in action, get some tips, and best of all, eat their food for lunch.
I made sure I got a seat at the renowned Michael Mina's cooking demo — I've eaten at a few of his restaurants, including one in Detroit! — so I knew it was going to be good. He brought chef Adam Sobel of RN74 (one of Mina's restaurants) with him. Winemaker Dan Kosta of Kosta Browne brought wines from Ste. Michelle Wine Estates and Kosta Brown Winery for pairing.
This was a promising start! The chilled Thai squid salad featured a spicy lime vinaigrette that was so delicious, I wanted to get a spoon and drink it up. The squid, of course, was tender and was beautiful with the purple basil and young coconut. This was paired with a Kosta Browne One Sixteen chardonnay, which was light and crisp. Kosta commented that sometimes the best wine is actually a beer.
They're supposedly going to get these recipes up online for us, and I can't wait to get the recipe for the uni aioli that they used here. This dish was tomato- and cocoa-dusted seared big eye tuna with fried cauliflower and Calabrian chiles. It was just a little spicy, but also earthy and rich — an unexpected combination for ahi, but it was amazing.
For dessert, they fried up brioche french toast in a lot of butter to make a "custard brûlée" topped with bananas, salted caramel ice cream and toasted macadamia nuts. So rich! It was definitely not something you can eat every day but it was a sinful treat. This was paired with a Ste. Michelle reisling, which was perfectly sweet.
Just wanted to show you a couple more highlights of the wine classes I took. Master Sommelier Chuck Furuya moderated a couple of panels, one being West Coast "game changers" in the wine industry: Matt Dees, Gavin Chanin, Eric Johannsen and, of course, Rajat Parr. Did you know that Chuck was only the tenth person in the United States to get the Master Sommelier certification back in 1988? It's been 27 years, and now there are 229 Master Somms in the U.S.
One of the biggest revelations that I had at this year's Kapalua Wine & Food Festival was that I prefer wines made in the Old World style — that is, European style. I became a fan of winemakers Fred Scherrer, Rajat Parr, and now Philippe Melka, who have that Old World balance in their products — wines that can be consumed on their own, with or without food. For those of you who know wines, you're probably wondering why it took me so long to get to this point. I've been drinking wines and getting lectured by Chuck for a long, long time, but for some reason it didn't hit me until just now.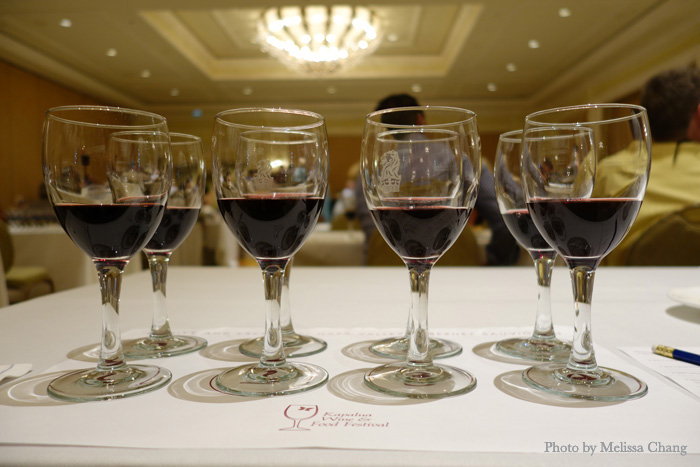 Don't get me wrong, American/New World wines have their place at the table — probably more for pairing than just sipping at sunset. But I guess that's why you have to go to such educational wine festivals; every year you learn something new about wines, the people who make them, and about yourself.
To see more photos, click here.
Bonus video: Michael Eldridge and Fred Scherrer serenading our Olena Heu at one of the after parties at Sansei in Kapalua!
Mahalo to Outrigger Resorts Kapalua Villas for providing our lodging, and to the Kapalua Wine & Food Festival for providing the tickets to the events!