Kapalua Wine Fest and cooking with Charlie Palmer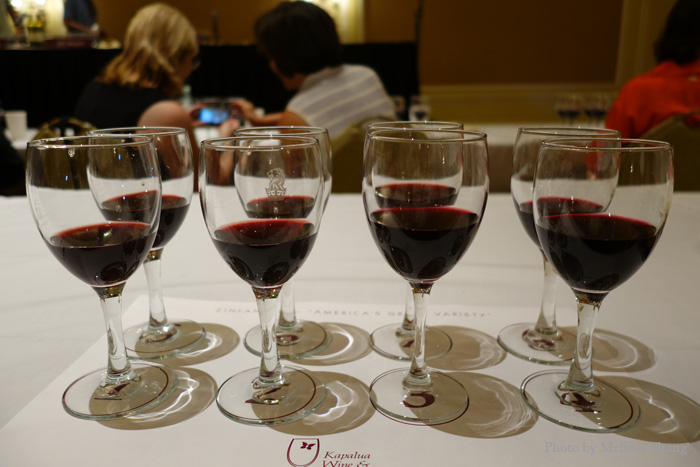 Most people know the Kapalua Wine & Food Festival for its signature events, like the Grand Tasting and the Seafood Festival that we covered. But if you really want to know more about American wine, a weekend pass will get you into various classes, where you can taste a flight according to a theme and meet the winemakers behind them.
You should study the program each year, because the class themes are always changing. One year, we had a class on a variety of Reislings. You might have a class with both red and white wines, but themed around a specific region. In past years, I described the classes I took in detail, but now that I know it's constantly changing, you just need to know that you will get something new every year.
One of the highlights — which will now be an annual class — was the seminar featuring wines made by women. Winemaking is a very male-dominated industry, but the women who have come to the forefront are well-respected by men and women alike. We heard from Sara Fowler of Peju Winery, Heidi Bridenhagen of MacRostie Winery & Vineyards, Mia Klein of Selene Wines, and Pam Starr of Crocker & Starr and Bridesmaid Winery.
This is not to say that women aren't on other panels. Eugenia Keegan was on a panel featuring the AVAs of Willamette Valley (Oregon). On that panel, moderated by Hawaii's Patrick Okubo, we tasted wines by David Adelsheim of Adelsheim Vineyard, Mark Tarlov of Chapter 24 Vineyards, Allen Methven of Methven Family Vineyards, and Nate Klostermann of Argyle Winery.
I'm not going to get into every class, but wanted to show you yet another photo because this is pretty much what I woke up to every day (not shown: my breakfast banana), with a different varietal. On the second day, Olena joined me for a class on pinot noir, which she doesn't normally drink, and she found she had a new appreciation for it. Of these Zinfandels, above, my favorite were the first two on the left, by Fred Scherrer. Oenophile Marianne Schultz introduced me to him the night before and had him pour me a glass of his wine. I was hooked. He has "old and mature vines," planted by his grandfather, and he's been tending them ever since. They're all drinkable on their own and reasonably priced (under $40) with great balance of flavors.
If I took one thing away from this year's Kapalua Wine & Food Festival, it is that I want to find Scherrer Winery in Alexander Valley, demand to see Fred and have him pour me another glass of wine. I'm chucking the bottles in my wine fridge to make room for more Scherrer.
Each day, they have a celebrity chef cooking demo paired with a winery. One day, we had chef Charlie Palmer with winemaker Daryl Groom. As chef Palmer cooked and explained his dishes, we got to eat them for lunch! For the recipes, you have to get his cookbook.
When you are a chef, the dressings you make for a simple soba dish are more than just a ponzu. This had a lightly salty, lightly ginger-y dressing, which went with the noodles as well as the ahi. This was paired appropriately with Groom Sauvignon Blanc, which was light and almost beer-like.
The chermoula-grilled salmon was so moist, people kept checking their programs to make sure it wasn't sous vide! This had the whole room buzzing with excitement — I think everyone was surprised and delighted at this moisture bomb.
As if the salmon weren't enough, the Long Island duck breast was over the top! It was super tender and super tasty, and the bed of citrus couscous was the perfect side dish against its richness. The crunchy things on top were duck cracklins (duck chicharrones?), which made it even better.
The dish was paired with Colby Red, which was nice in itself … but then Groom told us the story behind it. At first we thought it was just a charming story, but by the end, we were all verklempt.
Doesn't that make you want to run out and buy a bottle? If you just want it by the glass, you can order it at P.F. Chang or California Pizza Kitchen. It's a good wine for a good cause.
The chilled orange creme brûlée is probably not something people will often make at home, but it was a nice end to the meal.
These were just the highlights. I'm still uploading photos and video, but you can see more photos here.
Up next: more wines, plus a look at lunch by Michael Mina!
Disclosure: Lodging was provided by Outrigger Resorts Kapalua Villas and weekend passes to the event were provided by the Kapalua Wine & Food Festival.