Kapa Hale is one of 2020's most exciting new restaurants
Keaka Lee makes a delicious debut with an eclectic, Hawaiian-inspired, Modern American menu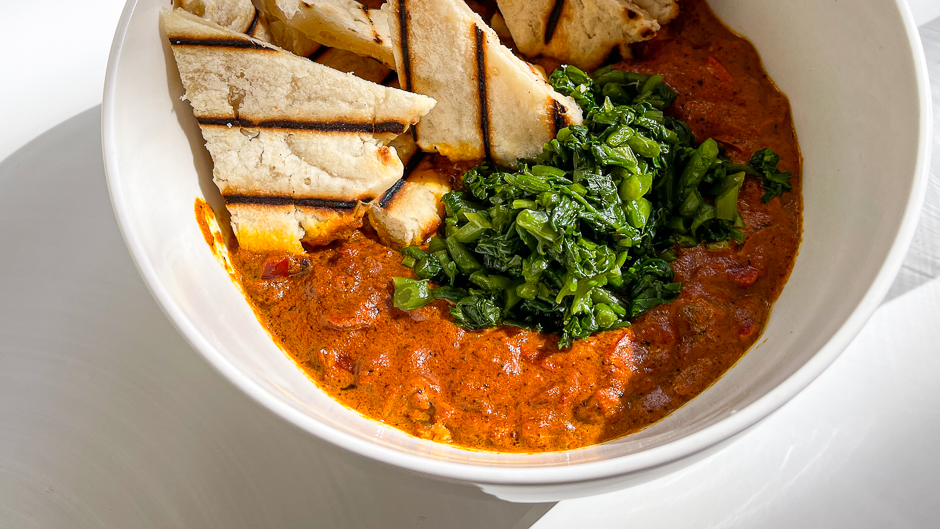 "Kapa tells a story," Keaka Lee explains. He is standing in the kitchen at Kapa Hale, his new restaurant. "A blank plate, much like a blank piece of kapa, is the canvas with which I tell my stories."
Lee has spent the better part of the last decade working in top kitchens from coast to coast alongside chefs like Alan Wong, Gramercy Tavern's Michael Anthony, Benu's Corey Lee and most recently, Andrew Le of Chinatown's The Pig and the Lady. He has a lot of stories to tell, and now he can tell them: Kapa Hale, Lee's first restaurant, grand opens today, Dec. 10, in the Kahala Korner building that houses Olive Tree Cafe. Years in the making, Kapa Hale is worth the wait.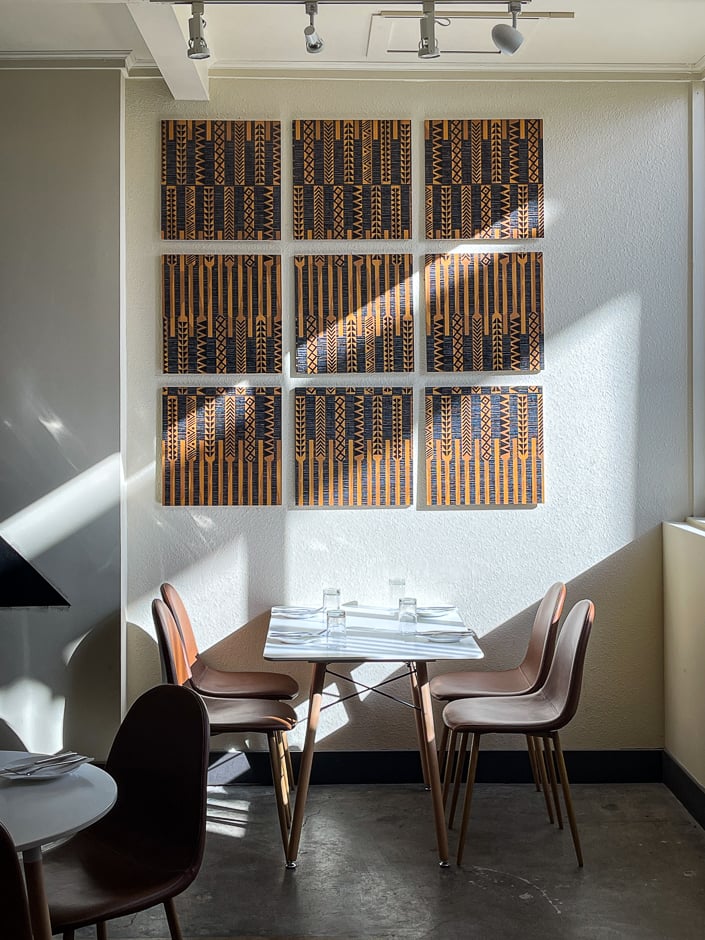 I stop by twice during the soft opening weekend, once for brunch and once for a hosted dinner; both are astounding. At brunch I'm immediately drawn to the pipikaula short ribs ($17) served with fresh lomi tomato and creamy polenta. This is the second time in two weeks I find pipikaula on the menu at a new restaurant. The ribs are tender and smoky with the right amount of char, but what I love most is the acidic play of lomi tomatoes with creamy polenta. That polenta has pops of fresh corn kernels. I find myself dredging every bite through the delightful grains.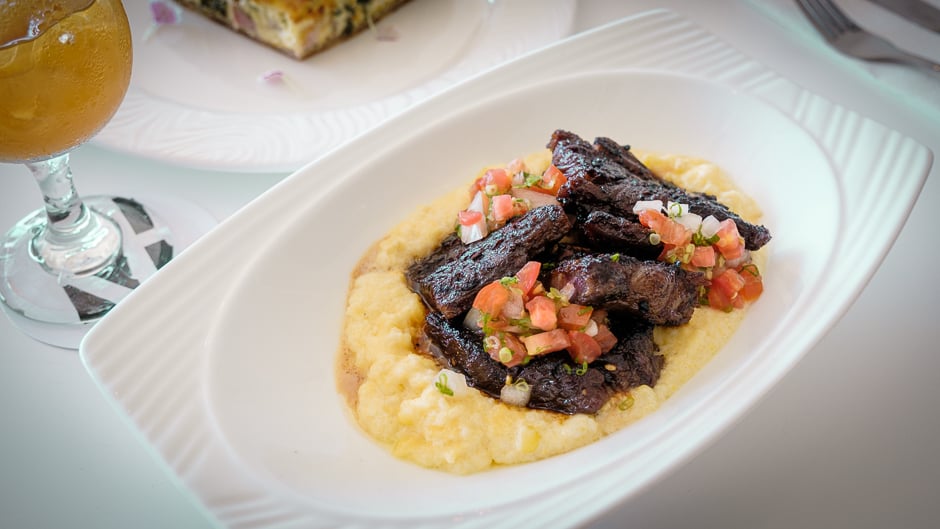 For slightly lighter fare, the ginger chicken toast ($14) is great. Toasted bread gets a smear of garlic aioli and a mound of pulled J. Ludovico Farm chicken mixed with liberal quantities of ginger scallion sauce and chopped won bok cabbage. The bread works well, to my surprise, something Lee discovered while living in New York City surrounded by bakeries. Sharing is a good idea because the richness can be overwhelming by the third piece; I suggest to Lee the addition of bright herbs or acidity and am eager to see if it the dish will evolve.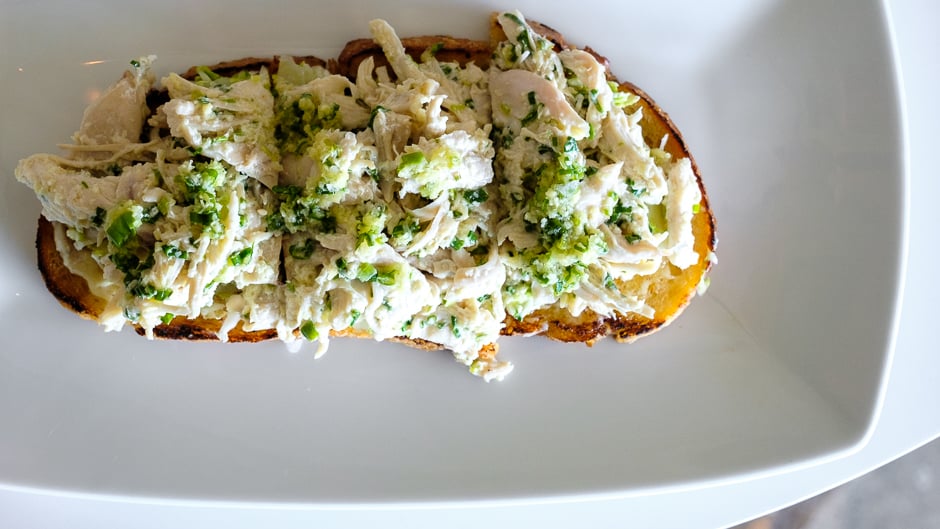 On weekends, brunch takes the place of lunch with a few exclusive items like lemon and blueberry ricotta pancakes ($15) and a Plain Jane Waffle ($14). Opting for the savory route, I order the Quiche Luau ($14), an unlikely mashup of quiche lorraine and lau lau. A buttery pastry crust cradles a savory Parmesan-scented custard with sizable pieces of smoked pork and shredded luau leaves. It's good cold but shines when it's warm: gooey in the middle and crisp on top. If I could start every day with a slice of this, I so would.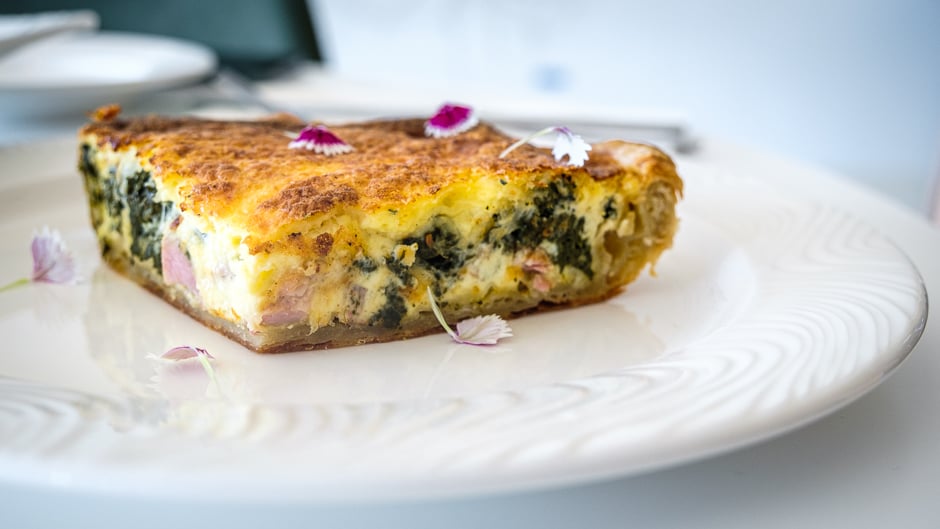 An unexpected dish called Naan Ya Business ($7) makes a good first impression on the dinner and lunch menus. Use the grilled garlic naan to shovel aromatic, chunky tikka masala and Sumida Farms watercress namul into your mouth: Lee bridges the flavors of Korea and India in one cohesive, uber delicious bite. If the dish seems out of place on a menu of upscaled local favorites, it was inspired by his late-night takeout dinners in New York,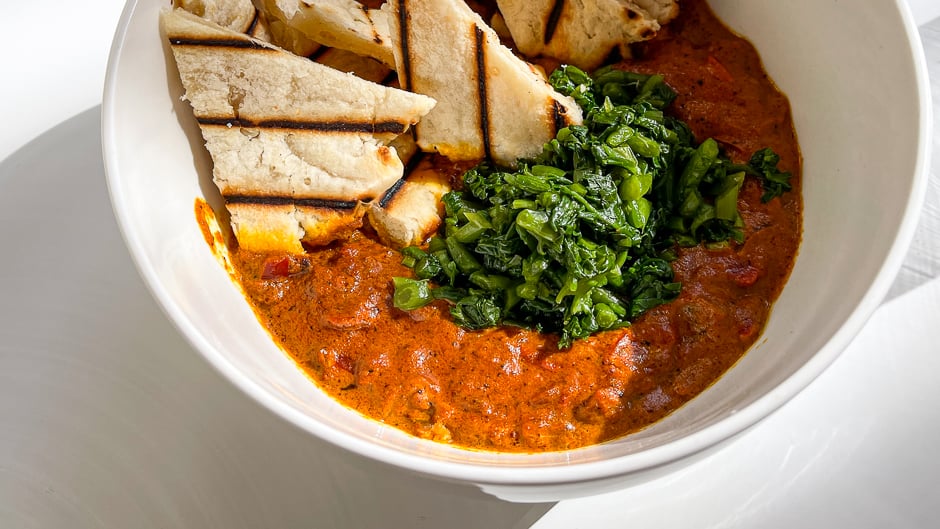 When Frolic managing editor Mari Taketa asks about a gluten-free option, Lee mashes, seasons and fries up taro into crispy-gooey discs; these elevate an already good dish with incredible texture and flavor. With the taro cakes, which not only match the thick masala but offer a nod to Lee's part-Hawaiian ancestry, this pupu alone is worth a visit.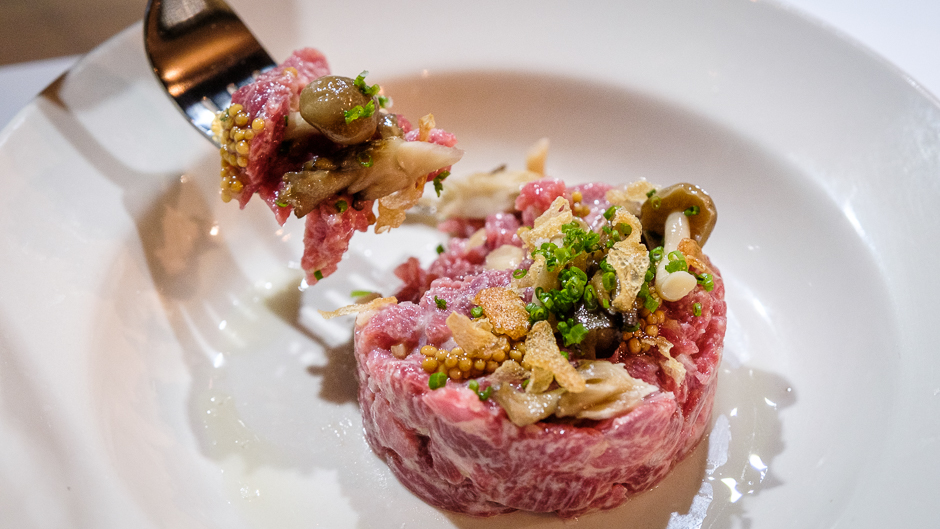 The beef tartare ($15) appeals to the heavier palate of kamaaina. Coarse strands of raw beef take on a beautiful sheen from macadamia nut oil. The richness is cut by the acidity of pickled hon shimeji mushrooms and mustard seeds with crispy fried garlic. It's served without toast points, so eating it by the beefy spoonful is encouraged.
Nearly half of Kapa Hale's menu is dedicated to seasonal local produce — a carryover from Lee's time at New York City's Michelin-starred Gramercy Tavern. The vegetable focus is one he brought to Chinatown's Pig and the Lady, where he was chef de cuisine; and Kapa Hale's charred broccolini ($12) with a sweet and sour black garlic reduction and lemon confit is reminiscent of Pig. Although the portion is small, the flavor is bold, an even match to the other heavy hitters on the table.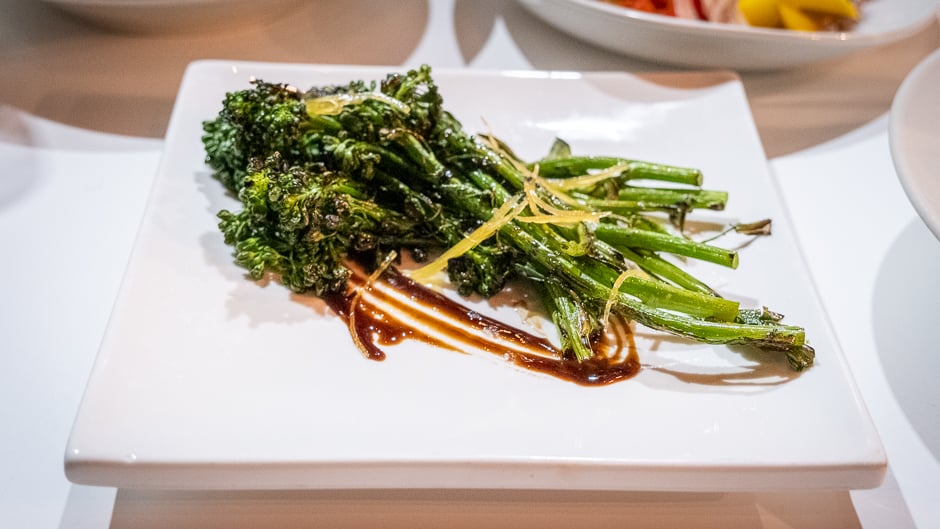 Long beans ($10), a humble vegetable you hardly see outside of ethnic markets, are given a fresh take with toasted macadamia nuts, an umami-rich Parmesan crumble and garlic anchovy sauce. They keep you sneaking seconds. The fried brussels sprouts ($12) with brown butter and pickled cranberries are an easy crowd pleaser.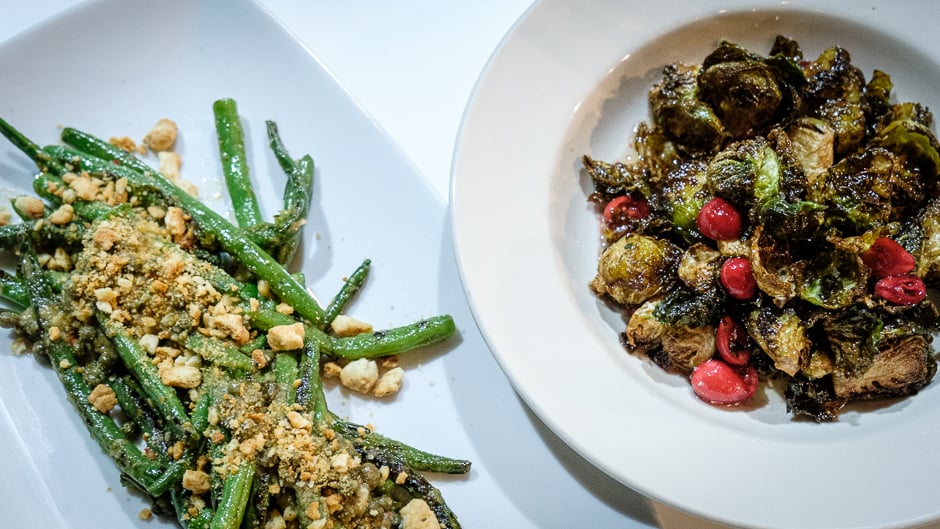 We also enjoy the bright and refreshing tomato and seaweed salad ($12) with juicy Ho Farm and Hauula Farm tomatoes with wakame seaweed and ponzu — get this early on to cleanse your palate before the heavier entrees arrive.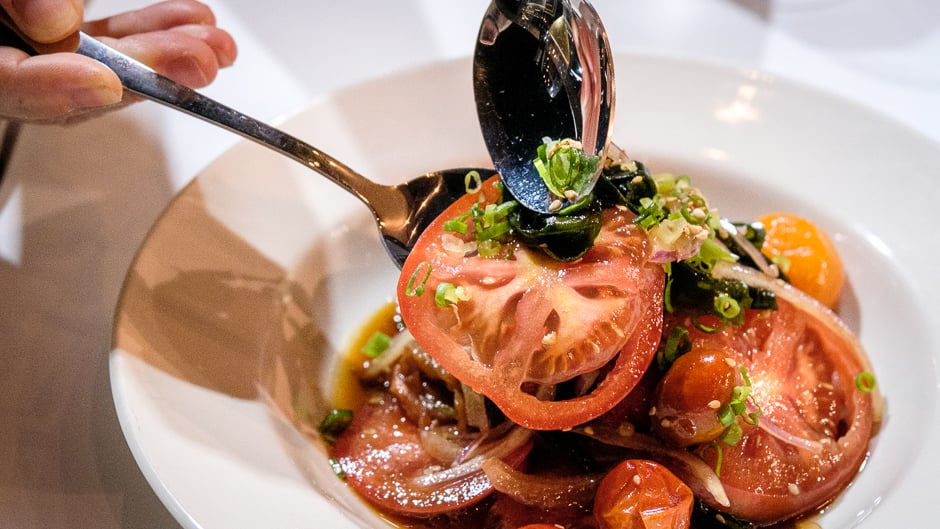 Of the three mains at dinner, two stand out. First is the koji-aged cote de boeuf ($35), also known as ribeye, and it is one of the best steaks in town. Lee ages the beef with koji-cultured rice for a few days. The result is a steak that eats like it's been hanging in a dry room for weeks. Koji enzymes break down the tissues and tenderize the meat at an accelerated rate and impart umami. The steak is seared and topped with poivre (peppercorn) sauce and roasted sunchokes. Served sliced, it is perfect for sharing.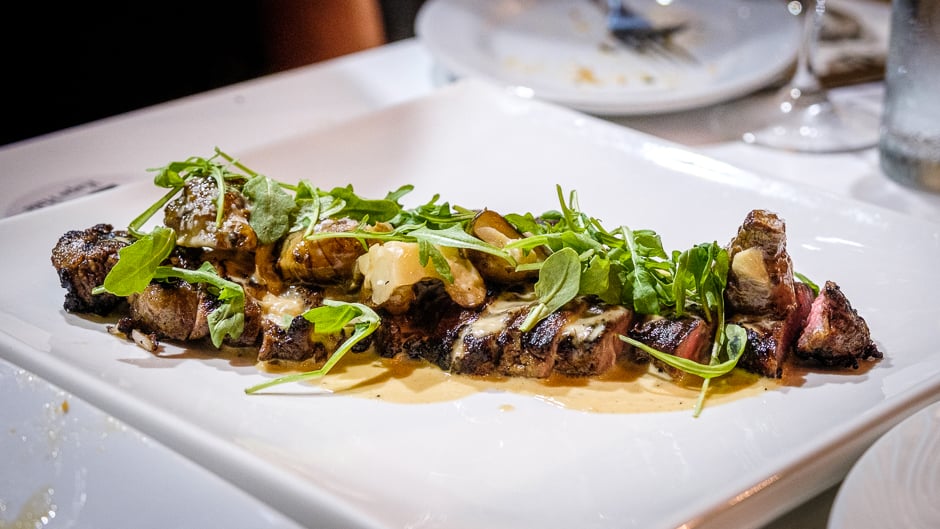 The chorizo pasta with Kauai shrimp ($25) is a substantial dish with loads of flavor. Strands of fresh tagliatelle are coated with rich tomato gravy, house-made chorizo, large shrimp and pickled chile peppers which tend to catch you off guard.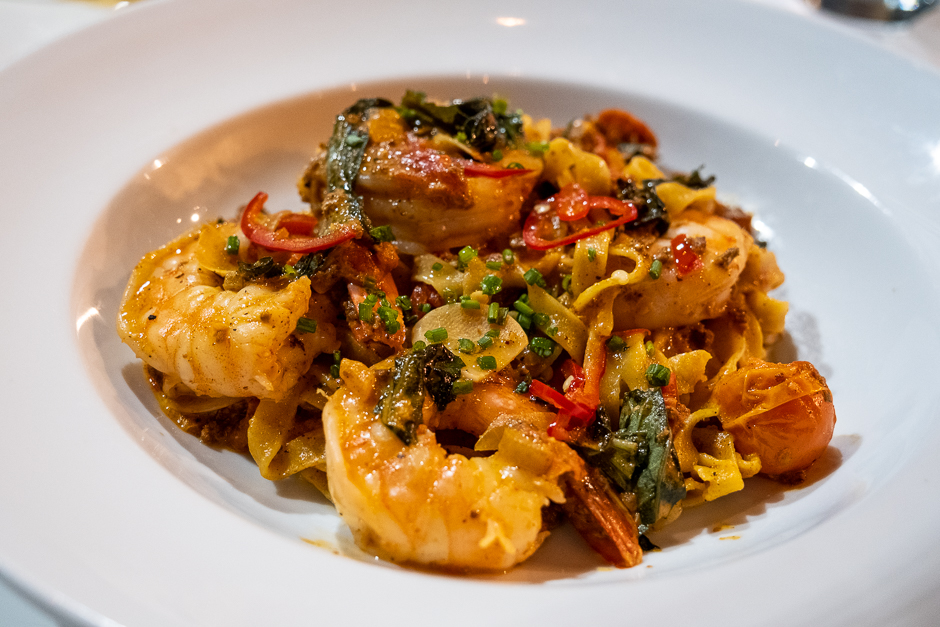 The setting of Kapa Hale is modern with raw concrete floors, a mural by Mae Waite in progress and midcentury-inspired tables and chairs. Seating (five per party maximum) is available inside the socially distanced and well-ventilated dining room and on the patio. Just be wary of rainy nights.
It strikes me that for a chef as low-key and soft-spoken as Lee, his food carries a big voice. Lee's ingredients, preparations and flavors speak to my heavy local boy palate. This is some of the most exciting and delicious food I've had all year. And given what kind of year it's been, that's saying a lot.
4614 Kilauea Ave, Suite 102
Kahala
888-2060
kapahale.com
@4614kapahale