Kakaako has a Village Bottle Shop & Tasting Room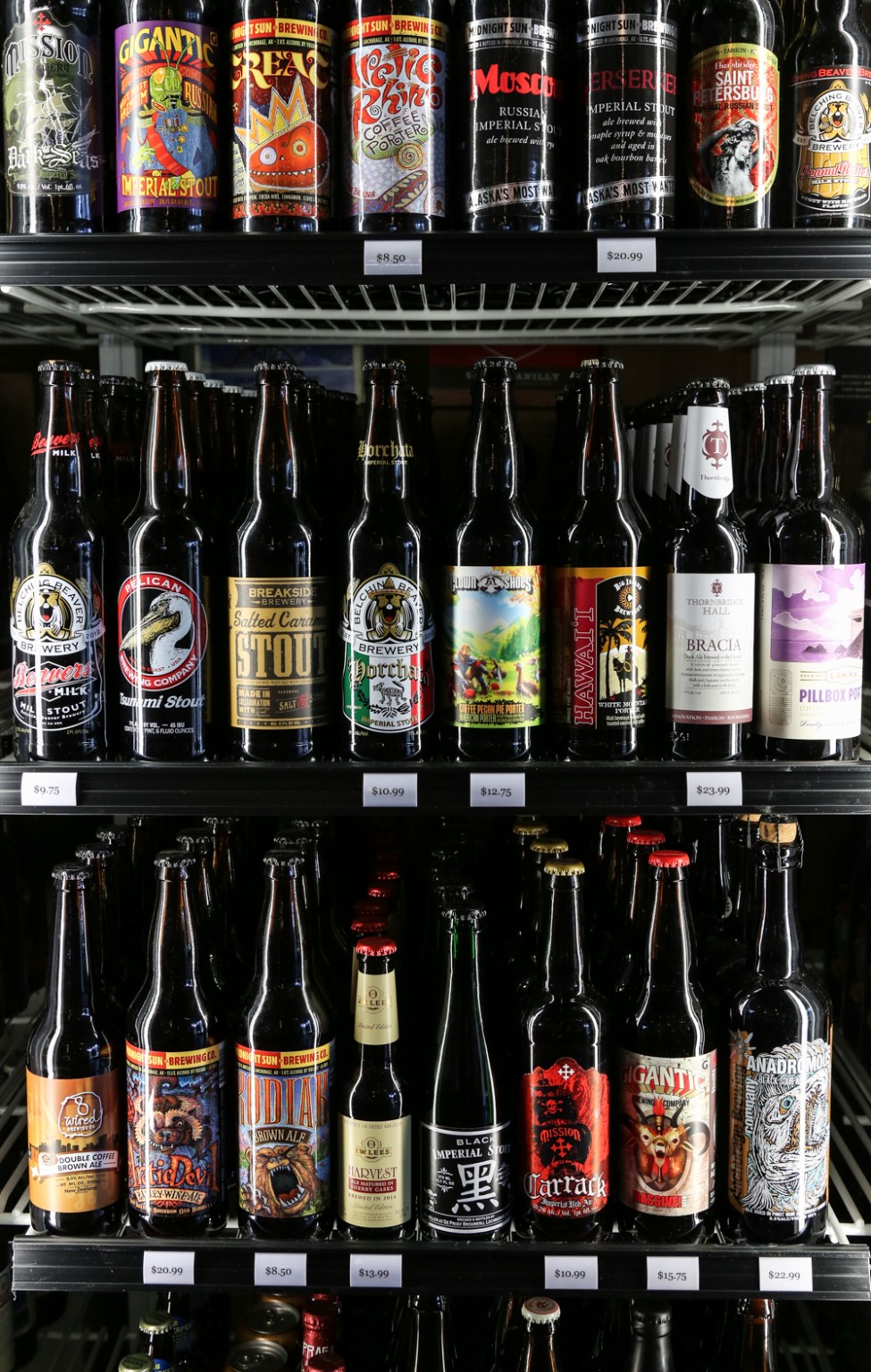 When we introduced Tim Golden and Daryn Ogino's Village Bottle Shop & Tasting Room back in January, it was a concept: A craft beer store and cafe with over 400 brews, 16 of them on draft. You'd be able to buy a bottle from the chillers and drink it in the tasting room, they said, or order some craft beer or wine on tap and have it with a snack.
That concept opened for business today, Aug. 11, at 11 a.m. in the SALT complex in Kakaako.
"Village Bottle Shop & Tasting Room is meant for people to enjoy beer in a place with a relaxed environment and ambiance," Golden says. You can even bring in food and drink from other businesses in SALT.
Among the 400-plus labels are a few highly allocated ones limited to a single case. Look for a New Belgium limited release, an Almanac Farmers Reserve, Green Flash boysenberry and Jolly Pumpkin brews. You might not see them in Hawaii again once they're gone.
The beers are organized by flavor profile: hoppy, dark and malty, sour and so on. This lets you explore a number of curated options in one space.
Half of the opening lineup of beers on draft are local craft brews from Beer Lab HI, Honolulu Beerworks, Lanikai Brewing, Big Island Brewhaus, Waikiki Brewing, Kona Brewing, Maui Brewing and Kohola Brewing. Specific styles are being kept under wraps, which means you have to go in to find out.
Yes, there's parking: One hour free with validation in the adjacent lot in front of Highway Inn and Lanikai Juice on Ala Moana Boulevard or in the parking structure on Keawe Street.
Village Bottle Shop & Tasting Room
SALT at Our Kakaako
691 Auahi St.
Mon-Thurs 11 a.m.-9 p.m.
Fri-Sat 11 a.m.-11 p.m.
Sun 11 a.m.-6 p.m.
Facebook
Instagram