Ka Malama at the Grand Wailea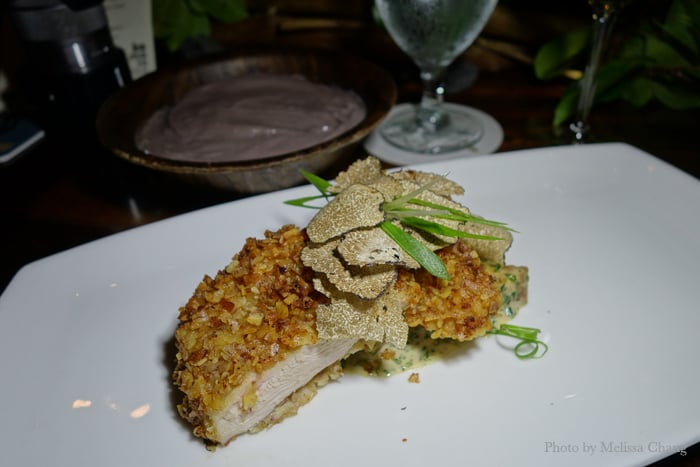 Lucky we live Hawaii. There is no place in the world like it, no culture like it, no food or language that embodies the paradise we live in.
Thanks to conscious efforts to share Hawaii's culture with the world, more people are aware of the many elements that make our paradise special, beyond just the beautiful land and sea. Even as a lifelong Hawaii resident, though, I am often reminded that there is so much more to experience and learn.
I recently went to Maui for Grand Wailea Resort's monthly Ka Malama dinner, with foods inspired by, fished, and gathered according to the Hawaiian moon calendar. Chef Michael Lofaro and Cultural Ambassador Kainoa Horcajo fish in the ocean and forage in the mountains to gather ingredients for a unique menu. No two dinners are alike, and they often don't know what they're cooking until about two days before the event.
"We try to plan according to what almanacs and experts in the field tell us is available," Kainoa explained. "But ultimately, nature does what it wants. Weather conditions or other forces of nature may change the availability of the ingredients. For example, we thought we would make strawberry guava one of the main themes of the last dinner, but once we went hiking for them, we realized there wasn't as much fruit as we wanted, and had to switch gears."
For both the chef and the diners, it's interesting to see what they actually come back with to make (what I call) their version of "Doorknock Dinners" meets "Survivor." The journey is not just to educate the diners on Hawaii and its resources, it's a lesson for Kainoa, and especially for Michael, who is from the mainland but has immersed himself in the culture. During dinner you will hear facts about ancient Hawaii and the culture, many things that you probably haven't heard before.
The whole process is so fascinating and educational that a crew from PBS was filming it when I went. And you're the first to hear this: The dinner — from the wilderness to the plate — is going to be a show called "SEARCH…Hawaii, Where Food Meets Culture" that airs on Sundays at 6:30 p.m. on KHON starting October 11. You can follow them on their paths of discovery in the mountains, fields and ocean; through the cultural lessons; and ultimately in the kitchen.
To be honest, you probably want to follow them in the safety of your living room. If you actually followed them on their foraging adventures, you'd probably find that they get into some perilous spots, like with 300-foot drops. Now, that's dedication!
The setting. Dinner is at the Grand Wailea's Humuhumunukunukuapua'a, and the table is set with the various natural materials that Michael and Kainoa find on their foraging adventures. "We're also florists now," Kainoa laughed.
Sommelier and Kihei native Yeshua Goodman created a guava-mint Pau vodka cocktail as a welcome drink. You can't get more local than having guavas right out of his back yard!
Wai 'ola means "water of life" in Hawaiian, so they created a drink to start the dinner from water, plants and flowers of the area they hiked in. They can't tell you exactly where they went — they don't want people trampling these almost untouched areas — but they wanted to be sure you could get a sense of the smells and tastes of the place.
"Momona" means big, and since Kū was the god of large projects, they honored him with items from large ocean farms like Kona abalone and Kahuku sea asparagus. Then they brought everything off the reef for this dish: he'e, or octopus; opihi; limu; and sea urchin. They topped this with a sea urchin-coconut foam.
This was paired with Domaine Tourmaline muscadet from the Loire Valley in France, known to go well with seafood.
In traditional times, trees would be planted and houses would be built on "Kū nights" because the ancient Hawaiians believed it would help them to stand firm. This dish is full of items that stand firm, like hearts of palm, fennel and kiawe-smoked shallots. Pickled grapes were a reflection of wine harvests of the season. The delicate smokiness of the shallots was pretty amazing.
This was paired with Adelsheim, Auxerrois, Ribbon Ridge from Willamette Valley in Oregon for the vegetal notes.
Kiawe beans have been used lately as a gluten-free alternative to flour, and it's catching on. Here, they took the kiawe flour and made it into a katsu crust for the chicken, which was coated in a truffle paste and served with 'ulu, or breadfruit. While the dish itself was delicious, the point of it was to showcase the various items that were brought across Polynesia on canoes to Hawaii to nourish us. It was also a reference to old Hawaii, where people believed their gods lived in all living things — eating foods, in essence, was eating their gods.
This was paired with a Louis Latour Puligny Montrachet from Burgundy, France.
The finishing touch: Michael made sorbet on the spot with liquid nitrogen, water, awapuhi and ginger. It was served with a bit of poi crema with coconut fat whipped with vanilla bean. The meringue was also coconut to add another layer of the flavor. They were able to get a bit of strawberry guava in there, since it's in season.
During the dinner narrative, Kainoa pointed out that two-thirds of the items on the endangered species list, come from Hawaii. Strawberry guava is an invasive species, so they did their part by cutting it down to eat.
This was paired with Saracco Moscato d'Asti from Piedmont, Italy.
I wish I could have uploaded the fascinating narrative that they provided with each dish, but it was too dark! You'll have to see (and hear) it for yourselves in person. Mahalo to Michael, Kainoa, and Yeshua, and to Yvonne Biegel of the Grand Wailea for inviting me to be a part of it.
By the way: On the third Thursday of each month, which coincides with the dinner, the Grand Wailea has an E Ala E ceremony led by Kainoa on the beach. This is done just before sunrise, first with the cleansing ritual and then with "chanting up" the sun. I'd recommend you do this to start the day, even if you are not going to the dinner that night.
Above, Kainoa before and after the sunrise. Below, you can hear him explain the meaning of E Ala E and why it's so important to Hawaiian people. I decided to leave the chanting in its entirety, in case you need someone to walk you through such a ceremony at home.
Believe it or not, this is an unrenovated room! The hotel is going through major renovations right now with makeovers for the spa and rooms. Mahalo to the Grand Wailea for providing air fare, lodging and dinner!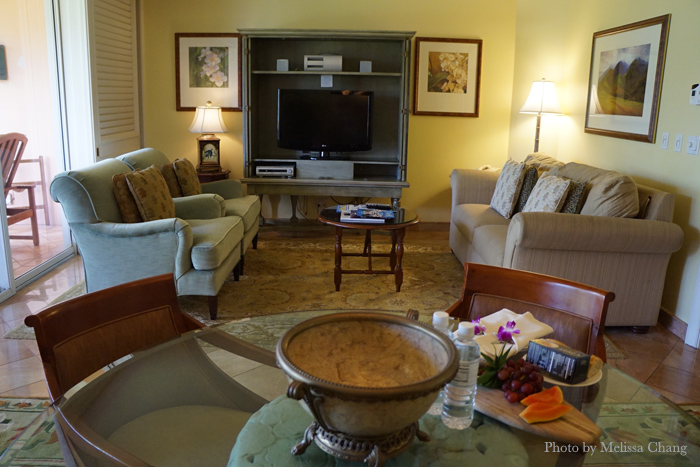 Ka Malama Dinner at the Grand Wailea
3850 Wailea Alanui Dr.
800-888-6100
To watch it on television:
"SEARCH…Hawaii, Where Food Meets Culture"
Launches October 11 at 6:30 p.m.
KHON-2