Just Opened and Opening Soon: Buho, Sprout and More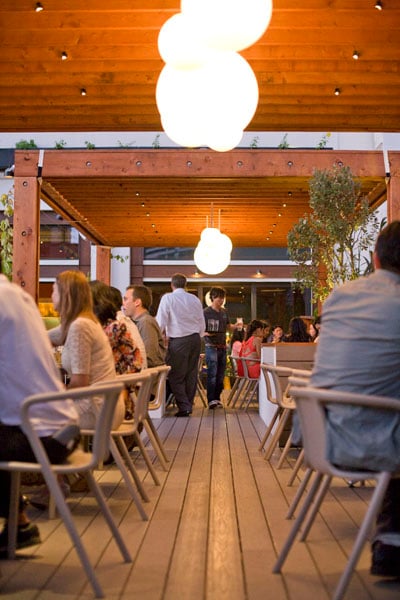 At long last: an outdoor, rooftop restaurant! Buho Cocina and Cantina is a welcome addition in a city with few outdoor dining options. The sophisticated and stylish space is brought to you by the owners of Shokudo—fingers crossed that the "elevated Mexican cuisine" is just as sumptuous as the restaurant's design.
Buho officially opens July 5, 2250 Kalakaua Ave, fifth floor, 922-2846, buhocantina.com.
There's life at Matteo's! Blue Marlin, a seafood restaurant, is opening soon in the long-vacant spot. We're curious to see how that dark and old-school Italian space has been renovated into a rustic seafood-shack feel.
364 Seaside Ave.
Monarch Tea Room has opened in the back of Na Mea Hawaii. A recently transplanted London couple opened this intimate space that offers 26 teas and afternoon tea service. Tea for two is $36 and includes pastries from Cakeworks, jams from Monkeypod Jam, and sandwiches made in-house.
Afternoon tea service noon to 4 p.m.; the tea room is open for a cup of tea and snacks from 10 a.m. to 6 p.m. daily.
Inside Na Mea/Native Books at Ward Warehouse, 1050 Ala Moana Blvd., 330-8853, themonarchtearoom.com.
Kaimuki continues to attract great little businesses, including Sprout Sandwich Shop, with creations that range from the Fonz, loaded with prosciutto, pastrami and salami, to the Yogi, hummus topped with kale and sprouts.
1154 Koko Head Ave., open Tuesday through Saturday 10 a.m. to 3 p.m., facebook.com/sprouthawaii.
And every neighborhood needs great coffee. The Curb has opened a new location in Kaimuki, offering Four Barrel coffee and beans from other boutique roasters. (Note: The Curb's Café Waiola at the medical school has closed.)
3538 Waialae Ave.