June 2014: Where to Go for Father's Day Dining in Honolulu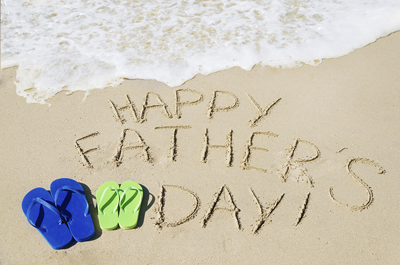 Let's not let dad get shown up by mom this year. You know how it goes: Mom gets brunches and flowers and boxes of chocolates, and dad gets… . Yeah, let's not do that again. Here are a few places worthy of some serious QT with dad. And they all involve food. It is Dad's Day, after all.
Buffets and other all-you-can-eat feasts
• Give dad a break and leave the barbecueing to Shokudo. The restaurant's Father's Day Barbecue Buffet ($34.95/lunch, $40.95/dinner, $25/ happy hour buffet) is happening all day Sunday until closing. Fill up on sushi, seafood and meat for days—ribs, steak and pork chops. And all-you-can-eat Honey Toast.
941-3701
• Hoku's at the Kahala Hotel & Resort is turning out its usual mega spread for its annual Father's Day Brunch ($85/adult, $42.50 children 6-12). Poke, shrimp, oysters, king crab, sushi, prime rib and, we're told, "endless desserts."
739-8760
• Chef Russell Siu of 3660 On the Rise knows how to impress dear old dad. With a massive dinner buffet on dad's day that includes a chicken and waffle station, of course. The buffet ($55/adults, $23 children 3-10) also includes oysters on the half shell, prime rib and an ahi katsu station.
737-1177
• This year, Chef Chai is doing it up right with his all-you-can-eat lobster and king crab legs buffet ($69/adults, half price for kids under 12) on Saturday, June 14 and Sunday June 15. Enough said.
585-0011
• Leave it to HASR Bistro to pull out all the stops with its Father's Day Brunch ($40/adult, $15 children 5-12) that includes an all-you-can-eat ice cream bar. We suggest starting there.
533-4277
• MAC 24/7's Father's Day buffet ($38/adults, $18 for kids under 12) serves up Jack Daniel's bbq ribs, prime rib, seven-cheese mac 'n' cheese and more. And of course, a MAC-Daddy pancake station with 10 topping options.
921-5564
Meat!
• If it's meat (and more meat) you're after, Wolfgang's Steakhouse has you covered. Available on Father's Day only, its "Go Big or Go Home!" special ($69.95) is meat-on-meat feast that starts with the restaurant's signature slabs of thick-cut bacon, which is followed by man-sized 26-ounce bone-in rib eye with mashed potatoes and creamed spinach because eating just meat would be too crazy.
922-3600
• dk Steakhouse offers a four-course prix fixe on Saturday, June 14 and Sunday, June 15 ($70). If you want the meaty option, we suggest building your meal around the braised lamb shank or the vintage seared boneless rib eye. And then finishing it off with the "warm chocolate bomb" because why wouldn't you?
931-6280
• If dad prefers his meat between bread with a side of French fries, take him for Kissaten's Pastrami and Swiss Burger ($11) all weekend from June 13 through 15 only at its Piikoi location.
593-1200
• Let dad eat like a superhero with Kit N Kitchen's "Full Hulk of Pork Shank" ($19.95)—a mega meaty meal of a full pork shank, braised and smothered in peppercorn gravy, fit for an incredible dad with an appetite to match.
942-7622
Less is more—no buffets, just good, dad-worthy food
• At Sansei, choose from Father's Day a la carte specials like uni shooters, bacon-wrapped fresh catch and garlic marinated New York striploin steak.
931-6286
• Little Village Noodle House is rolling out its Father's Day set menu again ($250 for 10 people, $105 for four people), this time with offerings like the braised taro pork belly, sweet-sour pine nut opakapaka and seafood-stuffed peppers.
545-3008
• When a full-on brunch buffet has dad a bit commitment-phobic, take the eating a bit easier (but no less special) with the 1010 Benedict at W Bistro @ 1010 ($29.99). The dad's day special is a full order of eggs benedict made with blue crab and hickory-smoked bacon, with a side of strawberry spinach salad and banana crepes.
589-2295