Joy of Sake: What to sip, what to eat


Joy of Sake happens this week, but before we get into sake tips and food pics, did you know that 1) it was born here in Honolulu, and 2) it's the world's biggest sake bash outside Japan?
That's how much Honolulu loves sake. This city had the first sake brewery outside Japan (Honolulu Sake Brewery in Pauoa, maker of Takara Masamune), and even now it has more sake-serving restaurants per capita than any other U.S. city. But all over the country, sake is hot: Imports have been rising about 10 percent a year for the last 10 years.
So it's no surprise that the Joy's ticket sales are outpacing last year's, which is fine by organizers because they're bringing in a record 384 sakes and a record 16 restaurants. Those restaurants? Vintage Cave (representing at an event for the first time ever), Pig and the Lady, Doraku, Halekulani, Chez Kenzo, Mark Noguchi's Pili Hawaii, Gyotaku, BLT Steak, Hoku's at the Kahala, Umami Cafe, Banzai Sushi Bar, Cakeworks, Kaiwa, Nobu Waikiki, Chef Chai. And 3 Chef Hui, a one-night collaboration by Top Chef's Sheldon Simeon (opening his own restaurant on Maui this year), Wade Ueoka (opening MW Restaurant on Kapiolani Boulevard this fall) and Lance Kosaka (opening Skybar in Waikiki next year).
Scroll down for a preview of some of the dishes they'll be serving. And for those among you who may be sake novices, or anyway overwhelmed by 384 sakes, some quick tips on navigating the Joy of Sake.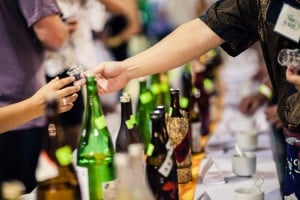 Eat. Once you get in, head for a food booth. You'll be able to sample more sakes with food in your stomach. Plus this gives you a moment to decide which sake tables to hit first.
Choose a sake table. The sakes are divided into three categories. Daiginjos are made from rice polished down to the sweet, innermost core of the grain, so they're light, aromatic, elegant, complex. Ginjo sakes are polished less and can have remarkable body, some with fruity nuances, others meadowy-fresh. Junmai sakes are the heartiest. Bold and ricey, they go with the broadest range of foods.
Don't overlook Daiginjo B. Daiginjo A sakes are brewed to standard ideals for taste, aroma, balance and overall impression. They're beautiful, but there isn't a whole lot of range. With Daiginjo B sakes, brewers go in any direction they want. This table holds nice surprises.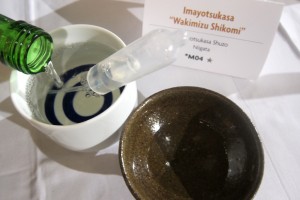 Look for the stars. Just before the Joy, 10 judges from Japan and the U.S. blind-taste every sake and award stars to the best. A gold star on the sake card means it's sublime. Silver is pretty near that. Black stars mean the sakes are Japan-only, not exported to the U.S. — and this year, 224 will have black stars.
Drink water. You know why. Look for the water stations.
Try pairing food and sake. It's not that hard — and when you hit a good pairing, sake and food play with each other on the palate, making each more delicious. In general, heartier foods go well with heartier sakes and lighter flavors go with lighter sakes. Simple fish dishes go well with ginjos; a light sashimi is nice with daiginjo. Bright, herbaceous flavors go well with ginjos. And meats and fried dishes are delicious with junmais.
Here now, Friday's details, plus a gallery of food previews and below that, a disclaimer.
What: Joy of Sake
When: Friday, Aug. 16 from 6:30 to 9 p.m.
Where: Hawaii Convention Center
Tickets: $85 at www.joyofsake.com, 808-222-0195, Marukai and Fujioka's Wine Times; $80 at The Sake Shop; $95 at the door
Disclaimer: If you follow Joy of Sake on Instagram, Facebook or Twitter and I sound like those posts, that's because I write them. After a few years of attending and covering the event, this year I'm on the volunteer board of directors.