Joy of Sake: The how-to guide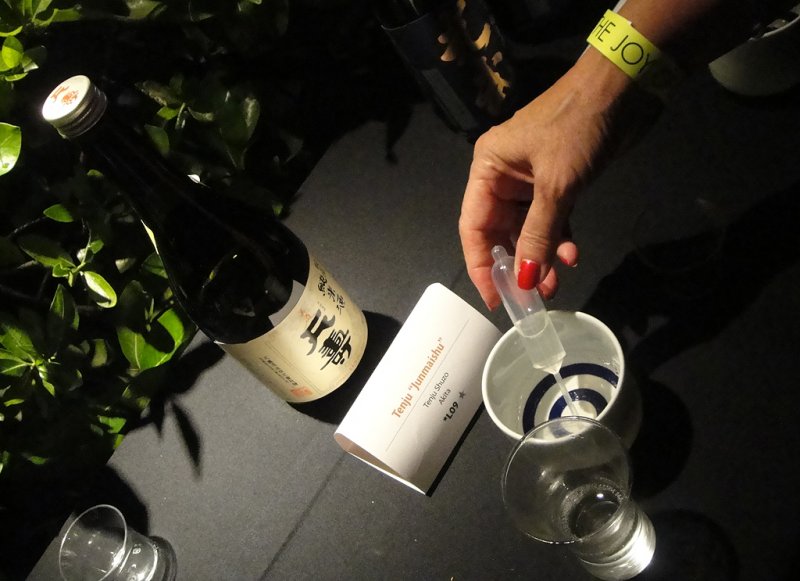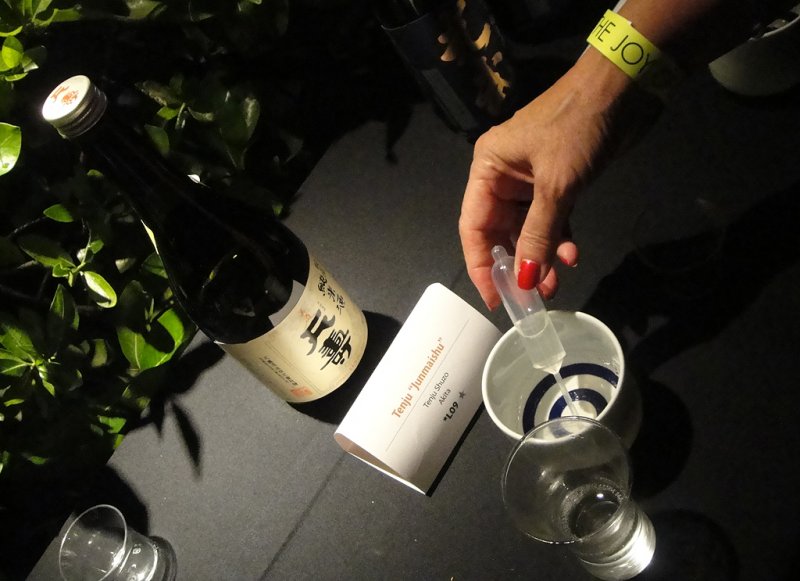 Moonlight steeped in spring rain;
blossoms of wisdom —
all from one little cup

— Joro
It's the biggest sake celebration outside Japan: 326 of the best junmai, ginjo and daiginjo in the world, judged head to head to choose the best among the best, all presented for tasting this Friday along with dishes from 15 Honolulu restaurants.
And it's so easy to blow the whole deal. How do you taste your way through 326 sake? How do you not end up in sorry defeat only three tables from the entrance (like last year, but we don't talk about that), still confused about what makes a daiginjo tight and elegant, what makes a junmai textured and open?
This world's dust
washed away
by a cup, proferred with grace
— Joro
We consulted the master of sake in Hawaii, Chris Pearce of World Sake Imports, to help us with a plan. But first, he wants you to know some things up front:
1. Nobody gets through all 326 sake, so stop worrying about that. Thirty to 40 is a very good sampling.
2. If you've never tried sake, start with a daiginjo A. It'll be floral, nuanced, gentle, a good intro.
3. Check the card in front of each sake: It'll tell you if judges awarded it a gold or silver star in its category. No star doesn't mean it's bad, Pearce notes. The overall level of sake entered in Joy of Sake judging is impressive and hard to match even in Japan, where the JOS tour ends this fall after a stop in New York next month.
4. If you see a black star, that sake isn't available in the U.S. The card also tells you where it was made, in case you're interested in sake from a particular region — like the disaster-ravaged Tohoku, where 93 of this year's sake come from.
5. If you're a novice, don't worry about searching for the harmony of taste, aroma, body and texture the pros look for. Everyone will have a different personal favorite. Just sip to find what you like.
For a quick 411 of Friday's event, see below. For Pearce's suggested approach to using the event to sharpen your sake palate, watch the video. And for a map (click on it to enlarge) of the different sake tables and food stations, along with Pearce's recommended sake pairings for dishes being served, scroll down to the bottom of the page.
What: Joy of Sake
When: Friday, Sept. 9, 7 to 9:30 p.m.
Where: Sheraton Waikiki ballrooms
2255 Kalakaua Ave.
Tickets: $80 at Sake Shop, Fujioka Wine Times, Wine Stop, Marukai or www.joyofsake.com, $90 at door
May it be snow and sand
you fall into from your horse:
drunk on sake
— Basho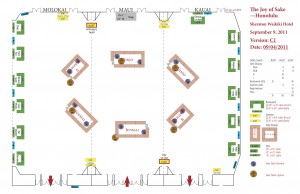 Chai's Island Bistro Sauteed escargot with prawns in a chili ginger sauce
Doraku Seared tuna with Asian salsa — Ginjo
Gyotaku Smoked salmon bacon over salad with a timbale of rice topped with ikura — Junmai
Hakkei Classic chicken "dumpling" with mountain yam and Chinese cabbage, served in Hakkei's signature oden broth — Junmai
Lewers Lounge Braised beef chuck with oxtail broth and cilanto puree — Junmai ginjo (a toasty, nutty one)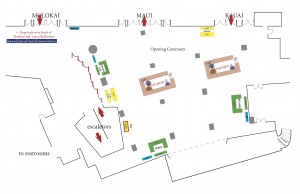 Hoku's Asian braised beef medallion on truffle potato and shichimi-dusted lotus chip — Daiginjo B
Char-broiled sake kasu marinated black cod on red bean rice cake and grilled green onion — Daiginjo B
Morimoto Waikiki Seared scallop on a Chinese spoon with XO sauce nestled in an aromatic fumet broth — Daiginjo B
Marians House-made dumplings of pork, tofu, shiitake and yama gobo braised in konbu dashi and accented with fresh ginger and fennel — Junmai
Rumfire Spicy ahi poke with Maui onion sambal and Kahuku sea asparagus — Ginjo
Kai Market Salmon belly "ankimo pate" and cucumber fennel fettuccini topped with ikura and kim chee aioli — Daiginjo A
Yoshi-ya Autumn tempura medley with kabocha, eggplant, zuchini and shiitake mushrooms — Junmai
Banzai Sushi Bar Maguro, shiso, avocado and mango yuba wrap with konbu-infused vinegar-shoyu dressing — Ginjo or junmai
Genius Lounge Mentaiko pasta in kombucha cream sauce with nori and julienne cucumber garnish — Junmai (a smooth one, like Hoyo's Manamusume)
Umami Cafe Temaki sushi with ahi, crab and lobster — Ginjo or junmai
Cakeworks Caramel French macaroons