Joy of Sake: Taste Sake at Its Best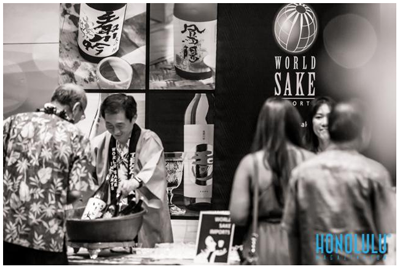 Calling the Joy of Sake the World Cup of sake is probably overstating it, since it's not the biggest sake event ever. But it's close: It features some of the best sake in the world, and it's the biggest sake bash in the U.S. (where, just like soccer, interest in sake is on the rise).
Once a year, hundreds of bottles of sake are sent to Honolulu for appraisal. "They're in fantastic shape when they arrive because they're going to be judged," says Joy of Sake founder and sake importer Chris Pearce. Ten judges sip and score all this sake, but what happens to all the rest? You get to drink it. This year, 370 bottles of sake breweries' finest will be poured. Here, "you can really taste sake at its best," says Pearce.
And what is drink without food? Nineteen restaurants—including, for the first time ever, two San Francisco restaurants—will offer small plates.
The list of restaurants and dishes includes:
– BLT Steak—torched steak tartare with rice crisps and horseradish
– Buho Cocina y Cantina—pork belly tacos with pineapple pico de gallo and achiote aioli
– Cakeworks—plum wine, pikake and green tea gelee
– Chef Chai—shrimp salad with lemongrass mango dressing
– Doraku—dashimaki tamago with scallop, shrimp, kampachi and yamaimo
– Koko Head Cafe—mazemen soba with parmesan dashi cream and caramelized onion tsuyu
– MW Restaurant—"Spam musubi," mochi-crusted meatloaf made with smoked pork and arabiki
– The Pig and the Lady—sake-filled shiitake on betel leaf
The San Francisco restaurants are Memphis Minnie's BBQ, one of the first non-Japanese restaurants in the city to add sake to its drink list, and Hopscotch, a Japanese and American-styled diner.
Joy of Sake
$95, Friday, July 18, 6:30 to 9 p.m. at the Hawaii Convention Center, joyofsake.com