Joy of Sake and Mangoes at the Moana: Two events not to miss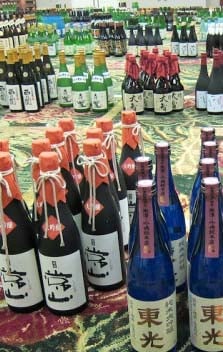 This year, the 12th annual Joy of Sake moves to a new venue: the Pier 2 Cruise Terminal. This event is the largest sake tasting held outside of Japan, with more than 360 premium sakes. If you're going to make even a dent in that many sakes, you're going to need something to eat; luckily, 15 restaurants are serving up some delicious-sounding small plates.
Some of the highlights:
Chai's Island Bistro: Thai-style oxtail soup from Chai's Island Bistro
Genius Lounge: Mentaiko pasta in kombucha cream sauce
Nobu: Big Island abalone with sake soy butter and dry miso
Prima: Panna cotta, fennel marmalade, coffee salt
Stage: Green tea-smoked pork tenderloin with togarashi spiced apples, shiso and crispy garlic chips
Salt: Kampachi tartare with orange shallot jam
The Pig and the Lady: Kalo tostone, tomato marinated pa'i'ai, taro stem ceviche and rice paddy herb
$80 in advance, $90 at the door. Friday, July 20, 6:30 to 9 p.m. joyofsake.com
On Saturday, stop by Mangoes at the Moana, an all-day affair with mango tastings, tree and fruit sales, and mango seminars on how to care for the mango tree you just bought.
Also check out the Mango Throwdown, which pits 12 chefs against each other to create the best mango dish. Participating chefs include Kevin Hanney of 12th Ave Grill and Salt, Colin Hazama of the Sheraton Waikiki, Ed Kenney of Town, Hardy Kirschner of Michel's and Jon Matsubara of Azure.
I'll be judging the mango recipe contest—it's not too late to enter! Find out how to submit your recipe.
Saturday, July 21 from 10 a.m. to 5 p.m., moana-surfrider.com/dining/specialevents/mangoes/
All events are free, except for the Mango Throwdown: $75 includes two drinks and a tasting of all the dishes.